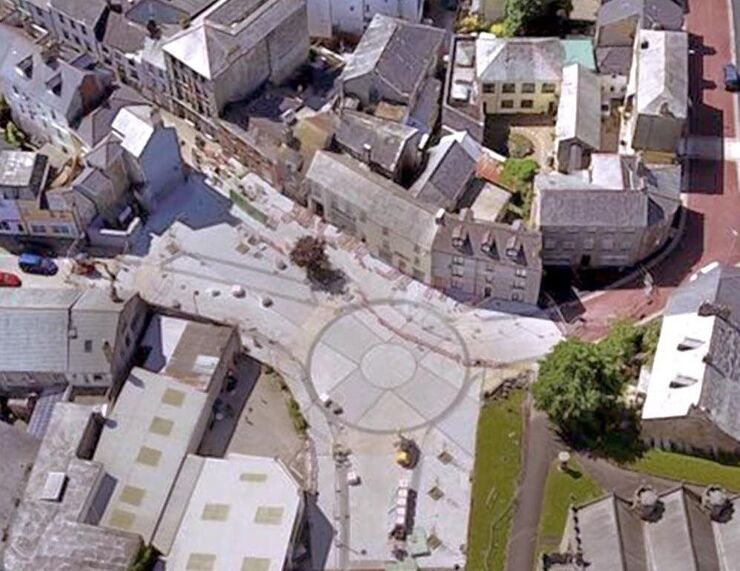 Cornwall Council is using NEC contracts to deliver a central-government-funded package of 30 separate road junction and corridor improvement schemes over a tight three-year timescale. Worth £60 million, the 'Growth Deal' schemes will future-proof the county's road network to 2030 and beyond.
The relatively small but complex schemes are in five geographical areas and spread over a round trip of nearly 250 km. All are subject to the challenges of working in a narrow peninsula with a limited supply chain, and many are located on main commuter routes with a need to maintain peak-hour traffic capacity during construction. Some are also up against planning deadlines.
The package was let in September 2015 to the council's wholly owned contracting arm Cormac Solutions Limited. It was awarded on a two-stage design-and-build basis under an NEC3 Engineering and Construction Contract (ECC) Option C (target contract with activity schedule). Completion is on track for the end of 2018.
Joint project managers Currie & Brown and Mace were engaged under an NEC3 Professional Services Contract (PSC) option A (priced contract with activity schedule). The council, contractor and project managers are working together as a 'whole team' in co-located offices on each site.
Ensuring Cost Certainty
According to the council's capital projects team leader Nicola Yeates, 'Cost certainty is a prime concern on this package due to the very tight budget. While NEC is the contract suite of choice for our transport-related capital projects, the pain/gain mechanism in ECC Option C was particularly appropriate as it provides an incentive for both parties to reduce costs, mitigate risks and optimise the programme.
'The adoption of a two-stage design-and-build procurement process also maximised the amount of productive time the schemes could utilise before committing to a target cost for the build phase. This enabled greater cost certainty and risk appraisal at earlier stages of each scheme.'
She says the contract was developed collaboratively with a tight pain/gain range (95% to 105%) to discourage over-inflated target costs and encourage an ethos of continual search for cost savings. 'However, lessons learnt from previous projects identified the areas where we were 'exposed' to additional costs and these formed the basis of discussions in risk allocation.'
Through use of 12 Z clauses the council included an affordability cap, such that the work would not go ahead if it was considered unaffordable or insufficient value for money at the end of the design stage. It also made the contractor responsible for delays by statutory undertakers, road safety audit changes deemed necessary on completion, unforeseen ground conditions, weather risks and traffic management to improve cost certainty.
'In addition, we specified shared risk registers to keep the project team focused on the current status of each scheme, restricted the costs of rectifying defects, encouraged value engineering and amended take-over conditions.'
Positive Progress
Yeates says that though the construction stage target prices were all deemed to be value for money, the initial construction stage targets were £5.3 million (9%) over budget, which was attributed to the initial estimates being too low for the complexity of the delivery.
'We therefore held a value-engineering workshop at the end of the design stage, which reduced the funding gap to £3.5 million (6%). Since then the ECC pain/gain incentives and other contract provisions have helped to cut it to £0.6 million (1%) at the half-way stage in the construction programme. We are confident of hitting the budget by the end of the project.'
She says the concept of a whole-team approach has been critical to the project's success to date. Cormac has engaged 36 suppliers and subcontractors on NEC contracts with back-to-back terms to the main contract and working over several sites for maximum efficiency. This has also resulted in monthly assessments being processed quickly, ensuring all parties are paid promptly.
'Communication has been excellent, with regular NEC programme, cost and risk reviews involving the whole team and collaborative project management software ensuring efficiency and visibility by all parties. We actively encourage NEC early warnings, with 280 notified by the half-way stage and just 68 leading to compensation events. We have embraced Skype for improved communications with a disparate team and this has provided the ability to hold meetings at short notice and tackle issues promptly'
Yeates concludes, 'NEC has helped to facilitate an unprecedented level of collaboration within the project team, enabling us to procure the best, lowest-cost solution for the required quality. This approach to working more collaboratively than ever before has been a success and we expect to roll it out on future projects.'
Benefits of Using NEC
ECC Option C pain/gain incentives plus value engineering and other contract provisions have helped to bridge a 9% funding gap and provided greater cost certainty throughout the project.
NEC facilitated unprecedented collaboration within the project team, enabling the client to procure the best, lowest-cost solution for the required quality.
Use of the NEC3 suite of contracts for all parts of the supply chain provided a consistency of contract management and fostered a whole-team approach to delivery.