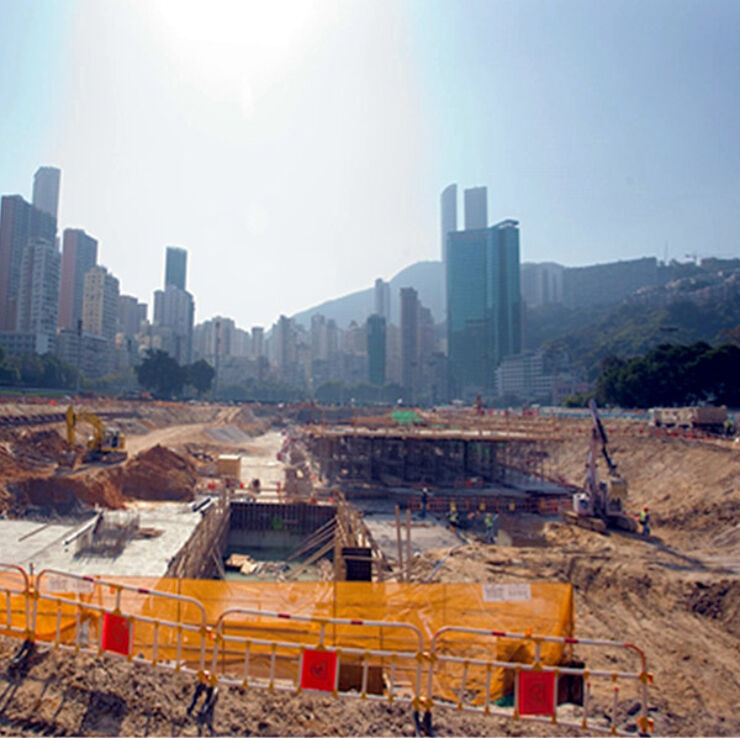 NEC Large Project of the Year Highly Commended 2015

Winner of Contract Innovation Through Additional Clauses 2017
See the other Winners here
The HK$678 million (£53 million) Happy Valley underground storm water storage scheme is the largest NEC3 Engineering and Construction Contract (ECC) option C (target contract with activity schedule) awarded by the Hong Kong government to date. It is also the first in Hong Kong to trial the NEC3 Engineering and Construction Subcontract (ECS).
Designed to alleviate flood risk in the Happy Valley area of Wan Chai, the scheme involves construction of a 60,000m3 underground stormwater storage tank, a pump house, a 650m long twin-cell box culvert and associated works including reinstatement of sports pitches and landscaping.
Contractor Chun Wo started works for the Drainage Services Department in September 2012. The first phase of the scheme is due for completion in early 2015 with overall completion following in March 2018.
Promoting a Partnering Spirit
According to Drainage Services Department Chief Engineer Luk Wai-hung, a number of measures were implemented on the project to promote mutual trust and co-operation between contracting parties and stakeholders. "We and cost audit consultant Mott MacDonald and NEC advisor EC Harris arranged a series of practical training workshops at the start of the contract and then on an annual basis to promote the NEC partnering spirit with contracting parties."
"The site is situated within the horse-racing track of the Hong Kong Jockey Club, with 14 sports pitches for soccer, rugby and field hockey managed by our Leisure and Cultural Services Department and the Hong Kong Football Club. It is also surrounded by several schools and is a hotspot for jogging, resulting in many constraints to the construction programme and a high expectation of mitigation measures to any potential environmental nuisance caused by the works"
"Further to partnership workshops within the project team, we arranged partnership workshops with all stakeholders - including the Hong Kong Jockey Club, Leisure and Cultural Services Department, Hong Kong Football Club, Wan Chai District Council and representatives from neighbouring schools - to show our concern and care for them. This built a spirit of trust and partnership among our stakeholders, enabling them to work with the project team and contractor to minimise the impact to the public."
"A pain/gain share mechanism was then implemented to set common goals for the employer and contractor. This ensured that the project manager and contractor collaborated closely to optimise progress, resources including people, plant, equipment and materials and ultimately reduce the cost of the contract," says Luk.
"It also encouraged innovation and cost saving. For example, the contractor proposed an alternative design for the tank foundation that offered a cost saving of around HK$70 million. We promptly accepted the proposal to reduce costs and the risk of delays."
In addition, a risk register was established at the pre-contract stage and is being monitored and updated throughout the project. Both the project manager and contractor issue early warnings to each other whenever there is likely a risk and arrange risk reduction meetings to identify mitigation measures for proper risk management. At the end of February 2014 for example, a total of 27 early warning notices had been raised of which 23 had been closed.
First Trial of ECS
Also, in a first for a Hong Kong government project, the contractor subcontracted a 380m long of box culvert under an NEC3 ECS option B (priced contract with bill of quantities).
According to Luk, "The use of NEC3 terms for both main contract and subcontract provided a common platform for the project manager, contractor and subcontractor, especially in dealing with compensation events and risk management. With uniform use of the NEC3 risk management mechanism, all contracting parties could work collaboratively and have site problems resolved rapidly to ensure timely completion of the works."
The success of the Happy Valley scheme and other NEC3 pilot projects led to the Hong Kong government deciding at the end of 2013 to extend the pilot use of NEC3 contracts generally for public sector projects tendered in 2015 and 2016.
Benefits of NEC
The NEC3 contract suite promotes a spirit of mutual trust and co-operation between contracting parties and key stakeholders.
The pain/gain share mechanism in the ECC sets common goals for employers and contractors, encouraging collaboration, innovation and cost saving.
The ECC early warning and compensation event process ensures contract issues are speedily resolved and risks properly managed throughout.
Use of the ECS extends NEC3 collaboration and risk management benefits through the entire supply chain.