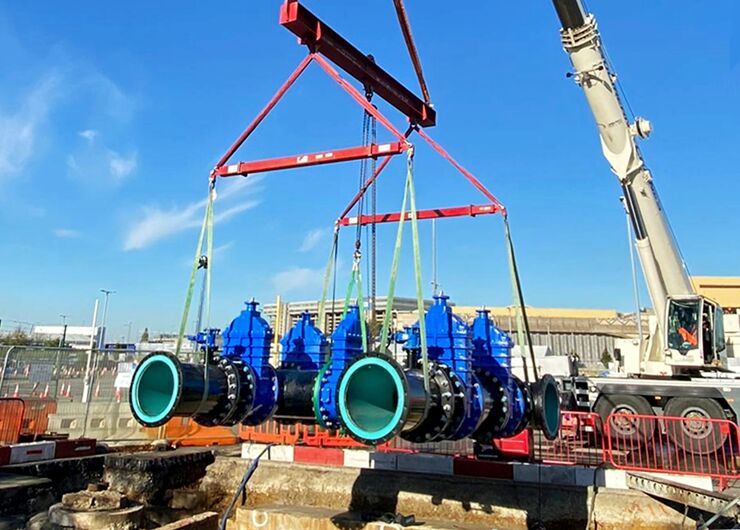 NEC has been used to procure a complex upgrade of the safety-critical fire main at Heathrow Airport in London, UK. NEC Users' Group gold member Heathrow Airport Limited let a £6.2 million NEC3 Engineering and Construction Contract (ECC) Option C (target contract with activity schedule) to Ferrovial Construction in December 2020.

The work primarily involved building a replacement valve chamber under the E2 staff car park at the airport's eastern perimeter. The eight failing isolation valves were replaced with five state-of-the-art valves, a hydrant and associated pipework in a new chamber. Both the existing and replacement chambers were founded immediately above London Underground's Piccadilly line running tunnels, requiring extensive surveying and monitoring to ensure safe demolition and construction.

Taking advantage of the six-week system isolation, the contract scope was extended to include trenchless relining of the burst-prone, 210 m long supply main from a nearby reservoir. The eastern balancing reservoir collects and stores run-off water from the airport runways, which is then pumped at 9 bar to the E2 valve chamber to feed the northern and southern branches of the airport's 600 mm diameter fire main.

The twin 760 mm diameter cast-iron and steel supply main was initially built in the 1940s and runs mostly under the adjacent A30 Great South West Road dual-carriageway. Unlike emergency burst repairs in January 2018, the relining was undertaken entirely from within the airport, resulting in no disruption to road traffic. The southern supply main was found to be partially blocked with an unnecessary steel prop, but this was successfully removed using a remote cutting robot while closely monitoring the highway above in conjunction with Transport for London.

The majority of the work was undertaken within a 6 week isolation of the fire main and the overall project was completed to the agreed programme and budget in December 2021 after 18 weeks on site. It was shortlisted for the Upgrade & Renewal Project of the Year in the 2022 British Construction Industry Awards.
Managing complexity through collaboration
Senior project manager Nicola Hibbs says Heathrow uses NEC contracts as they are ideal for the complexity and collaborative nature of its capital works and maintenance programmes. 'We operate in a highly complex built environment and need to collaborate with a diverse range of stakeholders, from airlines and passengers to regulators, transport operators, local authorities and communities. NEC contracts bring clarity and consistency to our most complex procurements, and the contractual requirement to act in a "spirit of mutual trust and co-operation" aligns with our inherently collaborative approach to delivery.'

She adds that as well as being widely recognised across the engineering and infrastructure sector, NEC enables more efficient working in the 24/7 live environment in and around Britain's busiest airport. 'The simple and clear language in the contracts helps to avoid any ambiguity and misunderstandings, and the contracts incentivise our supply chains to deliver our projects smarter, better and faster.'

Commercial manager Alfred Klutsey says the NEC early warning and compensation event mechanisms were put to good use on the fire main upgrade project. 'Good dialogue in the early warning notifications and weekly risk management meetings helped to ensure that all risks to the project were flagged up and mitigated at the earliest opportunity. Timely agreement of compensation events and effective use of a compensation event register also ensured we were fully aware of the total of the prices throughout the works.'

He says all changes, such remote removal of the unexpected steel prop, were reflected in the continually updated programme. 'This also ensured alignment with Heathrow's governance process, and meant all stakeholders were kept up to date with the challenges, solutions and progress at every stage of the works. Overall NEC gave us a fully transparent view of the expected outturn.'
Benefits of using NEC
NEC was able to deliver a highly complex and safety-critical upgrade project at the boundary of Britain's busiest airport, over a live Tube line and under a strategic dual carriageway with zero disruption.
NEC requirement to act in a, 'spirit of mutual trust and co-operation' ensured a collaborative approach between the project team and multiple external stakeholders.
NEC contract mechanisms, including early warnings, risk reduction meetings, compensation events and continually updated programme, provided the client with a fully transparent view of the expected outturn throughout the project's delivery.