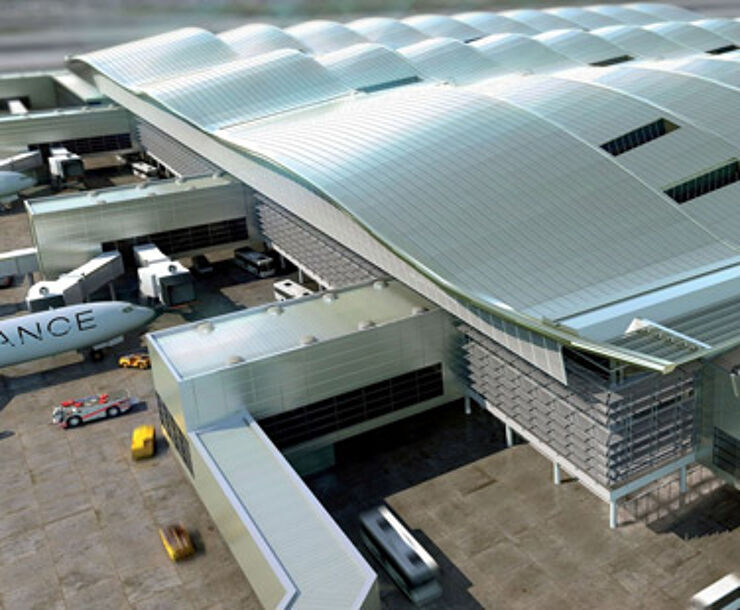 Heathrow Airport Limited, part of the BAA group of companies, has signed an £812 million contract for design and construction of a new green Terminal 2 building at Heathrow airport in London. It was awarded to Ferrovial Agroman Airports (UK) Limited and Laing O'Rourke Holdings Limited (trading as Hetco) in March 2010 under the terms of their value in partnership framework agreements with BAA.
The contract incorporates BAA's version of the NEC3 Engineering and Construction Contract (ECC) option C (target contract with activity schedule) and is the group's largest single construction contract to date. It covers detailed design and construction of the main 180,000m2 Terminal 2A building and ten aircraft stands on the site of the now-demolished 1950s Terminal 2 and Queen's Building. Hetco is also responsible for coordination and integration of baggage systems and for the building's climate and information control systems.
Completion in 2014
Work started on site in May 2010 and should be completed and operational by mid 2014, boosting passenger capacity from 2 to 20 million passengers a year. A second phase, due for completion in 2019, will extend Terminal 2 into the existing Terminal 1 site, raising passenger capacity to 30 million.
Steven Morgan, Heathrow's Capital Director says, "This is BAA's largest ever single construction contract, and I am confident that it represents great value for our airlines and for the millions of passengers that will benefit from its modern, new facilities. The Hetco team have demonstrated to us that they can deliver this project in a timely and efficient way, and to a high standard."
Hetco's board stated, "We are delighted to have won this prestigious project and look forward to working in partnership with BAA to deliver a world-class facility."
Energy-Efficient Design
Initial designs for the highly energy efficient new terminal were devised by Foster and Partners and subsequently developed by Hetco in partnership with Foster and Vidal Arquitectos.
The new building will produce 40% less carbon dioxide than the buildings it is replacing. Large north-facing windows in the roof will reduce the need for artificial light and while minimising solar gain.
In addition, solar panels on the roof will reduce dependency on energy supplies and a new energy centre, partially fuelled by renewable resources, will provide heating and cooling.
Experience on Terminal 5
BAA used NEC contracts to deliver part of the Terminal 5 project. Around 10% of the main £4.3 billion project for Terminals 5A and 5B was procured directly under BAA's version of NEC contracts and ECC was the only recommended form for thousands of second-tier contracts.
Carillion started work in 2008 on the £230 million Terminal 5C under an ECC option B (priced contract with bill of quantities), for which completion is scheduled in 2011.
Benefits of NEC3
Provides BAA with maximum control over costs, schedule and risk on large, complex, multi-disciplinary construction projects.
Improves working relationships by engendering a spirit of mutual trust and cooperation throughout the supply chain.
Is a proven procurement method which follows best-practice principles.