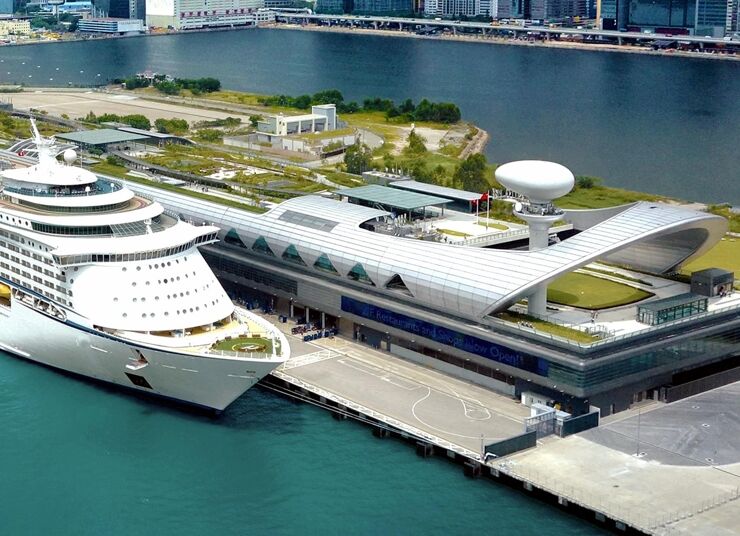 The Hong Kong government's Kai Tak Cruise Terminal handled around 170 cruise ship visits and approximately 800,000 passengers in 2018. Operation and maintenance of the terminal's state-of-the-art electrical and mechanical systems is being delivered under an NEC3 Term Service Contract (TSC).
The iconic 850m long, three-storey structure was built on a former airport site in 2013. In addition to berthing facilities for two large cruise ships, the terminal accommodates baggage and waiting halls, customs and immigration amenities, shops and restaurants, entertainment spaces and car parks.
In March 2018 the government's Electrical and Mechanical Services Department (EMSD) let a three-year HK$40 million (£4 million) NEC3 TSC option A (priced contract with price list) for operation and maintenance of the terminal's extensive electrical and mechanical systems. The scope includes preventive maintenance, fault attendance and corrective maintenance.
Energy-saving features in the terminal include 102 photovoltaic panels with a total annual energy output of over 25MWh; 15 sets of solar hot-water systems with an annual heating capacity of 35MWh; 30 sets of solar-powered light-emitting-diode bollard lights on the landscaped roof area; connection to a district cooling system; service-on-demand escalators and passenger conveyors; internal and external photosensors to control lighting; low-flow taps with infrared sensors; and a rainwater and condensation water harvesting and storage system.
Encouraging Communication
EMSD project manager Chan Sin Cho says, 'Smooth operation of the terminal's complex electrical and mechanical systems is vital to providing a good experience to the hundreds of thousands of cruise passengers who use the terminal every year. We have therefore partnered with Jardine Engineering Corporation to deliver a cost-effective operation and maintenance service.
'Given the extensive and critical nature of the state-of-the-art electrical and mechanical systems in the terminal, it is vital there is a constant and in-depth dialogue between all parties and stakeholders. These include customs and immigration staff, commercial tenants and event organisers. The NEC obligations to work in a "spirit of mutual trust and co-operation" and provide "early warnings" reinforces the need for solid two-way communications to identify potential problems early on.'
He says the three-year NEC3 TSC has facilitated a friendly environment for open and early discussion of all potential operation and maintenance issues. 'The parties are willing to acknowledge problems and look at solutions rather than take defensive positions. Furthermore, the simple English language used in NEC means everyone is clear about their responsibilities and obligations to deliver the best possible result for the client and users.'
Benefits of using NEC
NEC obligation to work in a 'spirit of mutual trust and co-operation' reinforces the need for constant and open dialogue between all parties and stakeholders.
NEC early warning process ensures all potential operational and maintenance problems are identified and mitigated as early as possible.
NEC's use of simple English means the contract is easily understood by all parties.