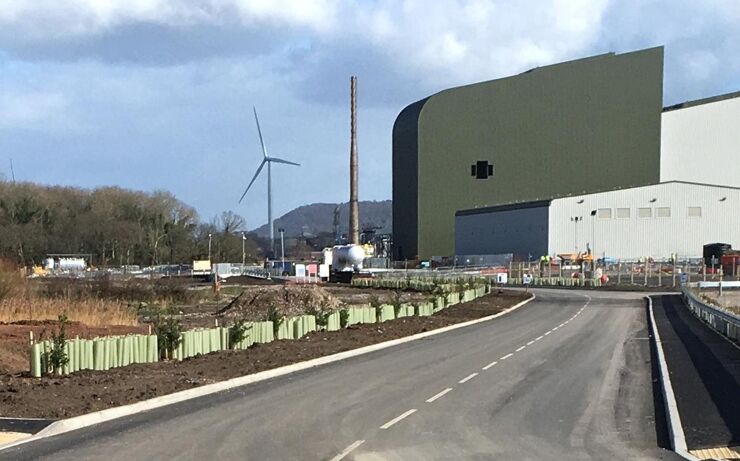 Protos is a 54 ha energy, innovation and industrial park near Ellesmere Port in Cheshire, northwest England. Following completion of NEC-procured phase 1 infrastructure works, the £700 million development site was opened for business in January 2017 by Andrew Percy, minister for the UK government's 'northern powerhouse' regional growth initiative.

The strategically located development is expected to bring £1.5 billion of investment and 13,000 jobs to the region. It already has a £66 million, 50 MW wind farm in operation and there is a £100 million, 21.5 MW biomass facility under construction plus other energy, innovation and industrial developments set to follow.

In November 2015 developer Peel Environmental engaged Buckingham Group Contracting Ltd to undertake the phase 1 infrastructure works under a £12 million NEC3 Engineering and Construction Contract (ECC) Option F (management contract). WSP was appointed as project manager with quantity surveyor Turner & Townsend and designers WSP and RSK.

The contract was for delivering over 2 km of new and improved roads, new roundabouts and new and temporary bridge structures. Work started on site in December 2015 and practical completion was awarded in March 2017.
Contract flexibility
WSP project manager John McCabe says, 'NEC3 ECC was an automatic choice for a civils infrastructure project such as Protos. The project team already had a good working knowledge of the contract and we knew they would buy into NEC's 'mutual trust and co-operation' ethos.

'The Option F management contract gave us the flexibility to deliver the works as the design emerged. This meant we could start on site as soon as possible, retaining design liability but enabling valuable input from the contractor. It also allowed us to retain the single point of contact for design and key stakeholder management.'

He says the client team recognised that early contractor involvement would add to the skills and experience required to deliver the project. Early work involved a review of buildability and constraints to inform design, identifying opportunities and pricing the 26 work packages to provide the client with a budget. Designs and specifications were challenged by the team to drive best value, with around 10% saving achieved through value engineering.

'Establishing the NEC programme was a key priority,' says McCabe. 'This was reviewed and constructively challenged throughout the project with the team sharing ownership. Another early priority was to set up an NEC risk register. Mitigation measures were assigned and the process was closely managed using a red-amber-green status, with all team members contributing.'
Collaborative solutions
With numerous parties operating within the site, effective collaboration and coordination were essential. In line with the NEC approach of 'mutual trust and co-operation', the team liaised closely with each party to build relationships and understand interfaces. Weekly site coordination meetings were held and attended by the major parties to resolve any conflicts.

For example, the team had to ensure that abnormal loads for the 19-turbine wind farm could drive through ongoing roundabout improvements and 1.5 km of road widening. The wind farm and infrastructure teams developed a delivery plan to ensure sufficient space was provided, with vehicle tracking and traffic marshals helping to guide numerous large vehicles safely through the works. The roundabouts and access roads were also designed to permit delivery of replacement wind-farm components, including over-run areas in the roundabout islands.

Other examples of NEC-facilitated collaborative solutions included the foundations for the new access road. Ground conditions on the marshy site were poor but, rather than using a traditional piled foundation for the road, the client agreed to a higher-maintenance surcharge solution in exchange for a £250,000 capital saving.

Temporarily surcharging the ground to induce settlement required a transition slab to minimise differential settlement between the new piled bridge and the road, but this would also need long-term maintenance. However, as the client was actively involved in the decision process, it fully understood the ongoing maintenance requirement.
Managing risk and programme
An example of risks faced by the project team was the presence of over 90 utilities within the phase 1 working area. Following consultations with statutory undertakers, the team prepared a schedule of utilities with corresponding drawings and the contractor supplemented this with data from 50 trial holes. The project quantity surveyor then priced the utilities risk as £750,000.

McCabe says, 'Each utility service plan was given a red-amber-green status with corresponding mitigation, and we updated the schedule at each NEC risk management meeting. Through careful control and mitigation, we were able to reduce the utilities risk to an out-turn cost of just £85,000.'

Programme challenges included the client's obligation to provide the biomass renewable energy plant developer with a temporary access and potable water - including 2 km of offsite water main - by key dates. Following NEC processes, detailed target programmes were prepared by the contractor for each aspect and reviewed daily with the project manager. 'Real-time daily monitoring by the team enabled early identification of deviances, allowing mitigation to be applied and leading to achievement of the key dates,' says McCabe.

'Overall NEC brought the team together in a spirit of trust and co-operation, drove value through the supply chain and provided the necessary ground rules so all parties new where they stood.'
Benefits of using NEC
ECC Option F management contract provided the flexibility to start work on site as design emerged, delivering benefits of early contractor involvement and driving value through the supply chain.
NEC requirement for 'mutual trust and co-operation' helped to developed good relationships and collaboration within the project team and with other stakeholders.
NEC risk management processes helped to reduce the additional costs of dealing with over 90 utilities on the site from £750,000 to £85,000.
NEC programme review procedures ensured client obligations to deliver specific infrastructure to on-site developers by key dates were met.