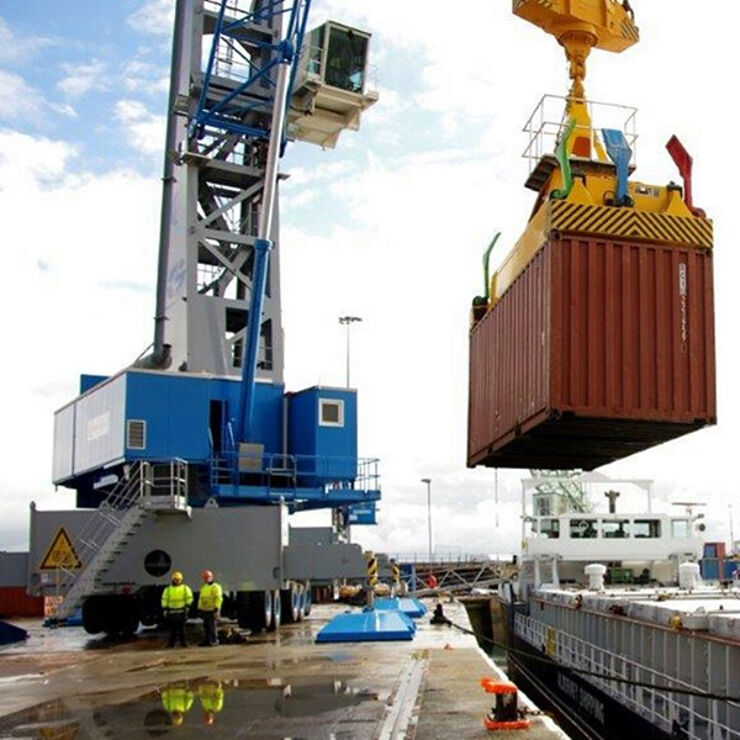 The Guernsey Public Services Department has used the NEC3 Supply Contract to procure two new 63t mobile cranes for the islands main St Peter Port harbour.
The work was part of a £14million NEC3-procured refurbishment of the harbours lift-on-lift-off (lo-lo) facilities, which handle more than 50,000t of containers each year. The modernisation included replacement of four existing fixed cranes - all of which were over 40 years old - with two state-of-the-art mobile harbour cranes from Germany.
The Terex Gottwald HMK170E mobile units have a lift capacity of 63t at a radius of 38m, work primarily on 11kV shore power and have a design life of 25 years. They were manufactured at Terex Port Solutions production facility in Dusseldorf, from where they were transported overland to Antwerp and then via ocean-going barge to Guernsey. Due to the islands 10m tidal range, offloading operations were restricted to a very narrow time frames with little margin for error.
Preparatory works - which were undertaken under NEC3 Engineering and Construction Contracts - included construction of a piled platform at an existing masonry wall berth and corrosion repairs underneath a 1970s reinforced concrete suspended slab berth.
Wide scope of Supply Contract
The £3.8 million NEC3 Supply Contract between the Public Services Department and Terex included production, delivery, installation, commissioning of the new cranes as well as the decommissioning, removal and disposal of existing portal and derrick cranes on the berths. The contract, which also includes 24 months warranty on the new cranes, was managed by CH2MHill on behalf of States Property Services.
The cranes were delivered separately to suit the progress of the preparatory works, with the first in February 2013 and the second in November that year. The second was originally scheduled to arrive in October but bad weather forced the barge to divert temporarily to Southampton.
According to David Parish, Guernsey Government's Head of Project Services, "The NEC3 Supply Contract has worked well, even with the requirement to have two currencies - euros for the crane supply as delivered from Germany and a pounds sterling for demolition of the existing cranes."
"Furthermore the absence of references to any UK-specific legislation within the main clauses made it easier to fit the contract into Guernsey legislation than some other families of contracts," he says.
Benefits of using NEC
NEC3 Supply Contract ensured on-time and on-budget delivery of two large and sophisticated mobile harbour cranes from Germany to Guernsey via a challenging sea crossing.
Production, delivery, installation, commissioning and 24 months warranted operation of two new cranes as well as removal and disposal of four existing cranes all procured by a single Supply Contract.
Different currencies able to be used in the Supply Contract, with euros for supply of new cranes and pounds sterling decommissioning of existing cranes.
Absence of UK-specific legislation in Supply Contract main clauses made it easier to fit local legislation.
Collaborative ethos of Supply Contract aligns with ECC contracts used for associated preparatory works and other local public-sector projects.