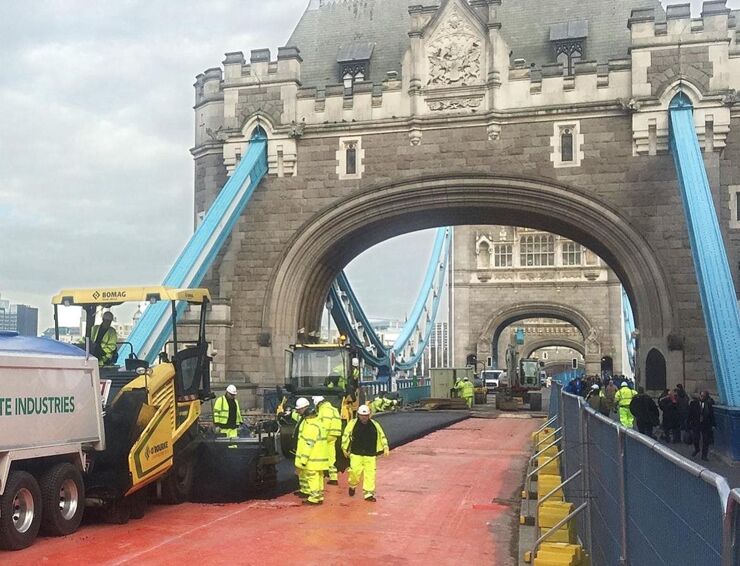 The decks and approach viaducts of the iconic grade 1 listed Tower Bridge in central London, UK have been extensively refurbished under an NEC works contract. Built in 1894, the 244 m long crossing of the River Thames now carries around 40,000 people and 21,000 vehicles a day, resulting in the need to renovate its timber decking installed in 1970.

City of London Corporation initially appointed Bam Nuttall under its bespoke Pre-Construction Services Agreement for early contractor involvement in November 2015. The works were then carried out under an NEC3 Engineering and Construction Contract (ECC) Option A (priced contract with activity schedule) during a three-month road traffic closure at the end of 2016. The high-profile, £5 million project included removing and replacing the carriageway surfaces plus installing expansion joints and waterproofing.

Particular care had to be taken to keep bridge open to pedestrian and river traffic, the latter requiring the bascules to be raised up to seven times a day. This in turn required each bascule to be ballasted as sections of deck were removed so as to keep the lift-motor loads in balance.

Through a combination of early contractor involvement, close collaboration, careful planning and value engineering, the bridge re-opened to traffic on budget and a week ahead of schedule on 22 December 2016. It was voted Civil Engineering Project of the Year Award (up to £10 million) at the 2017 British Construction Industry Awards.
Early contractor involvement
City of London assistant director of engineering Paul Monaghan says, 'The main reason we chose NEC for the Tower Bridge refurbishment works contract was that it fitted very well with our bespoke Pre-Construction Service Agreement for early contractor involvement with planning and design.

'In addition, our experience is that the market reacts adversely to some of the older, traditional contracts, particularly in relation to liabilities and allocation of risk. This often leads to tenders being heavily qualified or carrying a high premium.

'At Tower Bridge, the project risks were fully established and quantified as the design was developed under the Pre-Construction Services Agreement. In this way, risks were costed and allocated by agreement in the ECC Option A contract.

Monaghan says the high level of planning meant very few issues arose during the relatively short duration of the refurbishment works. 'However, for those issues that did arise, early communication and early discussion of potential compensation events was promoted by the contract, as well as through the contractor's own project management procedures.'

He says the communication timescales required by NEC proved quite challenging for the City of London, where officers' delegated powers are limited by standing orders and some decision have to be referred to committees. 'However, overall the NEC worked well and resulted in the bridge reopening to road traffic a week ahead of schedule and to all stakeholders' complete satisfaction.'
Benefits of using NEC
NEC helped to ensure the successful refurbishment of a high-profile landmark structure within a tight timeframe.
NEC fitted well with the early contractor involvement agreement for planning and design input ahead of the main design and construction works.
NEC promoted efficient and timely communication and resolution of potential problems, helping to ensure the project remained on time and within budget.