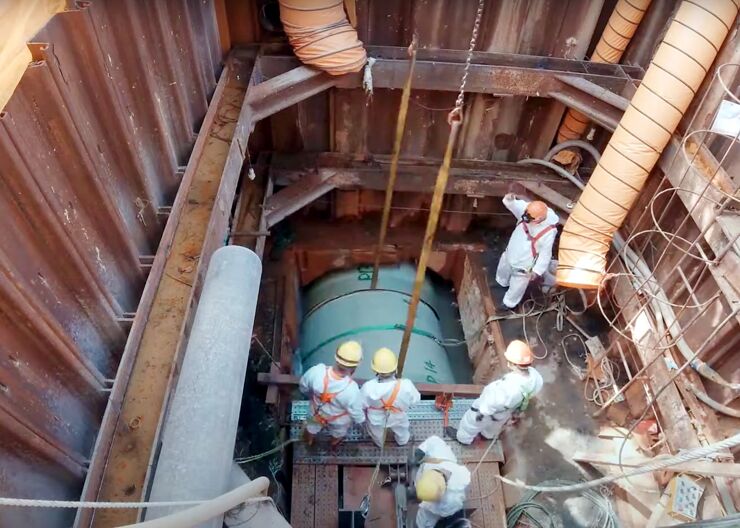 NEC has been used to rehabilitate a 4.2 km long trunk sewer in Tuen Mun, Hong Kong under live flow conditions. The Drainage Services Department (DSD) of the Government of the Hong Kong Special Administrative Region let the project to Chun Wo Construction and Engineering Company Limited in December 2018 under an NEC3 Engineering and Construction Contract (ECC) Option D (target contract with bill of quantities). The HK$807 million (£81 million) scheme was completed on budget and programme in March 2023, with zero accidents.
The work involved trenchless slip-lining of the live trunk sewer along Lung Mun Road in Tuen Mun using 2.3 m diameter glass-fibre reinforced plastic (GRP) pipe segments. These were lowered into the sewer and jacked into place from temporary shafts. The existing sewer was mostly a 2.5 m octagonal reinforced concrete box culvert in very poor condition, with up to 0.8 m depth of silt and other obstructions.
Three remote-control robots were collaboratively developed to help clear the sewer of silt and obstructions and assist with lining, particularly on curved sections. The contract also included construction of a new 600 m long, 1.2 m GRP diameter sewer using a micro-tunnelling machine and rehabilitation of two groups of inverted siphons across Tuen Mun River Channel using cured-in-place pipes. Binnies Hong Kong Limited was NEC project manager.
Collaboration on safety
Senior engineer of DSD, Frankie Leung, says the project team fully embraced the NEC's required 'spirit of mutual trust and co-operation', in particular to ensure the works would be carried out safely and completed on time. 'Through the NEC early warning and risk reduction process, operator safety was identified as a major risk from the outset. In addition to replacing the lining in a fast high-level sewage flow, poisonous and explosive gases such as hydrogen sulphide and methane were common.'
He says the project team discussed how to minimize or eliminate people working inside the live sewer at NEC risk reduction meetings. 'We collaboratively developed three tailor-made robots overcome the challenges, and together these cut the need for workers to enter the sewer by 80%. In recognition of this team's innovation and dedicated approach to site safety, the robots won the Silver Award in the 47th International Exhibition of Inventions Geneva in 2022.'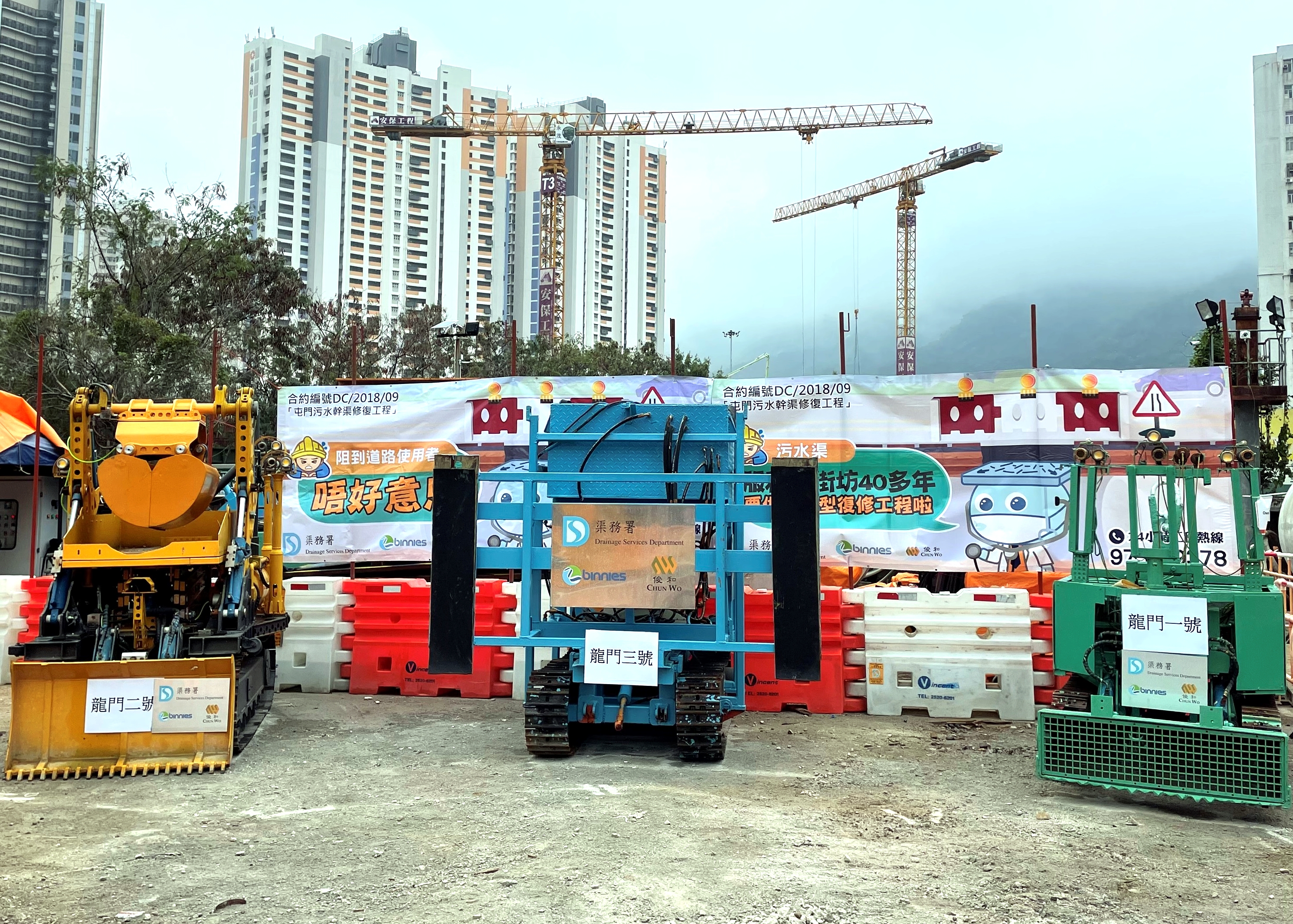 Binnies Director, Stephanus Shou says the first robot, Lung Mun I, looked like a mini-dozer. 'It had a high-pressure water jet at the front of an auger to break up silt and move it downstream to the receiving shaft for collection by a bucket grab. We then jointly developed Lung Mun II, which was three times more powerful, able to remove large hard materials and could travel 70% further, while Lung Mun III was also able to facilitate pipe installation at curved sections and branch connections.
He says the project team's joint development of the robots was a great example of NEC-inspired collaboration. 'We worked collaboratively to share views and ideas, improve design schemes and search for capable and competitive manufacturers in the market.'
Innovative solutions
Chun Wo operations manager Bear Ding says to enhance site safety further, innovative site safety systems were implemented for the confined-space works. 'These included a centralised real-time camera monitoring system, artificially intelligent cameras and virtual reality safety training. We also later had to deal with the Covid-19 pandemic, so a set of enhanced protection systems was collaboratively devised to safeguard the health of the workers as well as the hygiene of nearby areas.'
He says NEC mutual trust and co-operation extended to eliminating the risk of uncertain existing conditions in the sewer that might disrupt the lining insertion works. 'We collaborated to conduct additional laser scanning of the sewer to generate three-dimensional models using point clouds and building information modelling techniques. With the aid of the models, we could tailor lining segments to the right shape at bends and junctions, eliminating the chance of potential clashes.'
Frankie Leung concludes, 'Although numerous challenges were encountered, the project team worked proactively and collaboratively in line with the NEC ethos to resolve them with a common goal to complete the project safely and on time. The entire 4.2 km long trunk sewer was properly rehabilitated six months ahead of contract completion and, more importantly, no accident happened in four years of construction.'
Project highlight video
Benefits of using NEC
NEC requirement to act in a 'spirit of mutual trust and co-operation' resulted in full collaboration between the parties from the outset.
NEC early warning and risk reduction process helped to ensure safety was given full priority from the beginning, resulting in zero accidents over four years.
NEC-inspired collaboration resulted in the successful joint development of innovative solutions, including three prize-winning remote-control robots.