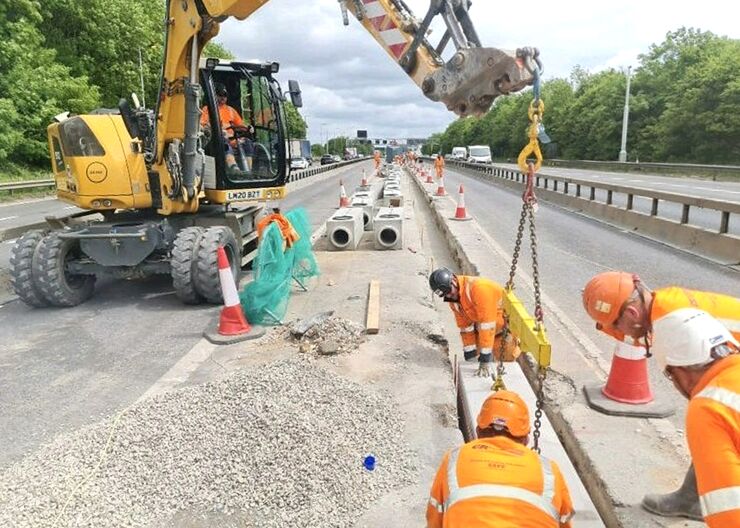 NEC Users' Group platinum member National Highways adopted NEC4 contracts to deliver its multi-billion-pound smart motorways programme through a multi-party alliance.

Based on experience with its previous collaborative delivery framework and seeking to adopt the Project 13 enterprise approach, the government-owned organisation established National Highways SMP Alliance together with six partners in April 2020 using an NEC4 Alliance Contract (ALC). The alliance's supply chain has been engaged under the NEC4 Framework Contract (FC), NEC4 Professional Service Subcontract (PSS) and NEC4 Engineering and Construction Subcontract (ECS).

The aims of the smart motorways programme, whichhas involved converting hard shoulders to all-lane running or dynamic-hard-shoulder running, include increasing capacity, enhancing safety and improving user journeys on England's 7,000 km strategic road network. The programme seeks to take advantage of roadside technology and deliver works in a more environmentally friendly and cost-effective way with less impact on customers compared to road widening.

The wider smart motorway programme started in 2005. SMP Alliance mobilised in 2020 at the start of road investment strategy period 2 with a £4 billion package of works originally due to extend over a 10-year period to the end of period 3 in 2030. While external influences have since impacted on the anticipated programme of works, the alliance and its supplier network are continuing to deliver significant and important works across the motorway network worth over £2 billion.

The works include upgrading the M6 between junctions 21a and 26, the stopped vehicle detection retrofit programme and £900 million of safety improvements. The latter includes upgrading central reservations to concrete safety barriers and a national emergency area retrofit programme, which involves installing approximately 150 additional emergency areas across 800 km of smart motorways already in operation.
Integrated enterprise
The alliance is a partnership with seven members, namely National Highways, Fluor, WSP, Jacobs, Balfour Beatty, Costain and the BAM Morgan Sindall joint venture. It operates as an integrated enterprise with a shared mission to unite diverse teams in a collaborative way that inspires people and unleashes fresh thinking to innovate and ultimately transform infrastructure delivery.

For its collaborative approach, and the resulting successes to date against the headwinds of considerable challenges and change, the alliance won both the 2023 NEC Transport Contract of the Year award and the 2023 NEC Contractor of the Year award.
Mutual trust and collaboration
Alliance commercial and procurement director Peter Winnicott says that the alliance mobilised in June 2020 as the country adapted to the Covid-19 pandemic. 'In line with the NEC requirement to act in a "spirit of mutual trust and co-operation", the partners maximised co-operation digitally to form the alliance organisational structure, appoint key persons and create multi-partner initiation groups. These groups led workstreams to develop key alliance-wide common processes and procedures forming the alliance integrated management system.'

He says at the same time the alliance started a transformation agenda collating best-practice ideas to drive fundamental change. 'Unlike a traditional scheme-by-scheme approach, our programmatic approach to delivery enabled us to take a long-term view on investment. This included creation of standardised design playbooks and solutions alongside modularised construction approaches that maximised buying power, productivity, safety, quality and customer service through common repetitive installation.'
Measurable outcomes
Winnicott adds that the performance table in the NEC4 ALC united the partners to a set of six measurable outcomes. 'These were aligned to targets for budget, customers, safety and delivery, to which the alliance collectively added "enhanced environments", "enriched communities" and "inspiring workplaces". These additional outcomes supported the development of our people alongside the client's sustainability and social value objectives, helping us to attract some of the best talent across the industry.'

He says the alliance's management encompasses staff from the client and partners. 'This eliminates boundaries and focuses on building the right culture that unites teams around common success factors. We might have different parent organisation hats, but we leave these at the door working as the alliance. Shared reporting, assurance and Cemar online contract management environments are deployed to provide "one version of the truth" for the client and partners alike, who all perform collectively through the incentive model.'

Winnicott goes on to say the alliance uses composite assurance teams to self-assure the deliverables and performance. 'We monitor effectiveness in building trust and co-operation through regular cultural surveys, which show high scores in engagement, empathy, constructive challenge and psychological safety.'
Agility and adapting to change
He says collaborative relationships and trust built between the client, partners and the wider supplier network has enabled the alliance to be agile and adapt rapidly to major challenges and changes in scope. 'External influences have led to significant changes to the alliance programme of works. Together, following government-led reviews on smart motorways, we have jointly adopted and agreed significant change events across schemes. True co-operation is evidenced through delivery, with resources shared widely between the partners to optimise efficiency while adapting to unprecedented levels of change to requirements.'

According to Winnicott, embedding a long-term, high-performing supplier network has been a key foundation for success. 'The alliance supply chain strategy placed our suppliers at the heart of the alliance delivery model. Following a programmatic value-led procurement phase, the alliance used the NEC4 FC, PSS and ECS to engage suppliers as early as possible in the scheme life cycle.'

He says the supplier network contracts contained an amended incentive model aligned to the alliance outcomes. 'This has enabled the supplier network to be involved much earlier at the concept and design phases to bring innovation and work collaboratively with us to transform productivity and performance, maximising the value to the client and ultimately the customer. The alliance supplier relationship framework has ensured ongoing communication and co-operation across all partners and our suppliers.'
Benefits of using NEC
NEC4 ALC facilitated the creation of a collaborative, integrated and agile multi-party alliance to deliver a major and fast-changing national infrastructure programme.
NEC ALC performance table incentivised all partners to achieve common beneficial outcomes for the client and the programme.
NEC obligation to act in a 'spirit of mutual trust and co-operation' ensured a high-level of collaboration between alliance partners and its supply chain, which was engaged on back-to-back NEC framework, service and works contracts.