New to NEC
Complete the form to get access to the NEC Toolkit to help you get started with NEC.
New to NEC?
All NEC Contracts are designed around the following three principles.
They stimulate good management of the relationships between those signing the contract and the work involved in the contract
They can be used in a diverse range of commercial situations, for a wide variety of work and in any location around the world
They are clear, simple and written in plain English, using a language and structure which is straightforward and easily understood.
In order for companies and organisations to understand what NEC is and how NEC can support your projects and drive better delivery outcomes, we have created an NEC Toolkit that will
Showcase how NEC can add value to your organisation
Help you in making the right decisions if you choose to use NEC
Inform on the tools that will support your business initiatives
Take you through the NEC adoption journey with various support offered by the NEC throughout your project lifecycle
The toolkit is a combination of information and advice; it provides key messages relevant for your senior leaders, decision makers and key stakeholders in your business.
Contact us for more information - info@neccontract.com
Watch our webinar on how to get started with NEC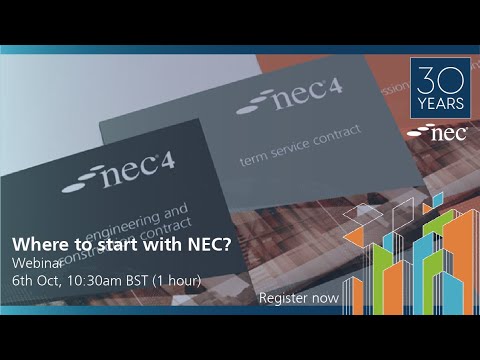 Webinar: Where to start with NEC?"
Get your NEC Toolkit
Please complete the form to get immediate access to the NEC Toolkit
When you make an enquiry or complete a form on our website, we need to collect information from you in order to fulfil your request. All such information is held on secure servers. The Institution of Civil Engineers (ICE) and Thomas Telford Ltd (TTL) will treat all your personal information as fully confidential. Read full legal statement.