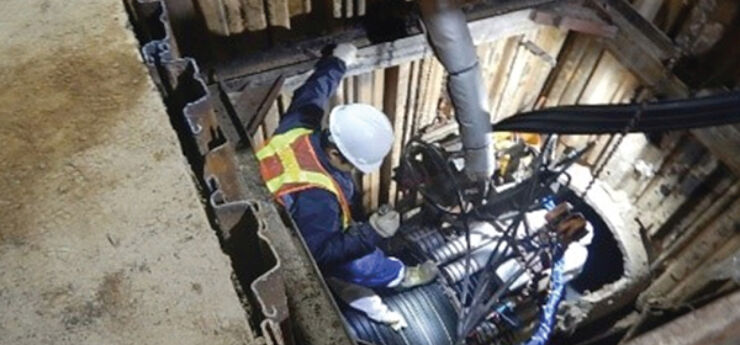 Earlier this year the Hong Kong government's Drainage Services Department (DSD) renewed its NEC3 Term Service Contract (TSC) for procurement of drainage and sewerage maintenance services in four rapidly developing districts in the New Territories.
Tuen Man, Yuen Long, North and Tai Po districts have a combined area of 511km2 and cover about 46% of Hong Kong's total land area. The population of 1.66 million mostly lives in the fast-expanding towns of Tuen Mun, Tai Po, Tin Shui Wai, Yuen Long, Sheung Shui and Fanling. However, there are still more than 200 rural villages scattered over the districts.
In January 2015 DSD let a four-year NEC3 TSC option A (priced contract with price list) to China Road and Bridge Corporation for maintenance of drains and sewers in the four districts. The scope included maintenance and improvement of public sewers, stormwater drains, rivers and channels, inflatable dams, slopes and retaining walls, and stormwater pumping schemes, as well as flood relief works under heavy rainstorms. The estimated final contract sum was around HK$630 million (£60 million).
Upon successful completion of the contract in January 2019, DSD awarded a further four-year NEC3 TSC maintenance term contract to the same contractor.
Partnering culture
DSD service manager's delegate Chan Singyung says the 2015−2019 maintenance term contract was one of many NEC trial projects let by Hong Kong public works departments since 2009. 'NEC fosters a partnering culture with foresight, such that problems and risks are mitigated proactively and collaboratively. Risk reduction meetings can be held to allow early warnings to be raised and potential problems discussed by both the service manager and the contractor at an early stage.
'For example, on one occasion the contractor warned us that pipe repair works by traditional lining methods would cause serious disturbance to local traffic and recommended a better way to do the job. This was discussed at a risk reduction meeting, where we decided to change to the contractor's proposed ultraviolet-light-cured lining method, which shortened the curing period.'
He says NEC has delivered many benefits over the traditional General Conditions of Contract (GCC) that were formerly used for all government works and services procurement. 'Various aspects have been improved compared with previous maintenance contracts using GCC. These include less time required to assess compensation events, increased number of task orders completed earlier than the stated completion date, and reduced time for finalisation of task orders.'