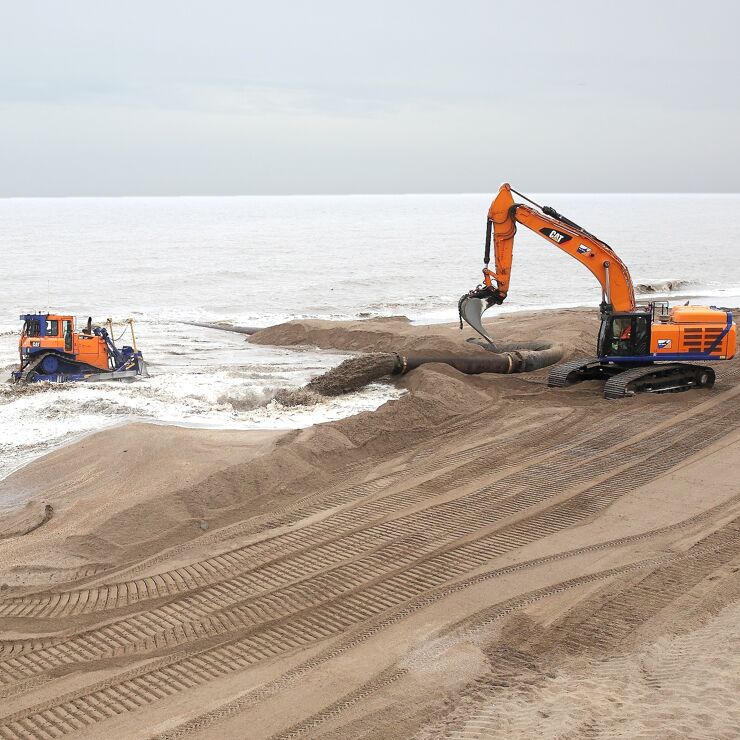 England's Environment Agency is using NEC contracts for its ongoing beach nourishment works in Lincolnshire, which are part of one of the largest and longest running coastal defence schemes in the UK.

The most recently completed three-year contract, covering the period 2018 to 2020, was let to contractor Team Van Oord under an NEC3 Engineering and Construction Contract (ECC) Option C (target contract with activity schedule) through the Environment Agency's NEC-based water and environment management framework. The contractor has been reappointed until 2024 under NEC4 ECC.

The £16 million 2018−2020 project involved nourishing beaches at specific locations along the 22 km open coastline between Mablethorpe and Skegness as part of the wider management of the 40 km frontage between Saltfleet, just south of the Humber estuary, and Gibraltar Point, which is just north of the Wash. A total of 400,000 m3 of dredged sand was placed over seven weeks each spring to maintain flood protection to 20,000 lowlying properties and 35,000 ha of land.

Jacobs was engaged under an NEC3 Professional Services Contract (PSC) to manage and supervise the main contract, undertaking the roles of ECC project manager, NEC supervisor and environmental clerk of works. Further NEC3 PSC contracts were used to appoint Jacobs for design, Capita/JBA for technical support, Callsafe Services for CDM principal designer and Arcadis for cost management. All contracts were signed between January and February 2018 following a tender exercise of around 9 months.

The 2018–2020 project was shortlisted for the Climate Resilience Project of the Year in the 2021 British Construction Industry Awards. It also won a Most Considerate Site Award in the 2021 Considerate Constructors Scheme National Site Awards.
Creating a shared vision
Project executive Andrew Rouse says the Environment Agency has used NEC contracts in all its national frameworks since they first started in 1999/2020. 'The NEC obligation to work in a, "spirit of mutual trust and co-operation," encourages project teams to adopt collaborative behaviours to ensure successful delivery.

'With the right leadership and site environment, this can inspire and motivate people through creating a shared vision and building a team spirit. NEC encourages everybody to work together to resolve the challenges that we face as a project team but where the risk ownership is clearly allocated to one party within the contract.'
Rouse says the 2018–2021 Lincolnshire beach management campaign was procured under the 2013–2019 water and environment management framework, which was based on NEC3 PSC and ECC contracts. 'All our new frameworks now use NEC4 PSC and ECC, through which Van Oord has been reappointed for the 2021–2024 Lincolnshire beach nourishment campaigns'.
Appropriate allocation of risk
He says the Environment Agency adopted ECC Option C for the main contract with Z clauses to allocate the risks of working within a marine environment to the party best placed to manage them. 'The key risks held by us, as client, were changes to the volume or location of beach material required, variations in fuel price and variations in exchange rates. The latter two were confirmed each February and then held for the duration of that year's campaign.'

He adds that given a significant proportion of the contractor's costs were in euros, the contract included a pricing mechanism to ensure costs could easily be converted from euros and other currencies to pounds for payment. 'This facilitated the transparent open-book approach of Option C'.

For the support and service contracts the Environment Agency used PSC option C or E (cost reimbursable) depending on whether the scope was clearly defined or whether the service was linked to the main contractor's programme.
Lessons-learned workshops
Rouse says a key element of NEC-inspired collaboration was the engaging, open and honest lessons-learned workshop held each year led by the Environment Agency's senior project leaders 'In response to lessons shared, year-on-year innovations were delivered to improve safety, health, environmental and welfare performance and to streamline the nourishment operation with minimal disturbance to the community.'

Examples include appointing a dedicated public liaison officer and installing a public information unit on the promenade to provide regular updates to the local community via social media, letter drops and face to face meetings Mental health awareness and wellbeing was promoted through toolbox talks, workshops, a quiz and dedicated mental health first aiders, while a 'You Said, We Did' board at the site office enabled all personnel to put forward ideas for improvement, with management reporting on action taken.
Open and honest environment
Van Oord pre-contract manager Alexandra Schofield says that from a contractor's perspective, the type of work being undertaken for the Lincolnshire beach management project required specialist equipment, with any project delays or disruptions potentially leading to significant cost increases.

'The NEC3 ECC contract allowed for these risks to be appropriately managed from the outset, minimising the risk of a dispute arising and focusing the team effort. The flexibility of the NEC suite of contracts and options enabled appropriate contract terms to be set according to the nature of the work being undertaken.' She says NEC provided a sound basis for a collaborative approach to project delivery. 'All parties embraced the partnering approach, which led to an open and honest environment for contract execution and pleasant working relationships.'

Environment Agency project manager Angela Scott sums up: 'NEC fostered collaboration and provided clear lines of communication. Early warnings were flagged verbally and then recorded and dealt with via risk reduction meetings. NEC's consistent process for compensation events made administration easy, and the resulting audit trail ensured transparency at all times.'
Benefits of using NEC
NEC obligation to work in a, 'spirit of mutual trust and co-operation,' encouraged the project team to adopt collaborative behaviours to ensure successful delivery.
ECC Option C enabled risks of working within a marine environment to be allocated to the party best placed to manage them.
NEC PSC extended the collaborative ethos to consultants, with flexible payment options depending on whether service scopes were clearly defined or linked to the main contract programme.
NEC-inspired collaboration included annual lessons-learned workshops, which led to year-on-year innovations and improvements, particularly with regard to safety and wellbeing.