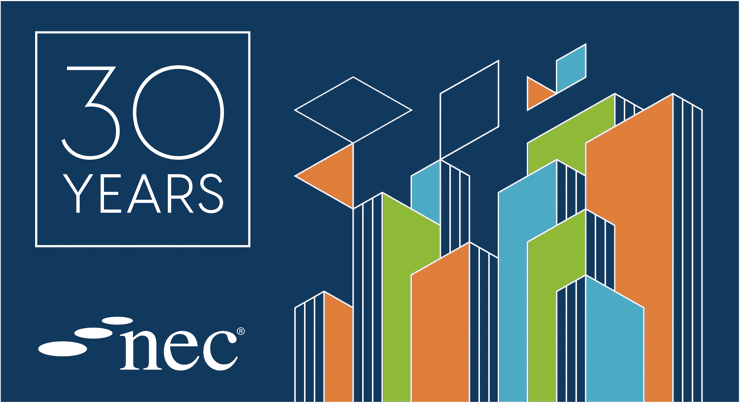 NEC is celebrating its 30th anniversary this year with a series of content discussing how NEC has developed over the years and what it might look like in the future. Webinars, videos and written pieces will bring the NEC story to life, telling of successes and lessons learned throughout our history. On social media, we will be highlighting past projects and asking NEC users to get involved and share their stories.
The first NEC contract – then known as the 'New Engineering Contract' – was published in 1993. It was a radical departure from existing building and engineering contracts, being written in plain language and designed to stimulate rather than frustrate good management. It was the only standard contract whose development was led by project practitioners and not lawyers. Their insight means that the use of NEC stimulates good management of the relationships within the project and the work the parties deliver together.
Dr Martin Barnes CBE, the creator of NEC, once said of its design "Our philosophy was to produce something which cured every known ill of traditional contracts. We did not have to compromise. Everything we thought would be a good idea went in – and we could decide what to put in solely on the basis of what would stimulate all those using it to manage their contribution well".
30 years later, NEC is still at the forefront of collaborative contracting, saving clients and contractors time and money by fostering a 'spirit of mutual trust and collaboration'. Three major revisions led to the release of NEC4 in 2017, and a steady expansion of the contract suite has moved NEC beyond just engineering into professional services, alliancing and, most recently, into facilities management.
Rekha Thawrani OBE, Global Head of NEC, said "It's great to be able to take stock of everything that's come before as NEC is adopted in new markets and sectors. Starting with only what is now the Engineering and Construction Contract, NEC's grown to support a huge diversity of contract needs, right up to the recent Facilities Management Contracts.
"NEC's global reach has also expanded with projects from Scotland to Antarctica, Peru to New Zealand. In 2019 we marked 10 years of NEC Contracts' use in Hong Kong, and we continue to support the move towards more collaborative working practices in Australia."

You can hear more from Rekha in this video:
Curious about NEC's history? You can check out the timeline here, and look out for details of an upcoming webinar discussing the very first project that used the NEC.
Join the conversation on LinkedIn by tagging '@NEC Contracts' or with #NEC30. You are also encouraged to join the NEC Community App where you can access free NEC resources, listen to the latest podcasts and connect with other NEC users and experts.