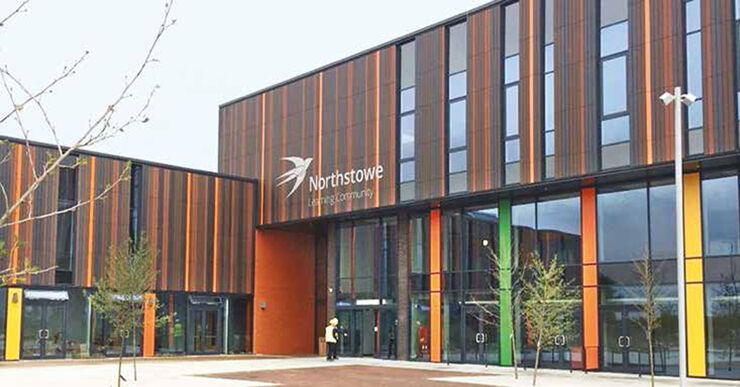 NEC contracts have been used to deliver the first phase of a large new education campus serving a sustainable new town in eastern England.

NEC Users' Group member Cambridgeshire County Council appointed its framework contractor Kier to design and build the initial phase of Northstowe Education Campus in 2017. Its secondary school started taking pupils from Northstowe new town and Longstanton village in September 2019 and the whole phase was completed on time and budget in June 2020.

Kier was initially engaged for early contractor involvement in design development under an NEC3 Professional Services Contract (PSC). NEC project manager and supervisor Faithful+Gould was also appointed using an NEC3 PSC. The contractor then carried out an enabling works project via an NEC3 Engineering and Construction Short Contract (ECSC) before starting the main works under an NEC3 Engineering and Construction Contract (ECC) Option A (priced contract with activity schedule).

The project involved delivering the first third of what will eventually be a 12-form-entry, timberframed secondary school with all-weather sports pitches, plus its core library, arts, drama, music and dining facilities. It also included a 110-place special education needs (SEN) school and an energy centre. Future phases will include a post-16 unit, primary school, nursery and café.
Trust and co-operation
According to Michelle Miranda of NEC project manager Faithful+Gould, 'The project team's focus was always on the requirement to achieve the opening of an operational new secondary school for Northstowe in time for the start of the school term in September 2019. It was accepted by all parties that this was a demanding target but it was felt with teamwork the NEC obligation to act in a, "spirit of trust and co-operation," this could be achieved.'

She says that under the NEC3 PSC contracts, a collaborative approach was adopted by the parties from the outset. 'All key stakeholders – including Cambridge Meridian Academies Trust, South Cambridgeshire District Council and housing developer Homes England – took an active part in the design development process. This ensured that by the time the final concept design was completed, there were minimal changes required, the frozen design was robust and signed-off by all.'

Miranda says modern methods of construction were considered from the outset and a factorymade cross-laminated-timber (CLT) framing solution was adopted. 'This reduced the construction duration by 20 weeks compared to the initial outline programme based on a traditional build. To further mitigate time risks, the team also agreed to tender and award the CLT package from the beginning of the concept design stage. This allowed for robust buildability discussions to take place and well informed decisions to be made during team design workshops, enabling coordination risks to be identified early, considered carefully and mitigated. The approach contributed significantlyto the build budgets being maintained through the lifespan of the scheme.'
Enabling and main works
Just before the project was due to start on site, previously identified environmental risks were realised with a badger sett taking longer to be relocated than planned. 'To mitigate the risk to progress, the project team agreed to proceed with enabling works that could be undertaken while the badger relocation concluded,' says Miranda.

She says the installation of a haul road and piling mat was let to the contractor under a separate NEC3 ECSC. 'With efficient reconciliation of the enabling works contract sum with the contractor, and the prompt processing of the contract by the client and its legal team, the overall project was able to maintain its momentum without compromising biodiversity obligations.'

Once the badgers were safely rehomed, the main works then commenced under NEC3 ECC Option A. 'Owing to the collaborative and respectful relationship between the client, contractor and project manager, and effective communication with the lead designer Frank Shaw Architects and key stakeholders, the initial time pressure concerns were largely mitigated,' says Miranda.

She says the progress of works on site and the use of sectional completions allowed the school to partially occupy the building in September 2019 as required. 'The remainder of the works were ahead of schedule but were ultimately delayed as a result of the Covid-19 pandemic. Despite this, the entire first phase of the campus was completed before the client's original target completion date, ensuring the secondary school and SEN school were handed over to the end users as planned.'
Benefits of Using NEC
NEC suite provided a range of collaborative contracts to procure contract management services, early contractor involvement in design development, enabling works and main design and construction works
NEC obligation to act in a, 'spirit of mutual trust and co-operation' ensured a collaborative approach was adopted by all parties and stakeholders from the outset
Collaboration in design development led to an early decision to use a factory-made crosslaminated-timber framework, which saved 20 weeks
Despite the Covid-19 pandemic, the initial opening date was achieved and the works were completed on time and budget