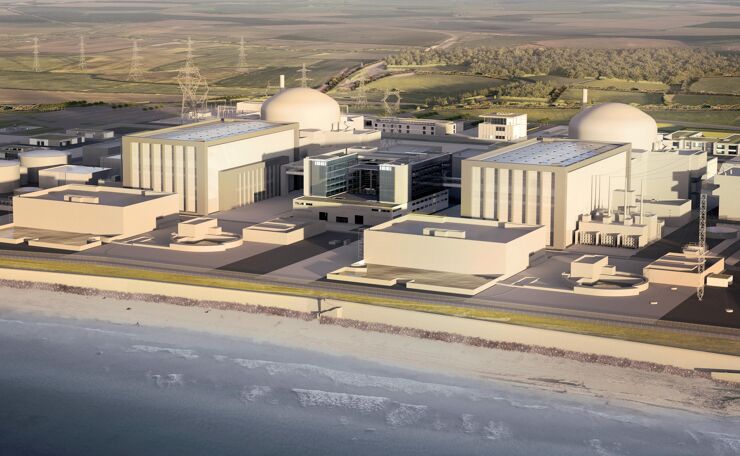 NEC contracts will now start delivering the majority of the £18 billion Hinkley Point C nuclear power station in Somerset, UK. The country's first new power station for more than 20 years finally got the go ahead in September 2016, with further stations due to follow at Sizewell C in Sussex and Bradwell B in Essex.

Client EDF and its Chinese partner CGN signed the 'contract for difference' with the Greg Clark, the UK government secretary for business, energy and industrial strategy in London on 29 September. This guarantees the price of Hinkley's 3.2 GW electricity from 2025 to 2060 and enables EDF to start spending in earnest.
Signing contracts

In particular EDF commercial director Ken Owen can now start signing over 70 contracts with 'preferred bidders' representing over 90% of the project's value. 'Now we have achieved the financial investment decision, there is a coordinated plan to sign contracts commensurate with the project schedule,' he says.

'However, over 30 partners have already been actively engaged in early contractor involvement and early works contracts that will ultimately be subsumed into the main contracts on signature. The balance of procurement will be in accordance with the project's schedule, which will see many packages of work commence their procurement process over the next 18 months.'

Large NEC construction contracts include nearly £3 billion of civil engineering with Bouygues Laing O'Rourke joint venture, £200 million of marine works with Costain and £200 million of earthworks with Kier Bam Nuttall joint venture.
Key role for NEC

EDF took a decision many years ago to use NEC for the bulk of Hinkley Point C procurement following its emergence as the UK nuclear industry's contract of choice – not least on the Nuclear Decommissioning Authority's £3 billion a year programme to clean up Britain's older nuclear sites (Issue 62).

'By value of contracts, NEC will cover over 75% of the contract footprint,' says Owen. 'The main works contracts are mostly being procured under the NEC3 Engineering and Construction Contract Option C, target contract with activity schedule, while the NEC3 Professional Service Contract and NEC3 Term Service Contract are being used for services.'

He says NEC has been adopted for all site construction, engineering, project management, associated developments and site services. The EPR nuclear systems and equipment will be procured by Fidic contracts, but these have been restructured to, 'reflect NEC principles'.
Consistent approach

Speaking at the NEC Users' Group annual seminar in April this year, Owen stressed the importance of developing a 'consistent approach' to NEC contract management, with guidelines produced in English, French and Chinese and a comprehensive 13-module training programme for all NEC supply chains.

'We have also now developed our own fiveyear professional apprenticeship programme for contract and commercial management,' he says. 'This is based on the NEC philosophy and covers technical issues, behaviours and judgement.'

Owen already has a 750-strong project team at EDF's Hinkley 'command centre' in Bristol, where staff from EDF and contract management consultants Faithful & Gould, Gleeds, Jacobs, KBR and Mace are co-located.

Overall the project is expected to create 25 000 jobs during its 10 year construction programme.