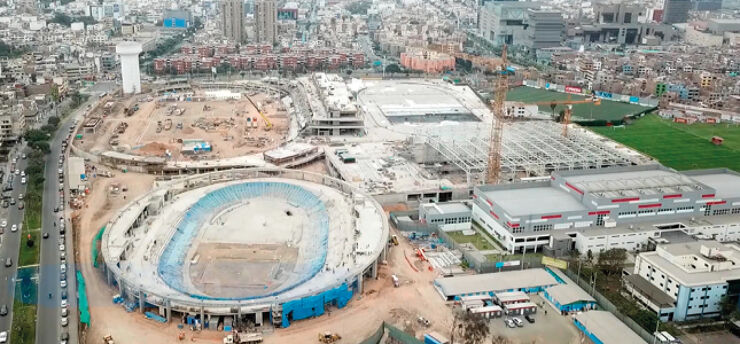 The main NEC-procured athletics, swimming and cycling venues for the Lima 2019 Pan America and Parapan American Games are on schedule for completion in March 2019, four months before the opening ceremony on 26 July.
Peruvian contractor Cosapi won the PEN 500 million (£115 million) project for the venues at Videna in December 2017 under an NEC3 Engineering and Construction Contract (ECC) Option F (management contract). The project includes a new 15,000-seat athletics stadium, aquatics centre and sports centre with retractable stands, plus enlarging and roofing an existing velodrome.
The Peruvian government appointed the UK Department for International Trade in April 2017 to provide support on the delivery of around £400 million of venues and facilities for the games using NEC contracts. DIT engaged Arup and Mace to provide technical and construction management support respectively.
Other venues clusters are being delivered at Villa Maria del Triunfo, Callao and Chorrillos, plus an athletes village at Villa el Salvador. Lima 2019 president Carlos Neuhous Tudela recently confirmed that 95% of all works would be completed by March.