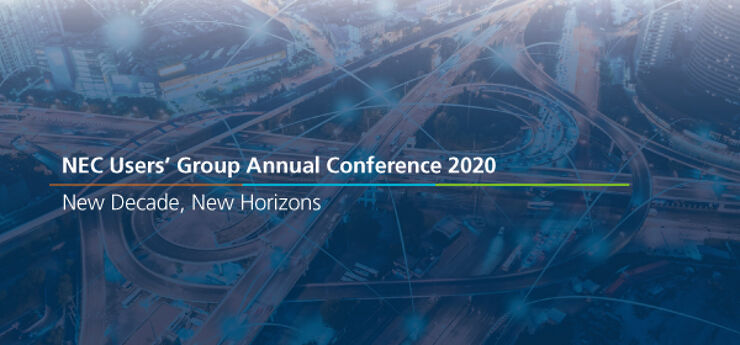 On 15, 16, 17 of June, NEC welcomed delegates from around the globe to the Users' Group Online Conference 2020. After carefully monitoring government guidelines in response to Covid-19, and with delegate safety taking precedence, we made the decision to move the conference to a digital platform.
Delivered via a series of live webinar presentations and workshops, the conference boasted a fantastic line up of speakers from the UK, Hong Kong and Belgium, and the NEC Awards showcased fascinating examples of success in using NEC from both the UK and overseas.
The conference was specifically designed to encourage learning and discussion and, despite the need to adapt to a new delivery format, it did just that, with every session promising a healthy flow of questions and rich debate surrounding current topics.
Monday 15 June 2020 AM
Government Update
Session one began with welcoming remarks from David Hancock, NEC Users' Group Chair & Construction Director, Infrastructure Projects Authority (IPA) followed by Nick Smallwood, Chief Executive Officer, IPA.
Nick discussed standardising contracts helping to increase productivity, delivering the National Infrastructure and Construction Pipeline. The focus shifted to explore how NEC is helping government and industry come to collaborative solutions to challenges that have arisen from Covid-19.
Following Nick, Noel Shearer, Head of Construction Category at Crown Commercial Service, explored the management of the £30bn/7 Year Pan-Government Construction Works and Services Framework and how this helps shape public sector construction whilst boosting innovation through collaboration and supply chain integration.
Monday 15 June 2020 PM
Covid-19: NEC Guidance and Advice
Peter Higgins, NEC4 Board Chair and Ian Heaphy, NEC4 Board Member opened the afternoon workshop session with guidance and advice on the current Covid-19 pandemic. Peter and Ian reviewed contract provisions as well as industry and governmental guidance, looking at the cost and time effects of Covid-19 in existing and new contracts. With Covid-19 impacting not only the construction industry but a vast range of industries globally, this proved to be a hugely interactive session with some fantastic discussions taking place between delegates.
Tuesday 16 June 2020 AM
UK Case Studies
A14 Cambridge to Huntingdon Improvement Scheme - Highways England
Chairing Tuesday morning's session, Richard Patterson, NEC4 drafter and Procurement & NEC Specialist, Mott MacDonald, introduced Graham Cole, Commercial Director, Highways England and Jon McRae, Commercial Director, A14 Integrated Delivery Team, Balfour Beatty. Jon and Graham shared their best practices whilst delivering the biggest highway upgrade, the A14 Cambridge to Huntingdon Improvement Scheme, discussing the integrated workings between client and contractor and the benefits of using NEC. Both reviewed in detail the positive behaviours and traits learned from adopting NEC contracts. Graham explained "It's unique to be in a one team mentality and the relationships and behaviours it creates." Jon supported Graham's statement "The priority is the right message is communicated from the top and we are blessed to have suitable project managers the team can look up to, leading to its success."
A400M Hangar – Defence Infrastructure Organisation
Jeff Davis, Associate Director, Project Management, WYG delivered the second case study of the morning, looking at the construction of the A400M Hangar, exploring building trust between parties, working collaboratively and transparently, and achieving success with NEC.
"It was critical that a collaborative ethos was deployed on this project. The NEC contract ethos and development of trust and cooperation was implemented from the start and it enabled us to deliver good practice and develop good relationships between all parties."
The new NEC4 Facilities Management Contracts
Closing the morning session, Ross Hayes, NEC4 Drafter took us through the new NEC4 Facilities Management Contracts. Ross explored the reasons for development, key features and developing contract documentation. He went on to explain that more specific guidance for using the upcoming facilities management contracts would be available in the future, including more in-depth user guides and specific training.
We would like to extend a special thanks to our sponsor Sypro Management Limited
Tuesday 16 June 2020 PM
Mock Adjudication
Mock NEC4 ECC Option B adjudication – a contractor's claim for additional payment, time and relief against liquidated damages
Tuesday afternoon presented itself as a particularly interactive session with Patrick Waterhouse, Bowdon Consulting, and Nicholas Gould and Jeremy Glover of Fenwick Elliott who effectively simulated a Mock NEC4 ECC Option B adjudication. The three presenters acted as adjudicator, referring party and responding party with a real-life, anonymised, adjudication explained and conducted. Attendees were given the opportunity to contribute to the process, which proved to be a provocative and thought-provoking session.
Wednesday 17 June 2020 AM
Global Reach
With Ian Heaphy, NEC4 Contract Board Member as chair, the third and final day took us on a tour of NEC around the globe. The final morning began with the NEC Awards, followed by a session on using NEC globally and finishing with two prominent case studies.
NEC would like to thank all who submitted projects for consideration and extend congratulations to the 2020 winners:
Transport Contract of the Year 2020: Retrofitting of Noise Barriers on Tuen Mun Road – Town Centre Section, Highways Department
Water Contract of the Year 2020: Construction of Dry Weather Flow Interceptor at Cherry Street Box Culvert, Drainage Services Department
Building FM Contract of the Year 2020: Lima 2019 Pan American and Parapan American Games Venues, Mace
NEC Client of the Year 2020: Sydney Water
NEC Contractor of the Year 2020: China State Construction Engineering
NEC Contract Innovation Award 2020: Tung Chung New Town Extension – Reclamation and Advance Works
Watch the full awards video here
Using NEC Internationally
Following the awards ceremony, Shy Jackson, Partner at Pinsent Masons explored the applications of NEC internationally. Shy discussed international contracts and their requirements, the suitability of NEC for international projects as well as the benefits of NEC for international projects.
Read Shy Jackson's paper on NEC in an international context.
Case Study: Oosterweel Link, Belgium
Exploring NECs use in Belgium, Katrien Van Rompay, Contract Manager at Lantis presented the Oosterweel Link case study. Katrien discussed the many incredible details of procuring NEC for a £3bn ring road in Antwerp and delivering mobility infrastructure. Katrien particularly focussed on the translation and interpretation process undertaken by her team in order to successfully implement NEC contracts on this project.
Case Study: Discussing 3801 Contract - APM / BHS Tunnels, Hong Kong Airport
Darrel Kingan, Deputy Director, Construction, Airport Authority Hong Kong and Victor Wu, Deputy General Manager, China State Construction closed off the morning session, highlighting the positive psychology needed for successful project management as well as the importance of effective communication and collaboration.
We would like to extend a special thanks to our sponsor for the Global Reach session – thinkproject
Wednesday 17 June 2020 PM
NEC Contract Horizon: Prelaunch Show and Tell
Barry Trebes, NEC4 Drafter and Helen Bradshaw, Technical Business Analyst, NEC closed off the final session of the conference with a fantastic demonstration of Contract Horizon, NEC's very own digital solution aiming to transform how you draft, compile and share your contracts. The show and tell demonstration successfully generated lots of excellent questions surrounding the functionality and user interface.
NEC would like to thank everyone who attended, sponsored, supported and spoke at the event and we cannot wait to see you again next year. For more opportunities to join our events and network with other NEC users, click here to find out how you can join the NEC Users' Group.