NEC has released a new format for accessing NEC4 contract documents, the Digital Library. This new format is an online platform which enables access to the NEC4 contracts. Users will not have to download additional software and will be able to access the contracts anywhere and on any machine with their MyNEC login.

The Digital Library offers a number of benefits for users:
View and search digitised copies of the NEC4 contracts and user guides
Search for terms and phrases within each contract and see how it is referenced in the relevant user guide
User-friendly and intelligent navigation designed to support your use of the NEC4 contracts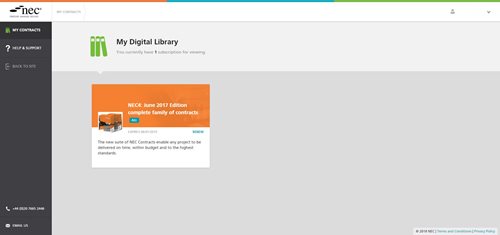 The NEC4 Digital Library
The Digital Library is available for
single users
and as an
enterprise licence
. To find out more about corporate packages, please contact
info@neccontract.com
.
NEC already offers access to the contracts through a variety of options, including paperbound, ePrint and eView. The Digital Library responds to NEC user demands to improve searching functionality of the documents and to develop easy integration between the Contracts and User Guides.
Elizabeth Brookfield, NEC Product Manager, said "We are delighted that this new product is now being made available to support our users embrace their digital procurement journey.
"The digital library offers enhanced searching and cross references between the documents, access to the contracts from anywhere in the world and a User-friendly interface."
The Digital Library is available for the
complete suite of the NEC4 contracts