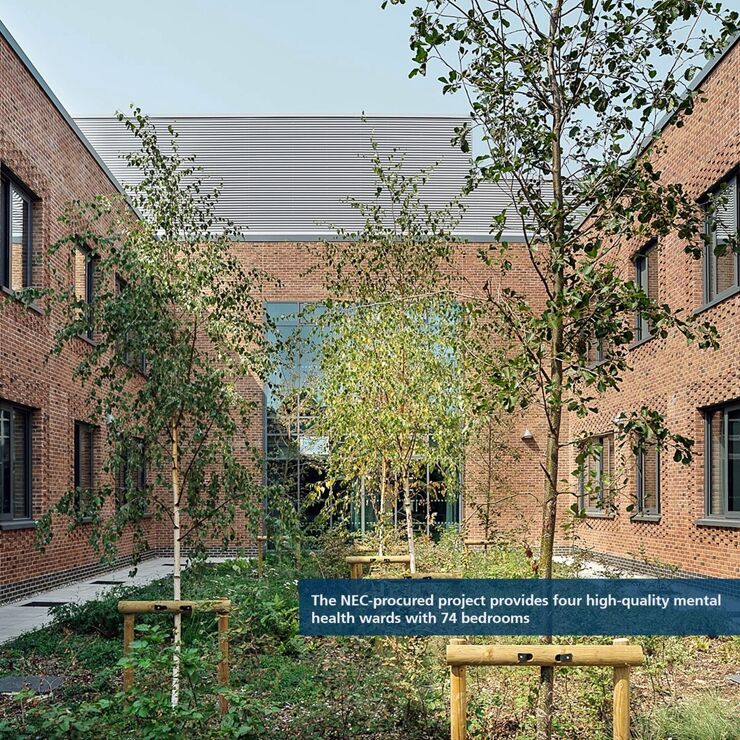 NEC contracts have been used to procure a new state-of-the-art mental health inpatient building at a hospital in north London, UK.
Client Barnet, Enfield and Haringey Mental Health NHS Trust engaged Integrated Health Projects (IHP) − an established joint venture between Vinci Construction UK and Sir Robert McAlpine − to design and build the new Blossom Court facility at St Ann's Hospital in Tottenham under an NEC3 Engineering and Construction Contract (ECC) Option C (target contract with activity schedule).

The £25 million contract was let through the NEC-based ProCure 22 (P22) NHS construction procurement framework in May 2017. Work started on site in October 2018 and was completed on time and budget in July 2020, despite restrictions due to the Covid-19 pandemic.

The new 4300 m2, two-storey concrete-framed building is clad in a mix of brick and glass. It provides four high-quality mental health wards and a total of 74 bedrooms. Each ward encloses its own private courtyard to provide safe, direct access to outdoor space. Passive measures and low-energy solutions control the internal environment, supplemented by air-source heat pumps and roof-mounted photovoltaic cells, resulting in a Breeam 'excellent' sustainability rating.

The building is the first phase in the hospital's redevelopment following disposal of surplus land to the Greater London Authority for building 900 homes, including 560 affordable ones. The contract therefore also included site-wide infrastructure upgrades, associated roads and car parking, a new main entrance on St Ann's Road and a new site reception.

The contractor's supply chain, including architect and principal designer Medical Architecture, structural and civil engineering consultant Perega and services consultant Hulley and Kirkwood, was engaged under back-to-back NEC3 Engineering and Construction Subcontracts (ECS), using either option A (priced contract with activity schedule) or option C. The client acted as project manager for the main contract.
Tried and tested contract
P22 is the third iteration of the NEC-based framework launched in 2003 for the rapid development and delivery of NHS and social care capital schemes in England. It streamlines procurement and creates a collaborative environment in which clients, the six principal supply chain partners and their supply chains can drive increased efficiency and productivity. More than £12 billion of schemes have been successfully delivered by P22 and its predecessors P21 and P21+.

According to the Trust's director of planning and partnerships Andrew Wright, 'We selected P22 as a procurement route because it quickly provided us with a competent, competitive and collaborative contractor that could deliver a full design and build solution. The framework has the added attraction of being based on the tried-and-tested NEC3 ECC Option C contract that requires parties to act in a "spirit of mutual trust and co-operation".'

He says a key benefit of P22 and the NEC target cost contract was the way they enabled the Trust to select IHP for the quality of its approach, its team and experience rather than price alone. 'ECC Option C allowed us to apportion risks to those who could best manage them, and the pain/gain share mechanism incentivised IHP to make savings we could reinvest in the project. The contract also had the flexibility to give us the reassurance of guaranteed maximum price of £25 million'.

Wright says P22 and NEC enabled accelerated procurement, allowing IHP to get involved at an earlier stage of the design process than would be the case in traditional procurement. 'ECC Option C is a mature contract that fits well with the ProCure framework, with Z clauses developed specifically to meet NHS England requirements. As such IHP and its supply chain were all familiar with the NEC contractual approach and sufficiently resourced to manage it effectively.'
Early design workshops
IHP south regional framework manager Jason Gibbings says a series of early design workshops were held with client to develop certain design principles. 'For example, a reinforced concrete flat slab solution was agreed from the outset of the concept design stage, and we carried out a detailed capital and life-cost assessment of whether to fit sprinklers. Our early involvement was also vital to testing and refining the design prior to agreeing on a guaranteed maximum price.'

Gibbings says the NEC early warning mechanism for flagging up and mitigating matters that might affect the programme and budget were effectively used by both parties. 'In some cases issues were fully addressed before they materialised. We also used a Sypro web-based contract administration portal to provide a live dashboard of the project, enabling all members of the project team to access and issue critical up-to-date information from a central location.'

He says the NEC contract was flexible enough to encourage a good relationship between both parties, thereby avoiding an overly onerous and contractual relationship. 'We held monthly meetings to constructively review progress reports and agree updated programmes. Overall NEC contributed to a collaborative and proactive ethos amongst the whole project team.'
Benefits of using NEC
NEC was a tried-and-test procurement contract that had successfully delivered over £12 billion of healthcare projects in England over the past two decades via the P21, P21+ and P22 frameworks.
The NEC requirement for parties to act in a 'spirit of mutual trust and co-operation' ensured a collaborative and proactive ethos in the project team and – through back-to-back NEC subcontracts – in the supply chain too.
ECC Option C allowed appropriate allocation of risk, and its pain/gain share mechanism incentivised the contractor to make savings the client could reinvest in the project. There was also the flexibility to set a guaranteed maximum price
NEC's early warning mechanism and facilitation of early supply chain involvement ensured that all matters which might affect the programme and budget were flagged and mitigated at the earliest opportunity, helping to ensure the project was completed on time and budget.