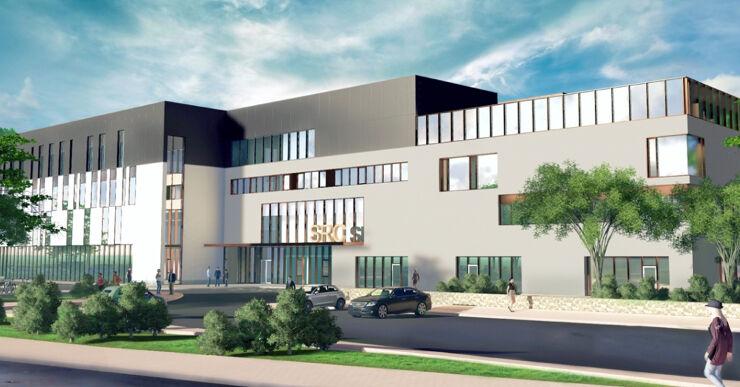 Southern Regional College in Northern Ireland is delivering three new state-of-the-art campuses between 2018 and 2022 using NEC contracts. The College won the NEC Client of the Year in 2018 for its innovative use of the contracts to deliver a wide range of curriculum innovations and digital assets in addition to the physical buildings.

With 34,000 students and over 900 staff, Southern Regional College is the largest further and higher education college in Northern Ireland outside Belfast. The three new campus developments will replace four of its six campuses across County Armagh and County Down.

The College appointed WYG and Kennedy Fitzgerald Architects as a single integrated consultancy team for all three projects under the NEC3 Professional Services Contract (PSC) option A (priced contract with activity schedule). WYG's roles include project manager, quantity surveyor and civil, structural, mechanical and electrical engineering designer.

Felix O'Hare & Co. Ltd was awarded the contract for the £35 million Armagh campus project in November 2017 under an NEC3 Engineering and Construction Contract (ECC) Option C (target contract with activity schedule). Due for completion in early 2020, the 14,000m2 building will provide specialist accommodation across a number of curriculum areas.

ECC Option A (priced contract with activity schedule) will be used for the 4,500m2 Banbridge campus building, which will include a new design centre when completed in mid-2020. This will be followed by a £45 million building at Craigavon to replace existing campuses at Lurgan and Portadown by 2022, again procured using ECC.
Digital model
The College has set a goal to create a digital model of its entire estate by 2022, including the three new buildings. In addition to supporting construction, operation and maintenance, the College wishes to use the digital model for ongoing educational purposes. The consultancy team was therefore briefed to deliver the new buildings in line with the UK government's Building Information Modelling (BIM) 'Level 2' standard.

NEC project manager Darren Price says, 'The challenge was to deliver both physical and digital assets in a way that would improve asset management but also form part of the educational curriculum. We also wanted to provide opportunities for staff, students and the wider community to inform the delivery process and benefit from any lessons learned.'

He went on to say, 'The requirements of the UK Construction Industry Council's Building Information Modelling (BIM) Protocol were incorporated in the ECC contracts and works information to support BIM Level 2 delivery. We also included a Z clause to allow delivery of the models to be used as educational tools by the college. This was completed by extending the definition of the protocol term "permitted purpose" to mean any educational purpose.'
Educational engagement
A number of bespoke clauses were included in the ECC works information to get the contractors to engage with the College's educational activities. 'The three projects are to be live learning tools during their design, construction and in-use phases. As part of this ethos, we specified college and stakeholder engagement as core contractor requirements,' says Price.

For example, the contractors have to deliver up to four class talks and presentations per term on agreed project-related construction topics, set project-based learning topics for student groups based around the works and their delivery, and arrange site visits for College staff and students. The contractors are also required to engage and supervise groups of College trainees undertaking construction skills apprenticeships to carry out parts of each building. They have to use students' graphic designs and/or artworks in the new buildings, including 50m2 of wallapplied vinyls. In addition, drone footage, timelapse videos, 360° images and augmented reality signboards need to be provided for use in multimedia courses.
Innovative delivery
The ECC works information also identified a number of innovation deliverables required by the contractors. 'For example, we require the contractors to link the digital design model directly to their site construction processes. We also want to see programmes and costing information integrated with the 3D digital models, in other words "4D" and "5D" BIM,' says Price.

Contractors are required to use augmented reality to visualise, communicate and co-ordinate parts of the works, and operatives need to use wearable technology to gather and/or share data. Contractors are also expected to adopt modern methods of construction such as off-site fabrication and emerging techniques and equipment.

Further innovation initiatives can be agreed and instructed as changes to the works information as the projects progress. The aim is to incentivise the contractors to partner with the College in investing in innovation delivery as part of the projects.

Price concludes, 'Overall, the promotion of project ownership and partnering is consistently threaded through the ECC contracts, from the pain–gain share ranges and percentages entered for the target option used, to the shared site accommodation on the ground. We have also encouraged contractors to use incentivisation rather than penalties in their supply chains.'

Southern Regional College chief executive Brian Doran comments, 'Winning the NEC Client of the Year Award is testament to the highly skilled, dedicated and talented delivery team who are driving our ambitious new build strategy to create world-class educational facilities for the future. With the support and commitment of the Department for the Economy and all our partners, we are really proud to be bringing these pioneering projects to fruition.'