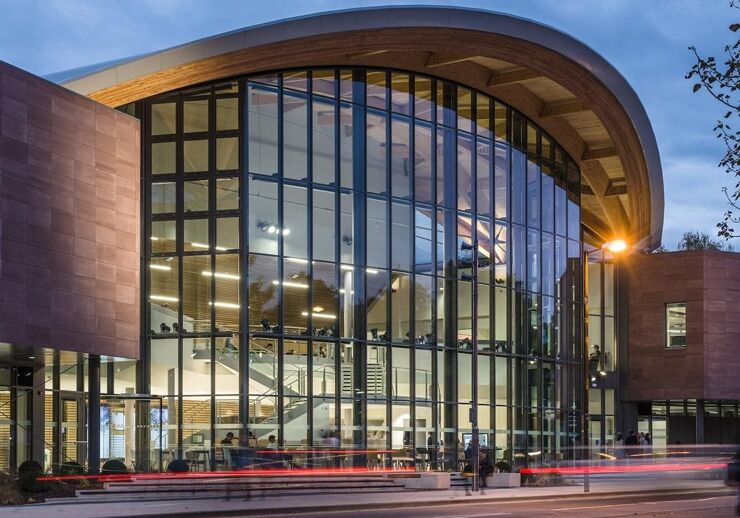 This case study is part of the Spotlight Campaign for Building. To read more on how NEC Contract suite has been utilised in the Building Spotlight, please click here.
The Oculus is a new flagship teaching and learning building for nearly 1400 students at the University of Warwick's central campus near Coventry. Completed in October 2016, the NEC-procured facility is the university's first to be dedicated entirely to teaching - offering a range of bookable spaces to all academic departments.
The striking, state-of-the-art building was designed by architects Berman Guedes Stretton architect and structural engineer Copeland Wedge Associates. It meets the university's vision for an inspiring multi-faculty space which enhances student experience through use of the latest technology and visually appealing, multi-use shared spaces.
Facilities include a 500-seat tiered lecture theatre – the largest on campus, a 250-seat tiered lecture theatre, 12 flexible teaching spaces, social learning and networking areas, a café, and outdoor terraces and nearly 1 million of audio-visual equipment.
Tight timescale
The £19 million project was delivered in just 17 months by contractor Willmott Dixon. It was procured via the Scape Group's NEC-based national major works framework under an NEC3 Engineering and Construction Contract Option A (priced contract with activity schedule), with Pick Everard as project manager.
The steel-framed structure is clad in a mixture of sandstone, terrazzo tiles and glass. The main vaulted roof structure over the atrium and lecture theatres is supported on curved glued laminated timber beams, helping to reduce the building's carbon footprint and achieve a BREEAM excellent rating. Together with a basement plant room, the total floor area is 8488m2.
Delivery of such a large, high quality building within the tight construction programme and fixed budget was achieved through close collaboration between the whole project team and university stakeholders.
One team approach
A one-team approach was adopted from the outset between the university, key stakeholders, the design team and the contractor. Procurement through the Scape framework meant the full project team was in place from the earliest stages. This and effective administration of the NEC contract created an atmosphere of collaboration which remained over the course of the project.
The university's information technology department was also fully integrated into the project team, enabling £800,000 of audio-visual equipment to be installed during construction to enable smoother occupation, as recommended by the UK government 'soft landing' approach. This included a four-screen ultra-high definition video wall measuring 7m by 4m.
Fortnightly risk reduction meetings were held in line with NEC best practice. These were assisted by online management tool Spyro, which enabled instant notification of early warning notices and subsequent tracking of progress against these to meet required timeframes. The tool helped with successful management of 82 compensation events and 56 early warning notices, all closed out by contract completion.
The NEC risk management approach helped to mitigate against potential major risks. For example, a single district heating main serving the whole campus had to be connected to when providing heating and hot water to The Oculus. With works carried out during autumn and winter, the system could not be shut down and had to be 'hot tapped' while at full temperature and pressure. This was identified via an early warning notice and was resolved by the procurement of a specialist sub-contractor from main contractor Willmott Dixon's supply chain, resulting in no disruption to heating or hot water provision to any part of the campus.
On completion in October 2016, the university's executive office vice president, Lawrence Young, described The Oculus as a, 'real signature project, setting the scene for the next 50 years'.
Benefits of using NEC
NEC's requirement for parties to act in a 'spirit of mutual trust and cooperation' fostered a 'one-team' approach for delivering this state-of-the-art teaching facility.
NEC risk reduction meetings and early warning notices ensured all risks were quickly identified and mitigated during construction, ensuring the project was delivered on time and within budget.
NEC contract efficiency and transparency ensured that all 82 compensation events were agreed and settled before contract completion.