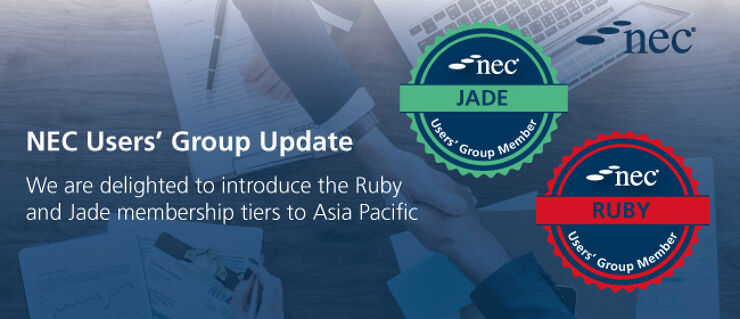 As use of NEC Contracts in the Asia Pacific continues to grow, we have introduced more support for the region through our Users' Group. The new offering is formed of two levels of membership known as Ruby and Jade level.

The Ruby level of membership enables us to offer new services including consultancy and training as well as discounts on NEC products and services.

Existing Asia Pacific Users' Group members will automatically remain on the Jade membership level, but please do contact us on usersgroup@neccontract.com or +44 (0)20 7665 2445 for information on upgrading your package.
Through these new packages NEC are endeavouring to ensure your needs are met, therefore both new levels offer a fantastic range of benefits and services. Find out more below to select the level that is right for you:
Ruby Membership Provides:

This service is for organisations that are making substantial use of the NEC and require a high level of support across the organisation to ensure that they are fully utilising the benefits and advantages from using the NEC
10% saving on NEC products and services including publications, training courses and consultancy
Two hard copy sets of the NEC box set of contract documents on joining (NEC3 or NEC4 as selected above), and two free copies of future publications to that suite when published
30 copies of the NEC Users' Group Newsletter (delivered to one address) and unlimited access to PDF format
NEC Users' Group badges available for use on your website, stationery, literature (terms & conditions apply)
Up to 20 query tickets to the Helpdesk per year
Two complimentary places at Users' Group events run throughout the year, with 25% saving for additional delegates
One half-day presentation on the 'Introduction to NEC' by an acknowledged expert delivered in-house in your first year of joining
Half-day of consultancy on a topic of your choice in subsequent years.

Jade Membership Provides:
​
This service is for individuals or small organisations who require a minimal amount of support but who wish to be kept fully up-to-date with all NEC developments.
A free complete set of the NEC family of contract documents on joining, and a copy of all new documents as, and when, published
Up to 20 copies of the newsletter
Up to 10 emails to the NEC helpdesk during a year
NEC Users' Group logo available for use on your website, stationary, literature etc. (terms & conditions apply)
One complimentary place at the Asia Pacific Users' Group Annual Conference and 25% saving for additional delegates
One complimentary place at the Asia Pacific Users Group Workshops and 25% saving for additional delegates

Continued support in Hong Kong

Our regular support for the Users' Group includes bringing networking events and presentations from Government and industry on using NEC in the APAC region and around the world. At our last conference Ir LAM Sai-hung, Permanent Secretary for Development (Works) of Hong Kong SAR Government, and NEC Asia-Pacific Users' Group Chairman, shared thoughts on how Hong Kong is developing a collaborative culture and how use of NEC is expanding.

The Civil Engineering and Development Department has progressively extended the use of NEC to more categories of public works contracts, including Tung Chung New Town Extension Reclamation (the largest NEC contract) and the Cross Bay Link (the largest NEC target cost option contract) in Hong Kong.

Back in April, Robert Gerrard, NEC Users' Group Secretary and Consultant made the permanent move to Hong Kong. Rob has brought a wealth of knowledge to NEC with over 30 years of experience in contract management and has been part of the NEC3 contracts working group and an NEC4 drafter.

The permanent move allows Rob to continue supporting the Hong Kong construction sector. It also allows Rob to assist in the adoption of NEC in Australia and New Zealand as both markets have seen an uptake of NEC in recent months.

Read the full article on Rob's move here


NEC Users Group

The NEC Users' Group comprises of over 450 members across the globe. It brings together organisations and individuals to connect, exchange experiences and best practice through digital events and knowledge sharing opportunities.

Members are given access to NEC experts who provide dedicated technical support and tailored consultancy. It also includes free and discounted access to a range of NEC products and services.

Users' Group members are kept up-to-date with the latest NEC insights and developments through regular communications and newsletters, expert advice and a relevant, engaging event calendar.

Read more about the NEC Users' Group

If you have any further questions surrounding the Users' Group please contact Cheryl Waterman, NEC Users' Group Manager on 0207 665 2445 or email cheryl.waterman@neccontract.com