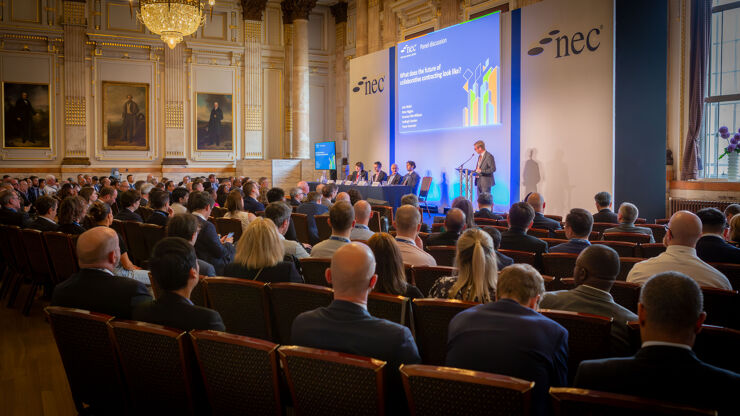 Celebrating 30 years of NEC, the 2023 NEC annual conference was held on 13 July 2023 at the Institution of Civil Engineers ICE) headquarters in Westminster, London. The hybrid event attracted over 280 in-person delegates and many more attended online.

Dr Janet Young, the new ICE director general and secretary, kicked off the event with her opening address followed by a keynote presentation from Ricky Lau, permanent secretary for development (works) at the Hong Kong governments' Development Bureau and NEC Asia Pacific Users Group chair. His theme was 'collaboration for success.'
Global success
A key overall theme for the 2023 conference was highlighting the excellent work being done on NEC-procured projects around the world. Presentations from Andrew Baird and Mile Sofijanic of ECS Associates in South Africa, and Peter Colacino NEC Ambassador in Australia, showed how NEC was driving innovation across the globe. Case studies looking at the SKA Observatory project in South Africa and Australia and the Sellafield nuclear decommissioning project in the UK looked at the importance of collaboration.

The afternoon session consisted of four workshops on information management of the NEC Design Build Operate Contract (DBOC), use of retention funds in NEC contracts, a mock NEC dispute avoidance board, and practical tips for NEC subcontracting. These sessions provided delegates with subject-specific knowledge delivered by industry experts.

The conference concluded with a speaker panel discussion entitled 'What does the future of collaborative contracting look like?' chaired by NEC User's Group chair John Welch.
See the highlights of the conference, hosted at One Great George Street, London, below.

Read about 2023 Martin Barnes Awards here.
Highlight Video
Photos