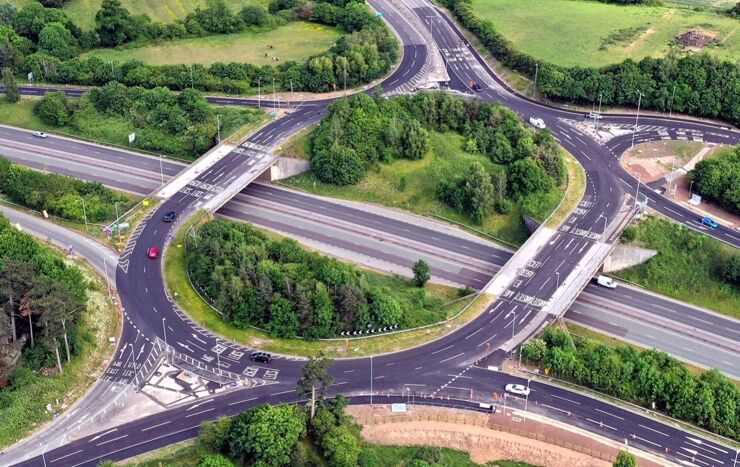 Leicestershire County Council has delivered a major £8 million highway upgrade in just 11 months using NEC4 contracts. The A46/A5360 Anstey Lane improvement in Leicester was completed on time and within budget despite bad weather and Covid-19 restrictions. The scheme was shortlisted for the Transport Project of the Year in the 2020 British Construction Industry Awards.

The council awarded the scheme to Galliford Try through the Midlands Highways Alliance's NEC4-based Medium Schemes Framework 3 (MSF3) under a two-stage NEC4 Engineering and Construction Contract (ECC) Option C (target contract with activity schedule). Main subcontractors CR Civil Engineering, Roadway UK Traffic Management, Mason Street Furniture, Aggregate Industries and Siemens were each engaged under an NEC4 ECC Option B (priced contract with bill of quantities), while Waterman Aspen was appointed NEC project manager and supervisor via an NEC4 Professional Service Contract (PSC). Following an 18 month early contractor involvement (ECI) stage, construction started on site in August 2019 and was completed in July 2020.

The scheme involved increasing the capacity of the A5630 Anstey Lane between its junction with the A46 Leicester Western Bypass and Bennion Road in preparation for a 3,000 homes development in Ashton Green, which is at the northeast end of Bennion Road. It included dualling the 400 m single-lane section of Anstey Lane, increasing the number of lanes on the two A46 interchange bridges, widening two A46 interchange slip roads, improving all adjacent pedestrian and cycle routes, and installing new traffic signals, streetlighting and drainage.

The project was primarily designed by the council's in-house engineering services team. It was funded by Leicester City Council and Highways England, as well as through part of a £16 million government grant to the Leicester and Leicestershire Enterprise Partnership for projects which benefit the local area and economy.
Collaborative Approach
Council engineering services manager Jonathan McGuinness says the NEC4 clause 10.2 obligation to work in a 'spirit of trust and co-operation' fostered a strongly collaborative approach on scheme. 'The teams from each organisation aligned to form a strong project team underpinned by a project charter that defined the way we worked.'

He says the project charter included commitments to clear, concise efficient and effective communication; openness and honesty; respecting team and individual personal needs; clear ownership and responsibility; and asking what can be done rather that what cannot. 'This resulted in mutual respect and collaboration across the whole team based on trust.'

According to McGuinness, a key to the project's success was the use of NEC4 ECC Option C clause X22 for an 18 months ECI stage. 'Good ECI and project development between the client, contractor and subcontractors prior to construction ensured that everyone started on site with the full knowledge of the ultimate deliverables of the scheme, the constraints involved and the people around them who will support and work with them.'

During ECI, the main contractor reviewed the design and suggested where savings could be made. For example, a section of carriageway intended for reconstruction was re-assessed and removed from the scope, saving 2500 t of materials and associated time and costs. In the absence of electrical mains a hybrid generator and power-cube system was sourced for the site, saving 50,000 l of diesel, and a bespoke barrier system was developed to allow the new dualled section to be constructed without disrupting normal traffic flows.
Robust Price and Programme
'Through ECI we were able to establish a robust target price and programme,' says McGuinness. 'As a result, we have delivered a high-quality, on-time and under-budget scheme with exemplar safety, environmental and sustainable standards, all borne out of a truly aligned and collaborative culture and approach.'

Project manager Teresa Hylton says, 'All early warnings and project manager instructions were discussed between parties so that compensation event submissions were simple to review and resulted in no conflicts due to ambiguity or misunderstandings. Collaboration and efficiency led to a cost saving of £0.5 million that was shared with the main contractor via the pain/gain share mechanism of ECC Option C. The client's share went towards £0.3 million of additional scope and, even with two storms and the Covid-19 pandemic restrictions, the scheme was delivered on programme and within budget.'

City mayor Peter Soulsby said at the opening of the improved road, 'The efficient delivery of this complex scheme is a major credit to the contractors and the close partnership between the city and county councils.' Jamie Missenden, Midlands regional manager for Galliford Try, said, 'We are delighted to have completed the scheme on time and within the agreed budget. The success of the project has been born out of collaboration between all parties – the client, the key supply chain partners and local stakeholders.'

County council cabinet member for highways and transport Trevor Pendleton said, 'I'm delighted that the work to improve this very busy route is complete. This is a major investment and should ease congestion and help to reduce delays for people in the county. It will also aim to improve air quality by encouraging more people to walk and cycle. This is another great example of delivering infrastructure to support residents and businesses.'
Benefits of using NEC
NEC clause 10.2 requirement for the parties to act in a 'spirit of mutual trust and co-operation' fostered a strongly collaborative approach on scheme.
ECC Option C clause X22 facilitated an efficient and effective 18 month early contractor involvement stage, enabling the client to establish a robust target price and programme for the construction stage.
Efficient use of NEC early warning and compensation event processes ensure the project remained on schedule and budget despite stormy weather and Covid-19 restrictions.
By Simon Fullalove