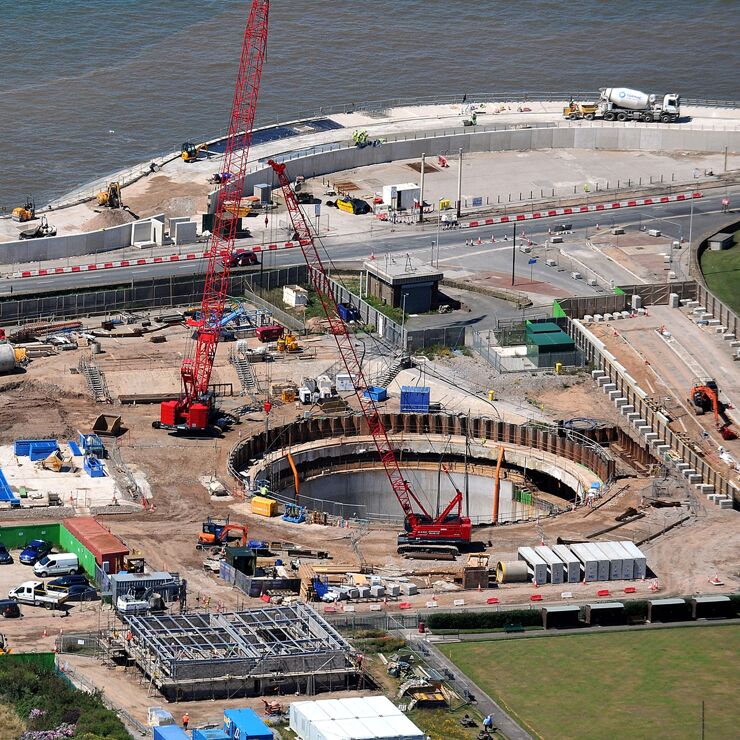 NEC contracts have been used to procure one of the UK's longest sea outfalls and its associated pumping station.

Client United Utilities let delivery of the 3.7 km long 2.5 m diameter polyethylene outfall pipe at Anchorsholme Park just north of Blackpool in Lancashire to J Murphy & Sons Ltd in July 2016 under a £22 million NEC3 Engineering and Construction Contract (ECC) Option A (priced contract with activity schedule). This was shortly followed by a £40 million contract for a 12 m3/s outfall pumping station, which was let to C2V+ (a joint venture between Jacobs and Volker Stevin) under an ECC Option C (target contract with activity schedule) in October 2016.

The two projects, plus a £14 million 12,000 m3 stormwater storage tank under the park built in 2016, were part of United Utilities' £100 million programme to improve bathing water quality along the popular 22 km long Fylde coastline by reducing storm overflows to no more than three a year. The pipeline and pumping station came into use a month early in March 2019, and the whole project − including relandscaping the 6.4 ha park − was completed on time and budget in August 2021.

The outfall pipe was towed from manufacturer Pipelife Norge's base in Norway as a raft of six 625 m lengths, after which they were joined together in Lough Foyle in Northern Ireland and ballasted with 600 concrete collars weighing 25 t. The entire 3.75 km pipe was then towed across the Irish Sea to Anchorsholme, where it was sunk into a dredged trench, backfilled and fitted with a 16 m long diffuser.

The outfall pumping station involved building a 20 m deep, 32 m diameter pumping chamber fitted with four vertically suspended bowl pumps, plus a 12 m deep by 11 m diameter pressure chamber and 102 m long 2.5 m diameter pipe-jacked tunnel connecting to the outfall pipe. Other works included a main control building, pump hall, electricity substation, odour control system, landscaping and new park facilities − including a cafe, bowling club and playground.

United Utilities was NEC project manager on both contracts. The overall scheme was shortlisted for the 2021 Institution of Civil Engineers North West Region Large Project of the Year Award, while the pumping station won Utility Project of the Year in the 2021 British Construction Industry Awards.
Effective project management
Capital programme manager Tom Fewster says United Utilities made a strategic decision to use NEC contracts with minor amendments for its sixth asset management period (AMP6), which ran from 2015 to 2020. 'This was because the NEC contract suite is now a standard across the UK construction industry, with good precedents for its interpretation and implementation. It is flexible, easy to use and has a strong focus on effective project management.'
He says Anchorsholme outfall was one of United Utilities' flagship AMP6 projects. 'It was delivered to a high standard and achieved the regulatory deadline date despite significant challenges such as storms Ophelia and Brian in 2017. It was also large scale, high cost and involved complex construction techniques.'

Fewster says NEC worked very well in practice. 'The contractual obligation for parties to act in, "a spirit of mutual trust and co-operation," ensured a high level of collaboration between ourselves and the contractors as well as between the two contractors at their respective works interfaces.'.

He says some complex compensation events were encountered, particularly in the pumping station contract. 'However, by following the requirement to, "act as stated in the contract" and using published NEC guidance, we were able to resolve these collaboratively and amicably before the final account.'
He says NEC contract procedures greatly assisted with risk management. 'The NEC early warning process and the use of transparent and contemporary programmes were very helpful, particularly in managing the works interfaces.'

Fewster adds that NEC-inspired collaboration also extended to the local community. 'We kept people up-to-date with a drop-in centre that had over 500 visitors, three public exhibitions attended by 180 people, site open days with over 100 visitors each, nearly 80,000 letters sent to residents and almost 2000 customer surveys. In return residents nominated site staff for nearly 200 Wow! Awards for outstanding customer service.'
Benefits of using NEC
NEC contract suite was adopted because it is flexible, easy to use and focused on effective project management.
Two separate NEC contracts successfully delivered two large, complex and interlinked infrastructure assets on time and budget despite numerous challenges.
NEC contractual obligation to act in, 'a spirit of mutual trust and co-operation,' ensured a high degree of collaboration between all parties, including between the two contractors and with the local community.
NEC early warnings, contemporary programmes and other contract procedures greatly assisted with risk management, particularly at contract interfaces.