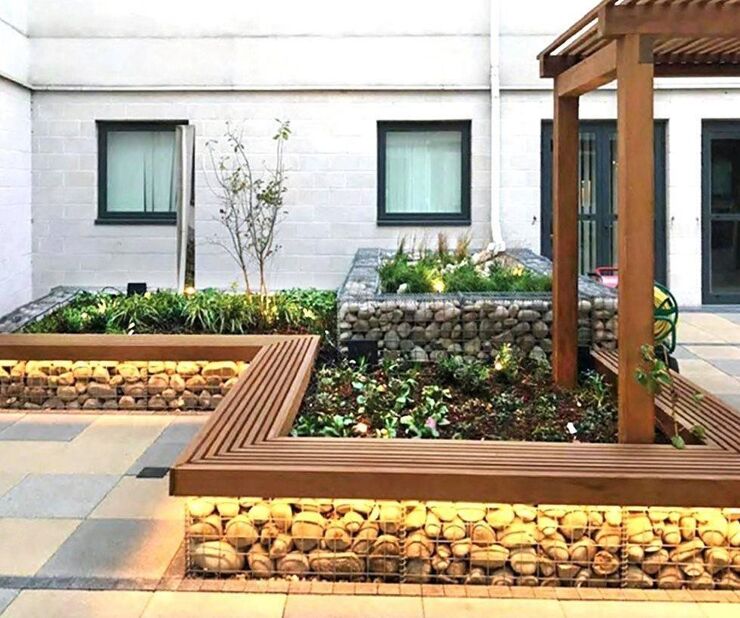 This case study is part of the Spotlight Campaign for Water. To read more on how NEC Contract suite has been utilised in the Water Spotlight, please click here.
Essex County Council has used NEC to trial an EU project for reducing flood risk in built-up areas due to climate change. Known as Sponge 2020, the project is funded by the EU Interreg 2 Seas programme and focuses on natural flood management measures and active participation of local stakeholders.
In a UK pilot scheme for the project, the stakeholders and co-funders were Basildon University Hospital, Anglian Water, the Environment Agency and Essex County Council. Following a participatory planning approach, the hospital found it could cost-effectively increase its rainwater retention capacity by 2,850m3 by creating sustainable drainage features in its courtyards and grounds.
Essex County Council and its delivery partner Ringway Jacobs let the construction work in August 2018 to Swift Landscaping under a £562,000 NEC3 Engineering and Construction Contract (ECC) Option C (target contract with activity schedule). Ringway Jacobs has been engaged by the council since 2012 under a 10-year NEC3 Term Service Contract (TSC) known as Essex Highways partnership.
Construction Phases
The first phase involved building raised planters in two courtyards of the hospital's cardiothoracic centre, using gabion baskets with geotextile linings. Existing rainwater downpipes were then diverted into the planters, which now temporarily store rainwater from the hospital roof and then discharge it back into the existing surface water drains.
The second phase included excavating 2500m3 of soil on a disused Anglian Water site next to the hospital to create a landscaped pond and access path. The new pond attenuates rainwater flows from the hospital car park and an existing pond.
Both phases took 8 months to complete and the pilot scheme was finished on time and within budget. In addition to reducing flood risk, the scheme has delivered wider social and environmental benefits to all hospital users, giving them a significantly improved environment for breaks, leisure and recovery.
Collaborative Working
Lead quantity surveyor for the scheme, Arnold Osei Owusu of Essex Highways, says ECC Option C ensured a very collaborative way of working. 'The target contract included a pain-share, gain-share mechanism, where the risks were fairly shared between the employer and contractor. This and the NEC obligation to work "in a spirit of mutual trust and co-operation" ensured there was a good working relationship between the parties.'
He says the NEC early warning process enabled the project team to mitigate several unforeseen risks through risk-reduction meetings. 'Working in a live hospital environment meant there were some significant challenges to overcome. There were strict limits on noise levels, construction methods and materials due to health and safety requirements, and access to the courtyards was very restricted. The hospital also requested a number of changes to the design.'
Solutions included reusing existing paving stones on site to reduce construction traffic through hospital corridors, and limiting the use of heavy and noisy construction machinery. 'Thanks to good collaboration between the designers, operations team and hospital stakeholders, we were able to deliver the overall pilot scheme on time and under budget. It is an excellent example of how a participatory approach can improve urban flood resilience by innovative and sustainable use of limited space.'
Benefits of Using NEC
NEC obligation to work 'in a spirit of mutual trust and co-operation' helps to ensure collaborative working between the parties.
NEC target contract option with a pain-share, gain-share mechanism both incentivises the contractor and provides a fair allocation of risk.
NEC early warning process ensures all unforeseen risks are identified and mitigated at the earliest opportunity, helping to keep the project on time and within budget.