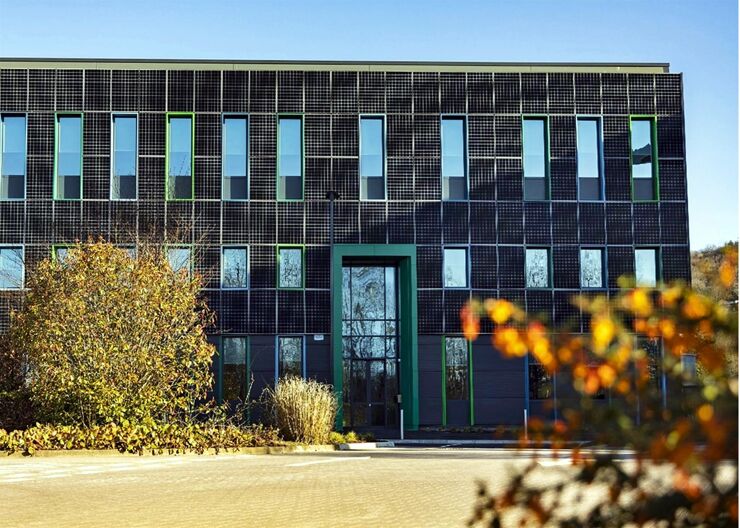 NEC has been used to procure a council-owned office and laboratory building in Wales that generates more energy than it consumes. The Bay Technology Centre in Port Talbot uses 166 MW of electricity a year while its integrated solar panels generate 173 MW. Currently exported to the grid, the excess energy will eventually be sent to a neighbouring hydrogen plant to power local authority vehicles.
Client Neath Port Talbot County Borough Council engaged design and build contractor Morgan Sindall via its NEC-based South West Wales Regional Contractors Framework. The £7.9 million NEC3 Engineering and Construction Contract (ECC) Option A (priced contract with activity schedule) was let in November 2020 and the building was completed to the agreed programme and budget in June 2022. The designers were IBI Architects, Hydrock and The Urbanists
The roof and south and west facades of the 2500 m2, three-storey steel-framed building are covered with photovoltaic panels, with those on the facades designed to look like cladding. Together with an airtight passive design, a variable refrigerant flow heat pump system, on-demand fresh air with heat recovery and over 400 energy-monitoring sensors, the building achieves an energy performance ratio of 0.998 − a 281% improvement over building regulations.
The contract also included a sustainable drainage system with a large attenuation basin for surface water flows, plus planting of over 400 m2 of new woodland. The project won the Commercial Property of the Year Award in the 2022 British Construction Industry Awards, the Sustainability Award in the 2022 Insider Property Awards and the Net Zero Award at the 2022 Constructing Excellence Wales Awards.
Mutual trust and co-operation
Project director Paul Dorrell says all parties, including the main contractor, consultants and subcontractors, worked together and in NEC's required 'spirit of mutual trust and co-operation'. 'The scheme started at the height of Covid-19 pandemic, but despite this and various other challenges, the project team worked collaboratively to deliver this innovative centre on time and to budget.'
He says NEC early warnings were minimal and were resolved promptly though risk reduction meetings. 'There was also minimum change to the works information, which is unusual but a demonstrated the completeness of the council's brief and NEC contract documentation. The council is delighted with the end product and tenants are now occupying the facility.'
Dorrell says the intention was always for the building to be energy positive. 'We had never done this before, so it was a real challenge to the project team. However, it was well driven by the main contractor and its designers and a testament to NEC's positive contractual approach.'
He says it is a key building for the council. 'In 2020 we produced our decarbonation strategy and this project is seen as a pathfinder for everything going forward in terms of what we can learn in design, during construction and also in operation. It is now the driver for generating net-zero commitments for all our projects to help meet our strategic commitments.'
Benefits of Using NEC
NEC requirement for the parties to act in a, 'spirit of mutual trust and co-operation' engendered a collaborative approach to delivering the client's first energy-positive building.

NEC early warnings and risk reduction meetings ensured any issues arising were flagged up and dealt with promptly, helping to keep the challenging project on budget and programme.

Completeness of NEC contract documentation ensured there were minimal changes to works information, again helping to minimise any increases in time and cost.