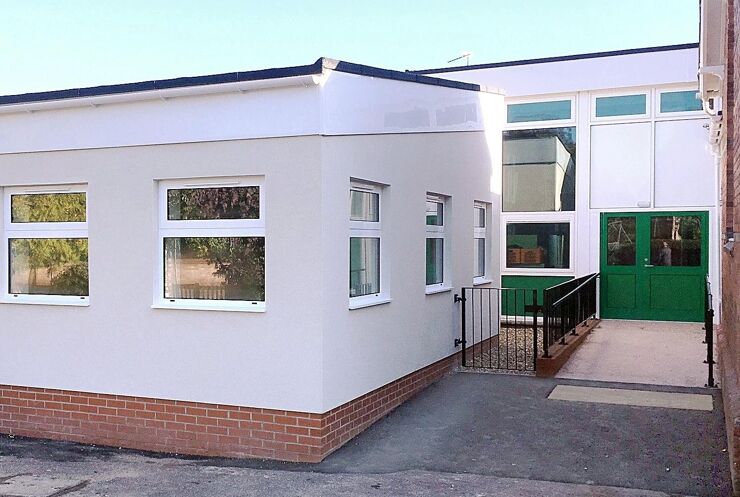 Beech Grove Primary School in Wellington, Somerset, UK has been reconfigured to provide additional teaching and office space under an NEC-procured expansion project.

The school, which now has over 300 pupils, needed an additional (12th) classroom to accommodate the 2017/18 intake. However, due to the very confined site, it was not possible to build an extension or install a modular unit. The project therefore involved reconfiguring existing school spaces to provide a new special educational needs office and group room, a new library, an additional classroom and an external ramp.

Client Somerset County Council engaged contractor Kier through the Scape National Minor Works framework to carry out the £353,000 works under a NEC3 Engineering and Construction Short Contract (ECSC). The 15-week contract started in June 2017 and was completed on time and to budget in September.
Trust and Cooperation

Somerset County Council's NEC project manager Ian Mason says, 'The ECSC fostered a genuine spirit of mutual trust and cooperation within the project team. Fitting the new facilities within the existing limited footprint of the school required some in-depth and creative design discussions with Kier and its designers to provide the best possible use of space.

'Some of the works also had to be completed during school term time and in very limited working areas. The project was therefore split into three phases ensuring the school could still function fully during term time. We are very happy with the outcome, in particular with how the project was managed and the great care and consideration given to the site and the school.'

Kier project manager Tony Ford says, 'The ECSC works very well for small yet critically important projects such as Beech Grove Primary School. As well as encouraging everyone to work collaboratively, it provides both the client and contractor with a clear understanding of the delivery process and the key documents of the contract.'
NEC-Based Framework

Kier is the framework partner for the £1.5 billion four-year Scape national minor works framework for projects up to £4 million, which runs until September 2019. Founded in 2006 by six local authorities, Scape has always specified NEC contracts for its various national and regional frameworks.

Across all Scape frameworks there are over 1,800 NEC-procured projects underway for over 550 public sector bodies, with a further 380 organisations signed up to use them. Over the past 12 years, over 2,400 NEC-procured projects and commissions have been completed for local authorities, government departments, universities, the NHS and emergency services.

According to national frameworks manager for the Scape minor works framework Aaron Lacey, 'Using NEC contracts, with minimal Z clauses, assists us in driving a collaborative approach to delivery. This has not only contributed to the success of our frameworks but has also provided added value for our public sector clients.

'The mutual trust and co-operation ethos instilled using the NEC contracts has been fundamental to Scape in being able to demonstrate that on average 95% of our projects are delivered on time, 99% to budget, and with an average client satisfaction score of 9/10. This, alongside our commitment to delivering high levels of social value through the framework, has been one of the key attractions for public sector organisations across the country.'

Somerset County Council's client satisfaction levels for Beech Grove Primary School project were 100% for service and product and 90% for other categories.
Benefits of Using NEC
NEC requirement to work in a 'spirit of mutual trust and co-operation' encourages strong collaboration within the project team.
ECSC is ideally suited for procuring small but constrained projects which need to be carefully and sensitively managed.
ECSC provides a clear understanding between the client and contractor of the delivery process and contract documents.