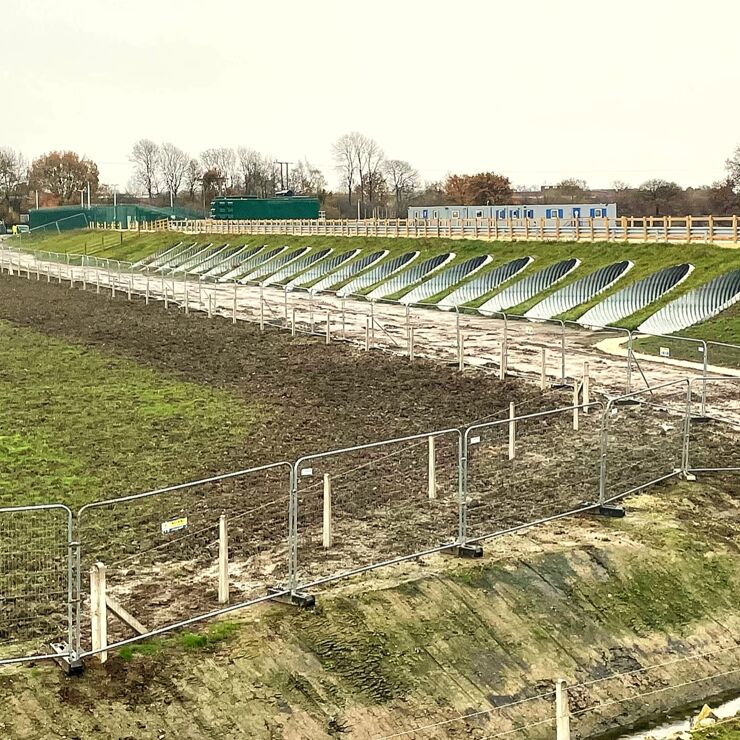 England's Environment Agency has used NEC to upgrade a strategically important flood pumping station in Doncaster, South Yorkshire.

Following early contractor involvement, contractor JBA Bentley was engaged under an NEC3 Engineering and Construction Contract (EC) Option C (target contract with activity schedule) in July 2018 to refurbish the 1942 Bentley Ings pumping station between Bentley Ings drain and the River Don north of the city. Turner and Townsend was appointed as NEC project manager.

The pumping station was built to provide fluvial flood protection to 1,669 properties in Doncaster but, following inundation of 400 properties in 2007, a decision was taken to upgrade it. The works involved increasing capacity by 20% by merging the existing wet and dry wells, demolishing the existing pump building and installing four new energy-efficient submersible cannister pumps. A new 2 km long emergency access road was also built along the Bentley Ings barrier and across the flood plain via a new causeway with 19 corrugated-steel flood culverts.

A major flood occurred on site in November 2019. Subsequent recovery, implementation of additional resilience scope, the onset of the Covid-19 pandemic in March 2020, and Covid- and Brexit-related supply chain delivery delays challenged the collaborative project team to the full. Despite this, the £12.4 million works were successfully completed on site by March 2021, providing improved fluvial flood protection to the 1,669 properties. Project completion followed in summer 2021.

The project won a Centenary Award Certificate of Excellence in the 2021 Institution of Civil Engineers Yorkshire and Humber Civil Engineering Awards. It was also shortlisted for the Upgrade and Renewal Project of the Year and Climate Resilience Project of the Year in the 2021 British Construction Industry Awards.
Collaboration and innovation
Environment Agency project manager Nigel Priestley says ECC Option C was chosen as the most appropriate procurement option for this challenging project. 'The pain/gain share mechanism offered an incentive to both the client and contractor, which in turn drove a collaborative and innovative approach across the project team.'

He says that like any refurbishment of an ageing infrastructure asset, there was inevitably an element of unforeseen risk. 'This was discussed and agreed between ourselves and the contractor as to who was best placed to own these potential risks once the site and intrusive investigation started.'

In line with the NEC requirement to act in a, 'spirit of mutual trust and co-operation,' the Environment Agency used collaborative 'project delivery unit' way of working, says Priestley. 'This was fully bought into by all parties, and weekly day-long design and scope meetings, risk workshops and programme reviews occurred from the outset.'
Managing risk and change
In its second year the project was hit with a series of issues and delays, including major regional flooding in November 2019. 'The site soon became submerged under 2 m of water,' he says, 'but our temporary over-pumping bypass arrangements and emergency plans prevented a major flooding incident and limited further damage. Nevertheless, the event led to a major recovery operation and additional scope for emergency access provision.'

Priestley says the Covid-19 pandemic also impacted the subterranean works and supply chain deliveries. 'Initially we thought we would have to close the site but through collaboration we were able to develop safe working practices which allowed work to continue. However, Covid- and Brexit-related delays pushed completion of the 200 m GRP liner for the inlet culvert into another winter.'

He says the various delays inevitably resulted in a fair amount of change control, with numerous programme and cost changes. 'Thanks to NEC processes, these were agreed in an open and collaborative way throughout, with regular risk reduction and programme review meetings attended by all project team members and users.'

Further additional funding was duly allocated to accommodate the additional scope and other impacts. Priestley concludes, 'Overall, despite the many changes, NEC-inspired collaboration enabled us to achieve 60% saving in carbon dioxide emissions and 12% in cost efficiencies. The project was successfully completed to the revised programme in August 2021 and with a positive gain share.'
Benefits of using NEC
NEC obligation to act in a, 'spirit of mutual trust and co-operation,' helped to ensure strong collaboration within the project team.
NEC flexibility ensured potential and unforeseen refurbishment risks were placed with the party best placed to own them.
ECC Option C pain/gain share mechanism incentivised both the client and contractor, resulting in 60% carbon dioxide cost savings and 12% in cost efficiencies.
NEC change-management processes ensured that delays and additional scope resulting from flooding and pandemic were agreed in an open and collaborative way.