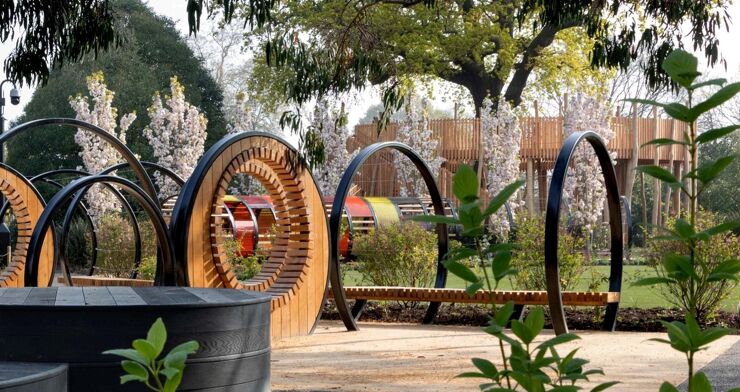 The Royal Botanic Gardens, Kew has used an NEC contract to procure an award-winning children's play area at its internationally renowned World Heritage Site in west London, UK. Completed on time and budget in May 2019, the Children's Garden project was voted Grand Award Winner at the British Association of Landscape Industries (BALI) 2019 National Landscape Awards.
The £3 million design and build project was let to contractor Ground Control under an NEC3 Engineering and Construction Contract Option A (priced contract with activity schedule) in November 2017. PWH Project Management and Mott MacDonald were appointed as project manager and supervisor respectively.
The work involved delivering a new 1.2ha landscaped garden with a wide variety of bespoke play equipment aimed at children aged 2 to 11. Built on a formerly under-used area of the 120ha site, it includes four themed areas, a living bamboo tunnel, 'worm hole' tubes, spinning windflowers, giant pollen spheres, rock and water features, over 100 mature trees and a 4m high canopy walk around a 200-year-old oak.
The BALI judges said, 'The quality of the finish on this hard and soft landscaping scheme is absolutely superb. The contractor has embraced the design and created an amazing play and learning space for children'.
Focus on Collaboration
Project manager Patrick Wynniatt-Husey says, 'We chose NEC for this project so we could nurture the focus on collaboration. We needed to ensure successful design and delivery of a unique set of bespoke landscape elements and structures, accommodate site works involving the client team and operate in an environment where the surrounding stakeholders were of critical importance. NEC was felt to be the best mechanism to achieve satisfactory outcomes for all parties.'
The Royal Botanic Gardens, Kew is an experienced user of NEC contracts for new works and facilities management. Previous NEC-procured projects include the five-year, £41 million restoration of the 1859 Temperate House completed in 2018. This included removing and cleaning 69,000 individual parts of the huge cast-iron-framed greenhouse and replacing all 15,000 panes of glass.
Wynniatt-Husey says NEC was a great success on the Children's Garden project. 'It worked incredibly well. The collaboration through designing and building resulted in an award-winning scheme, delivered on time and to budget. The use of early warnings and risk reduction to resolve issues as soon as they arose, combined with full transparency on compensation event quotations, kept the project team working as one throughout.'
Benefits of Using NEC
NEC obligation for parties to act 'in a spirit of mutual trust and obligation' ensured maximum collaboration on this small but complex design and build project, with many unique elements and structures in the middle of a sensitive World Heritage Site.
NEC early warnings and risk reduction meetings ensured that all design and construction issues were discussed and collaboratively resolved at the earliest opportunity.
NEC's full transparency on compensation event quotations enabled the client to have full visibility on costs and programme, helping to ensure the project was completed on time, within budget and to an award-winning standard.