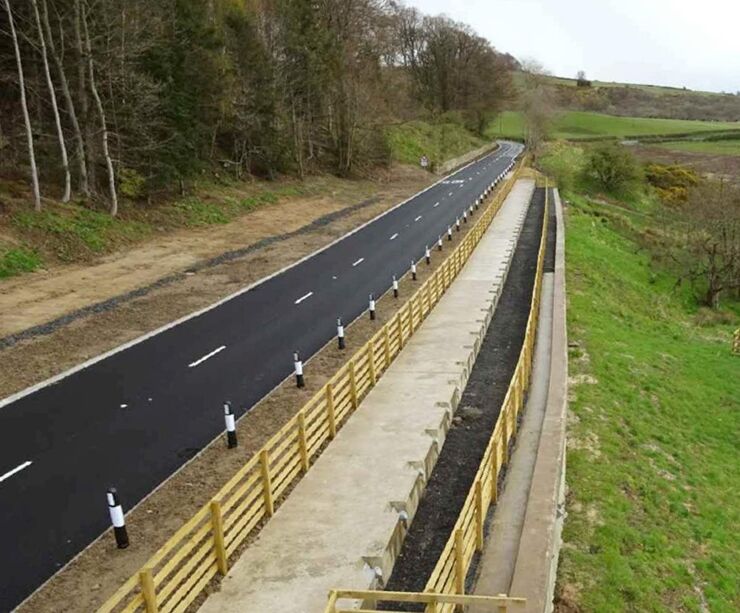 The NEC-procured Crag End landslip project involved stabilising and reconstructing a 300m section of the B6344 road near Rothbury, Northumberland, UK. The single carriageway was closed in December 2012 for over three years following multiple landslips and failure of an existing retaining wall, triggered by one of the wettest periods on record.
The prolonged closure severely impacted the local community as the road is a key access route along the River Coquet valley. The Coquetdale area, which includes National Trust's Cragside House, gardens and estate, is a popular tourist destination and the river is a designated site of special scientific interest. A robust, low-maintenance solution to repairing the road was essential to end decades of instability on the route.
Following detailed investigation of the complex geology, Northumberland County Council asked VBA – a joint venture between VolkerStevin, Boskalis Westminster and Atkins – in February 2014 under an NEC3 Engineering and Construction Contract (ECC) Option E (cost reimbursable contract) for early contractor involvement in design plus post-construction monitoring. Construction was then carried out by VBA under an ECC Option C (target contract with activity schedule) from February 2015 to March 2016.
The solution involved installing 260m of anchored bored-pile retaining walls along the downhill edge of the road. A total of 436 piles of 508 mm diameter and up to 26m long were inserted into the underlying sandstone. These were then capped with 1.7m deep reinforced concrete beams tied back to the bedrock with 144 ground anchors around 25–30m long. An 80m length of the wall was installed just inside the failed anchored sheet-pile retaining wall, which required 145 of the piles to be carefully threaded through the existing ground-anchor array to avoid further collapse.
Eleven connected wells were sunk along the road to lower the artesian groundwater to a safe level for piling and anchor drilling. Together with 15 further wells on the lower slope, they form part of an innovative long-term passive dewatering system to reduce groundwater pressure on the new retaining wall.
Unique Risk Profile
According to Northumberland County Council's project manager Peter Brewis, 'The complex and constrained nature of the site and the numerous technical, safety and logistical interactions presented a project with a unique risk profile. Critical success factors were to re-open an important piece of infrastructure as swiftly and efficiently as possible at the same time as dealing appropriately with the risk.
'We felt this could only be achieved through a contract form that fully embraced a spirit of mutual trust and co-operation, enabling a team ethos focused on collective problem solving and risk management through truly effective team working. It was clear NEC would facilitate this.'
The Council procured the project through the Environment Agency's water and environment management framework. 'This gave us access to a fully integrated design and delivery joint-venture supplier. VBA was not only familiar with NEC but was able to extend the contract's spirit through a collective approach in a well-managed contractual environment,' says Brewis.
'Innovation was commonplace within VBA's team and unforeseen issues were embraced in a collaborative manner. They exhibited strong ownership of the scheme solution and – in line with the NEC ethos – continuously engaged with stakeholders and fellow professionals to bring the project in on budget and programme.'
Certainty of Outcome
Brewis says the scheme was a high-profile concern for the general public and local media that required certainty of outcome, both in cost and programme. 'NEC allowed the team to work in a collaborative manner and, in spite of many design changes required as ground conditions dictated, the completion date and outturn costs were known to us at all times.'
He says the high risks to the contract were addressed by the team through regular scrutiny of the NEC risk register. 'This proved to be an exceptional tool for value engineering and understanding the cost and programme implications of change. The NEC timescales for response from all parties allowed concerns and risks to be addressed at an early stage and conflict between interests was removed.'
As part of the NEC risk-management process, a live risk-mitigation tool was adopted on site to assess ground conditions encountered during piling and to validate or amend the design. 'This resulted in savings in pile length in some areas and increased pile length where required in response to ground conditions,' says Brewis.
'The overall outcome of using NEC was that we were able to manage public expectation on cost, quality and programme. We have delivered a cost-effective yet enduring engineering solution for the area – and the traffic flowed again on the date we said it would.'
Benefits of Using NEC
NEC contracts require the project team to work in a 'spirit of mutual trust and co-operation', which leads to collective problem solving and risk management through effective team working.
NEC provides for effective project management, which becomes particularly powerful when the whole team fully embraces the spirit of the contract and focuses on the outcome with openness and honesty.
A fair outcome is provided to parties to the contract through the NEC's clear and unambiguous language and processes – it is a manual for good project management.