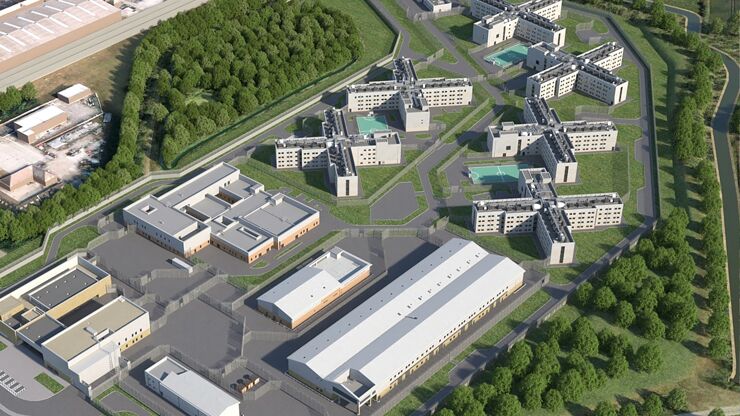 Crown Commercial Service (CCS) is the UK's largest public procurement organisation, supporting the public sector to achieve maximum commercial value when procuring common goods and services. Its construction commercial agreements are the biggest in the country, through which public sector construction customers plan to award around £3 billion annually using NEC contracts.

Construction agreements cover everything from building hospitals, schools, fire stations, prisons, government buildings and energy and defence projects including offsite manufacturing to construction professional services. Each CCS agreement provides a pre-selected group of suppliers capable of delivering construction requirements cost-effectively, and a set of standardised contract terms – including NEC contracts.
The commercial benefits the CCS construction team has delivered over the last 3 years has increased from £5 million to £226 million, representing significant savings for the public purse including across schools, National Health Service (NHS) trusts and local authorities.
Construction frameworks
The five main agreements within the construction sector are: construction works and associated services (CWAS), construction professional services, offsite construction solutions, building materials and equipment, and demand management and renewables. CWAS, launched in 2019 and running to 2026, is divided into lots by region and type of work, including civil engineering, building, residential, high-rise, maritime, airfields, demolition and construction management.
One of the biggest CWAS customers is the Government Property Agency, which will own all UK government property by 2025. It spends over £100 million a year through the agreement on NEC-procured capital works, and this is expected to rise significantly. Another major customer is the Ministry of Justice, which in 2022 started building the first of four new prisons worth a total of £1 billion using NEC4 Engineering and Construction Contracts (ECC) Option A (priced contract with activity schedule).
In 2022 CCS partnered with NHS England to launch a separate version of CWAS to manage the £2 billion a year NHS Procure 23 framework, which again mostly uses NEC. A facilities management and workplace services agreement was also launched that year, offering customers the option to use the NEC3 Term Service Contract (TSC) or NEC4 Facilities Management Contract (FMC).
Plugging the gap
John Welch, CCS deputy director for construction, says, 'Our agreements are designed to complement rather than compete with existing UK public-sector procurement frameworks. They aim to plug the gap for general construction as well as some more specialist activities, like demolition or construction management, so most public-sector clients choose to use our frameworks at some point.'
He says the CWAS agreement procured a significant number of projects in its first three years. 'So far we have around 200 live contracts running under the agreement and a steady future pipeline. In addition to central government departments, we have attracted a wide customer base, with around two thirds of users being from the wider public sector.'
Welch says one of the key attractions of CWAS and other construction agreements is flexibility. 'Customers are free to develop their own procurement strategy to suit their project requirements, including using both the NEC3 and NEC4 suites. They also have total flexibility over time scales, pricing options and even pain-gain share percentages.'
Focus on collaboration
He says the emphasis in all agreements is on collaboration, with CCS using Framework Alliance Contract 1 (FAC1) as the overarching framework contract on all construction agreements which supports different forms of call-off contracts, including NEC. In practice around half of the projects on CWAS have been let using NEC contracts and, as these tend to be for the bigger projects, NEC accounts for approximately 65% of total framework spend.
Welch says another advantage to CCS customers is compliance. 'Our frameworks align with The Construction Playbook, the government's guide to sourcing and contracting public works projects. This means customers and departments can be assured their projects comply with government policy and support any governance they need to go through.'
To this end CCS provides a set of standard 'boilerplate' amendments for NEC contracts, he says. 'These are designed to ensure consistency in relation to government policies such as the Official Secrets Act, freedom of information requests, payment terms and other guidance set out in The Construction Playbook.'
Benefits of using NEC
NEC requirement on parties to act in a 'spirit of mutual trust and co-operation' facilitates collaborative working, aligning with the collaborative emphasis in CCS frameworks.
NEC contract suite provides a complete range of procurement and pricing options for CCS customers, giving them maximum flexibility of approach.
NEC is the most widely used public-sector construction procurement suite so is the natural, familiar choice for CCS customers.