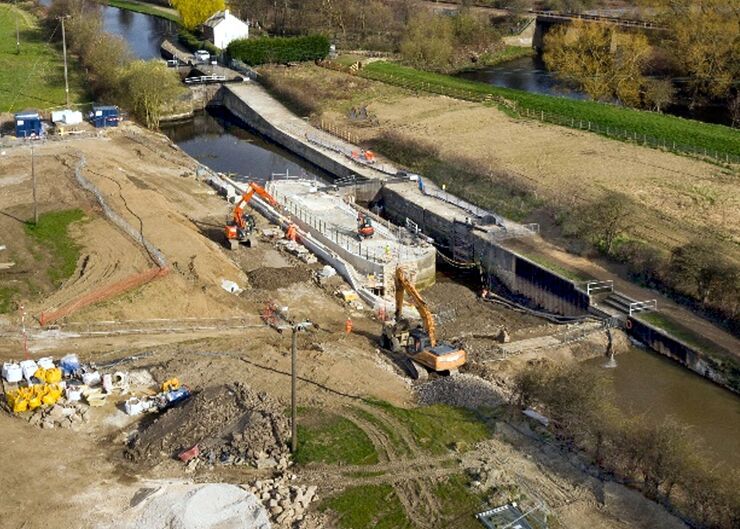 NEC Users' Group gold member the Canal and River Trust has used NEC contracts for an emergency reconstruction of one of its historic canal locks. The downstream lock of the twin Figure-of-Three locks on the Calder and Hebble Navigation in West Yorkshire was severely damaged by storm Ciara in February 2020. Built in 1769, the grade-2-listed stone-walled lock near Thornhill was inundated when the nearby River Calder overtopped its banks. Flood waters severely eroded the lock bywash channel, lock island and adjacent canal embankment, closing the canal and towpath.
The reconstruction work was undertaken by Kier, which started a £250 million, 10-year NEC3 Framework Contract (FC) with the Trust in April 2015. It covers all construction and repair work to the Trust's 3200 km canal network in England and Wales, which includes 2980 bridges, 1580 locks and 335 aqueducts. Most of the network is over 200 years old.
Works under the framework are let under NEC3 Engineering and Construction Contract (ECC) Option B (priced contract with bill of quantities), Option C (target contract with activity schedule), Option D (priced contract with bill of quantities), Option E (cost-reimbursable) and the NEC3 Engineering and Construction Short Contract (ECSC). Services are let under the NEC3 Professional Services Contract (PSC) using either main option A or E.
Cost-reimbursable contract
In this case the £3 million reconstruction was carried out by Kier under ECC Option E, with design carried out by the Trust's term consultant Arcadis under PSC option E. The work started in April 2020 and, despite Covid-19 restrictions, was completed in time for the following year's boating season in April 2021. The rebuilt lock is designed to resist a 1 in 10,000 flood event, the same as caused by storm Ciara.
The first step was to build a digital model of the damaged lock using ground and aerial laser-scanning. The canal was then dammed either side of the lock, the water drained and the ground carefully excavated while keeping what remained of the existing stonework. The lock island and a deeper bywash channel were then rebuilt on a new reinforced concrete slab with C40/50 reinforced concrete walls, after which the island was backfilled with stone gabions and the new walls faced with stone masonry. In addition the canal was dredged of flood deposits and its banks provided with scour protection.
The project was shortlisted for the Upgrade and Renewal Project of the Year in the 2022 British Construction Industry Awards.
Proactive approach
Commercial and contracts manager Steven Hayes says NEC is critical to successful delivery of the Trust's annual works programme, on which turnover has now risen to around £35 million a year. 'To manage our portfolio of works, it was imperative we adopted a form of contract that demanded a proactive approach to time and cost management. Having outstanding liabilities at the end of project not only impacts that project but also our wider annual delivery programme. NEC provides us with full transparency of time and cost, meaning final accounts are agreed at or shortly after completion of every project.'
He says Figure-of-Three Locks was an unplanned project. 'The asset failed because of storm Ciara, causing both the navigation and towpath to close. There was reputational pressure to complete the repair as soon as practicable and re-open to our customers. We therefore chose NEC3 ECC Option E to facilitate an early start to repairs without the definition of work needing to be finalised.'
Hayes says design and construction ran concurrently, with design procured through a separate NEC3 PSC. 'Working in an NEC-based framework partnership with Kier and Arcadis, under which all parties are obliged to act in a "spirit of mutual trust and co-operation," meant that collaborative working relationships had already been forged between the three partner organisations.'
Enhanced cost control
He says with NEC3 ECC Option E being a cost reimbursable contract, in which the contractor is paid the actual cost of the work plus a pre-agreed management fee, the Trust mitigated its commercial risk with enhanced cost control. 'The framework relationship had allowed us and Kier to develop a standardised template for presenting and managing NEC3 ECC Option E actual and forecast defined costs.'
Furthermore, Hayes says in line with the NEC ethos, close relationships had also been forged with a select number of the contractor's tier one suppliers. 'This meant we were given visibility of not only invoices but also their individual people costs, without compromising data protection. As a result we had full confidence in the forecasts of total defined cost that were submitted to our project manager on a weekly basis.'
He adds that regular weekly site meetings were held where technical queries, value engineering opportunities and NEC early warnings were raised and discussed. 'In line with NEC requirements the contractor also submitted a revised programme as a minimum every four weeks but with increased frequency if called upon to reflect key scope or method changes. This process was facilitated by using the Cemar cloud-based contract management system.'
Benefits of using NEC
NEC contract suite flexibility provided a cost-reimbursable option to enable a prompt start on this unprogrammed reconstruction to ensure completion before the next boating season.
NEC requirement on parties to act in a 'spirit of mutual trust and co-operation' ensured a fully collaborative working relationship, including full visibility of contractor and supplier costs.
NEC's proactive approach to time and cost management, including early warnings and regularly updated programmes, meant there were no outstanding liabilities at completion.