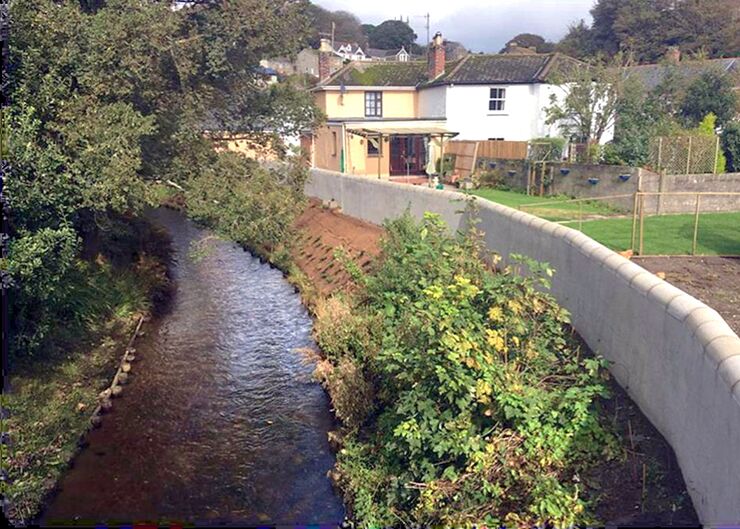 England's Environment Agency has used NEC4 contracts to deliver its £1.2 billion flood and coastal erosion risk management capital programme for 2019−2027. The Collaborative Delivery Framework was let under an NEC4 Framework Contract to delivery partners Arup, Atkins, Bam Nuttall, Jacobs, Jacksons, JBA Consulting, Kier and Volker Stevin in April 2019, with each partner looking after one or two of six regional hubs for the next four to eight years.

The programme comprises hundreds of individual flood resilience schemes, each of which is let as an individual call-off contract using the NEC4 Professional Service Contract (PSC) for optioneering and design and NEC4 Engineering and Construction Contract (ECC) Option C (target contract with activity schedule) or Option E (cost reimbursable contract) for construction.

Structured around the Project 13 enterprise delivery model, the framework's novel approach to achieving programme-level incentivisation was runner-up in the 2022 NEC Contract Innovation of the Year award.
Programme-level incentivisation
Environment Agency contracts and risk manager Veronica Flint Williams says that despite the need to transact each project individually, founding the framework on the principle of delivery hubs and collaboration enabled adoption of a client-led pricing model and programme-level incentivisation.

'Using the existing incentivisation mechanisms within NEC4 ECC Option C and modifying the split arrangements, we shifted the focus from project delivery to programme delivery. We reinvested a significant portion of our client share on a contract-by-contract basis into a programme incentivisation pot, with programme performance defining and releasing enhanced payouts to delivery partners − exceeding those that would have been achieved under standard incentivisation.'

She says key performance indicators (KPIs) were identified against the metrics that mattered for the Environment Agency and stretched delivery partners to drive continuous improvement and innovation. 'In 2022 the KPI focus was on developing innovative sustainable solutions, reducing greenhouse gas emissions, improving communication, delivering to time, and efficiency. The joint performance of the delivery partners against these KPIs dictated the reward from programme incentivisation, with exceedance from the norm further rewarded.'

Using Power BI, a business analytics tool, and FastDraft, a contract management tool, the Environment Agency collected and rapidly analysed trends in performance and target-required interventions and improvements. According to Flint Williams, 'Regular feedback sessions with hubs from a national perspective, where delivery partner and hub performances were openly shared, ensured a focus on the programmatic approach and sufficient competitive tension to enhance performance.'

As an example, she says an improvement from 64% to 94% compliance with NEC4 clause 31 requirements for submitting and accepting programmes was achieved in 2021. 'This relatively simple metric enabled better programme planning, more accurate annual expenditure and underpinned the requirements for improved communication required for collaboration.'
Net zero and abnormal risks
NEC4 contract processes were also used to help the Environment Agency achieve its goal of achieving net zero greenhouse gas emissions by 2030. 'We set emissions reduction targets in our contracts using the NEC4 defects process,' says Flint Williams. 'Achievement of stepped reductions was a key factor in our programme incentivisation for 2022/23. Going forward we will embed a finessed version of the new NEC4 option X29 in all contracts to directly incentivise emission reductions.'

She says the flexibility of NEC4 contracts also enabled the programme to deal quickly with abnormal risks such as Brexit, Covid-19, the Suez crisis and the Ukraine war. 'We recognised that these risks were not a result of failure by our delivery partners, so we quickly made adjustments to the NEC4 secondary clauses, including the prevention clause. This enabled our partners to be put back into the position before each risk occurred, so that their focus could be on delivery rather than their possible concerns about survival.'

Flint Williams concludes, 'the innovation adopted by the Environment Agency in its contracting approach provided shared goals and objectives linked to performance incentivisation. This in turn resulted in an enterprise approach where all parties gained from successful delivery of outcomes. Overall, the success of the framework and individual call-off contracts to date was because all parties fully embraced the NEC4 clause 10.1 requirement to act in, "a spirit of mutual trust and co-operation".'
Benfits of using nec
NEC4 contract suite provided a family of related collaborative contracts to deliver a £1.2 billion capital works programme, with an overarching NEC4 Framework Contract and individual projects let using the NEC Professional Services Contract and NEC4 Engineering and Construction Contract.
NEC4 incentivisation mechanisms enabled a Project 13 enterprise approach to be achieved by shifting the focus from individual project delivery to programme delivery.
NEC4 contract mechanisms supported the client's drive to reduce greenhouse gas emissions to net zero by 2030, initially using the defects process and later the new clause X29.
NEC4 flexibility enabled abnormal risks such as Covid and the Ukraine war to be dealt with quickly by adjusting secondary clauses, including the prevention clause, to enable partners to focus on delivery rather than survival.
NEC4 clause 10.1 requirement for parties to act in, 'a spirit of mutual trust and co-operation,' was fundamental to the success of the framework and individual call-off contracts.