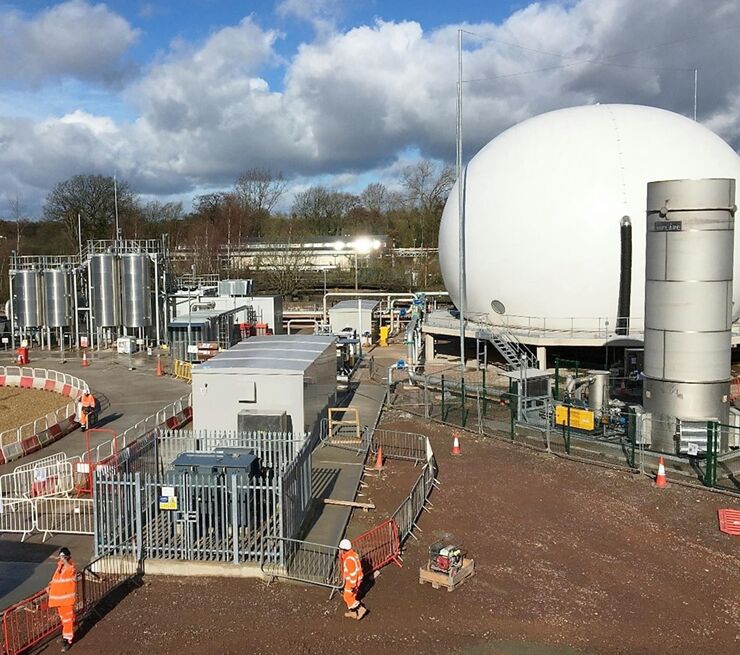 Severn Trent in the UK has used NEC to implement a renewable energy scheme that upgrades its biogas to make biomethane, making it suitable for connection to the national gas grid.

The work at Finham sewage treatment works, which serves 430,000 people in the West Midlands city of Coventry, involved designing, installing and commissioning a biogas upgrader unit and ancillary plant. This now converts sewage-generated biogas into renewable biomethane at the right temperature, pressure and calorific value for it to be injected into the local gas grid.

The state-of-the-art 'gas to grid' plant, which includes a remote-monitoring facility, is capable of supplying up to 9000 homes each year with renewable energy. It is also helping Severn Trent to achieve its target of net zero greenhouse gas emissions as well as 'decarbonising' the gas network in the Coventry area.

The project was let to Severn Trent's asset management period 6 delivery partner Costain under an NEC3 Engineering and Construction Contact (ECC) Option C (target contract with activity schedule) in August 2019. Commissioning started in February 2021 and key milestones were achieved despite disruption from the Covid-19 pandemic and the effects of Brexit. Severn Trent was NEC project manager.

The project won the 2021 NEC Sustainability and Climate Resilience Project of the Year award.

Mutual Trust and Cooperation
Severn Trent project manager Sameer Shinh says it was vital that the client's working relationship with the contractor was conducted throughout the project in accordance with NEC's obligation to act in a, 'spirit of mutual trust and co-operation'. 'The gas-to-grid plant was not a run-of-the-mill water project and it was essential to ensure it was installed efficiently.'

He says the use of risk-assessed construction methods and NEC contractual mechanisms were critical to successful delivery of this multi-disciplinary renewable energy project. 'The NEC collaborative ethos was also carried over to interaction with the existing site operations team. Without full cooperation on a live sewage treatment works, the project and wider site performance would have been vulnerable to conflicts and delays.'

Shinh says this was done by holding regular risk-reduction meetings with all interested parties and arranging site tours. 'The formal method of communication between parties was done as per the NEC clauses. In addition, meetings were encouraged between site managers, operators and engineers on site or virtually to analyse problems and implement solutions in accordance with the contract.'

For example, the client allowed the contractor to use uncontaminated excavated material on site to establish a biodiversity zone rather than the more expensive and carbon-dioxide-intensive option of transporting it off site. Other examples of collaborative behaviour included when operational activities resulted in temporary closure of site roads, the contractor helped out in other areas by establishing a 'well-being garden' and helping to develop younger engineers.

'This quid-pro-quo approach to establish good relations in addition to administration of the contract enabled the operational team to assist in the construction and commissioning of the gas-to-grid plant.'

Benefits of Using NEC
NEC 'spirit of mutual trust and co-operation' was maintained throughout the multi-disciplinary project, helping to ensure efficient installation.
NEC collaborative ethos was carried over to interaction with the existing site operations team, helping to avoid conflict and delay.
Regular risk-reduction meetings were held in line with NEC early warning process to ensure all potential conflicts and delays were identified and minimised.