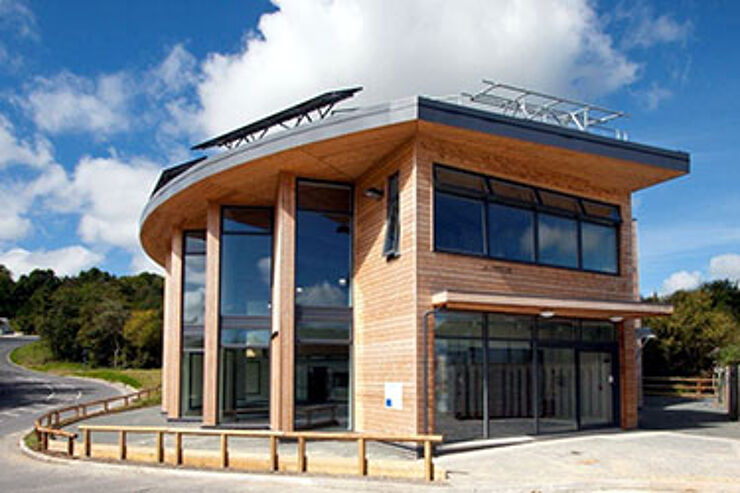 The NEC-procured Green Build Hub owned by the Cornwall Sustainable Building Trust is a new sustainable construction centre for the UK. It is located at the Eden Project visitor attraction site in Cornwall, UK and was part-funded by the European Regional Development Fund.
As well as providing research, development, promotion and training facilities for the green building industry, the £1.4 million building itself is intended to serve as a benchmark for sustainable design, procurement, construction and operation, becoming a 'living laboratory'.
The quadrant-shaped, two-storey, highly insulated timber-framed building features natural thermal insulation, glulam roof beams and triple-glazed windows, all helping it to achieve a BREEAM 'outstanding' rating. The design and construction adopted a closed-loop, cradle-to-cradle approach, with fully recyclable and reusable materials being used throughout.
Developed design was by architect Poynton Bradbury Wynter Cole, structural engineer CDeC and services engineer Hoare Lea. Following a two-stage tender, contractor Gilbert & Goode was engaged under an NEC3 Engineering and Construction Contract (ECC) option A (priced contract with activity schedule).
Work started in October 2014 and was completed on programme and to budget in July 2015.
Supporting Project Values
Project manager Phil Crossley of Ward Williams Associates − which also acted as quantity surveyor, CDM coordinator and BREEAM assessor on the project − says NEC was chosen to ensure the project's values were delivered successfully. These include collaboration, resource efficiency, training and sustainability.
'ECC was seen as the preferable contract to enable this to be achieved, as well as actually assisting many of these processes, including structured project management, ' he says. Two NEC training workshops were then delivered to the 12-strong project team.
'By commencing the project with the NEC workshops we delivered a number of project values, such as collaboration and training. It brought the team together and, by discussing the processes and best practice together as a team, we created a mutual air of trust that ran throughout construction.
'On site the management processes for the contract ran very smoothly and supported the process of delivering a project on time and within budget. In particular it allowed us to report clearly to the European Regional Development Fund throughout the work.
'There were no hidden issues and, when an unexpected construction project started on the adjacent site, the project team was able to run risk reduction meetings and achieve benefits to both contracts.'
Benefits of NEC3
Use of cost management procedures for compensation events ensured financial reporting was maintained. This gave comfort to the funders and employer, and was a significant factor in delivering the project within budget.
Collaborative approach to the demanding 10 month programme presented at each project meeting ensured successful delivery on time.
The ECC risk register, which was part of fortnightly project review meetings, supported the cost and programme procedures and helped to ensure successful delivery.
Use of NEC, both during initial workshops and construction process, encouraged collaboration and brought the project team together.
NEC cost, programme and risk management processes allowed sustainability values to be carefully monitored and delivered, helping to achieve a BREEAM 'outstanding' rating as well as enhancing the training value of the project.