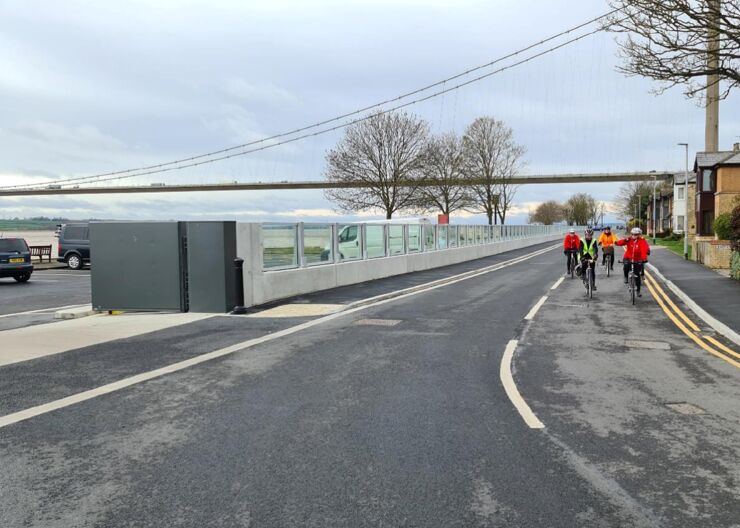 NEC contracts have been used successfully to deliver a challenging flood defence scheme on the northern shore of the Humber estuary in the UK. The £11.3 million scheme along the foreshore at Hessle − 8 km west of Hull and next to the iconic Humber Bridge − now provides 1-in-200-year protection from tidal surges to over 4000 homes and businesses, the A63 coast road and the Hull-to-Selby railway. A surge in 2013 flooded 84 homes and businesses.

Client East Riding of Yorkshire Council procured the scheme through YORhub frameworks, which are jointly run by five local authorities. Initially designer Mason Clark Associates was engaged in September 2017 through the NEC-based YORconsult2 framework under an NEC3 Professional Services Contract option E (time-based contract), and then contractor Tilbury Douglas was appointed through the NEC-based YORcivils2 framework in April 2020 under an NEC3 Engineering and Construction Contract (ECC) Option C (target contract with activity schedule).

The work involved creating a new 50-year-design-life defence over a length of around 700 m. It primarily consists of a 365 m long a sheet-piled, reinforced-concrete and glass flood wall along Cliff Road, and a similar length of an innovative dual-purpose concrete crash barrier cum flood wall along the south side of the A63. Other works included the installation of three steel flood gates, a ring beam around a sluice structure at Hessle Clough and dry-side surface-water attenuation drainage.

Despite the Covid-19 pandemic and some significant early changes to the scope, the project was completed within the original budget and to the agreed revised programme in January 2022. It was shortlisted for Environmental Project of the Year in the 2022 British Construction Industry Awards.
Experienced client
East Riding project manager Andrew Cooper says, 'NEC works well for us. We have a good collective experience of using ECC within the authority and there is always a bank of knowledge on its application as well as mentoring for less-experienced project managers. Many of our team are Accredited NEC3 and NEC4 ECC project managers. NEC3 was used for this scheme as it is the current standard for YORhub frameworks, but we will be moving to NEC4 when the next frameworks are launched in 2023.'

He says the nature of the site and the construction details had a significant impact on adjacent highways, homes, businesses and public space. 'The use of ECC secondary options X5 on sectional completion and X7 on delay damages enabled us to build measures into the contract to influence and manage such impacts, for example encouraging methods with low noise, vibration and dust. We also set up a Y(UK)1-compliant project bank account to bolster financial confidence for the supply chain.'

Cooper says the delivery required a significant contribution from the contractor with the design of specialist elements. 'These contractor designs were successfully integrated into the delivery and the contractor's design liability was limited to "reasonable skill and care" by use of X15, and overall liability was limited by X18.' Given the technical challenges and contract value, we also used the X16 retention clause.'
Collaborative effort
He says the works contract was executed well and with a collaborative team delivering each section. 'There were the usual commercial tussles, but it was cordial and professional as you would expect from a quality team. In the early stages of the works contract there were some significant changes in scope requiring changes to the works information. These were successfully administered through the NEC change management processes such as early warnings, risk reduction meetings and compensation events, resulting in a tangible saving to the scheme.'

Cooper says subsequent scope changes were also successfully administered. 'NEC's clear and positive, "spirit of mutual trust and co-operation," was developed right from the start of the contract and prevailed through to the end. While the share ranges included in the ECC Option C contract directed the financial risks away from us, they also provided an incentive for both parties to manage risk effectively.'

He adds that clarity and accuracy in the testing requirements included in the works information was particularly beneficial at completion. 'This underpinned the testing and defects contract clauses and together, overseen by an experienced NEC supervisor, these brought about the delivery of a compliant and quality product.'

Cooper points out that NEC-style collaboration and fairness are also embedded in the YORhub frameworks. 'Framework contractors have to demonstrate minimum standards relating to equality and health and safety, and they must have fair and prompt payment provisions with all supply chain partners. They also have to support economic regeneration in the local community through the YOR4good fund, engage with local schools and colleges, offer work experience placements, take on new apprentices, support higher level skills training and promote new job opportunities.'
Benefits of using NEC
NEC promoted 'mutual trust and co-operation' within the project team from the outset, which helped to ensure the work was completed to the agreed time, cost and quality and that suppliers were paid fairly.
Wide range of NEC ECC secondary options and contract mechanisms enabled the client to incentivise sectional completion, encourage contractor design, guarantee quality, manage risk and ensure prompt and fair payment.
NEC change management process such as early warnings, risk reduction meetings and compensation events enabled significant scope changes to be quickly and efficiently agreed.