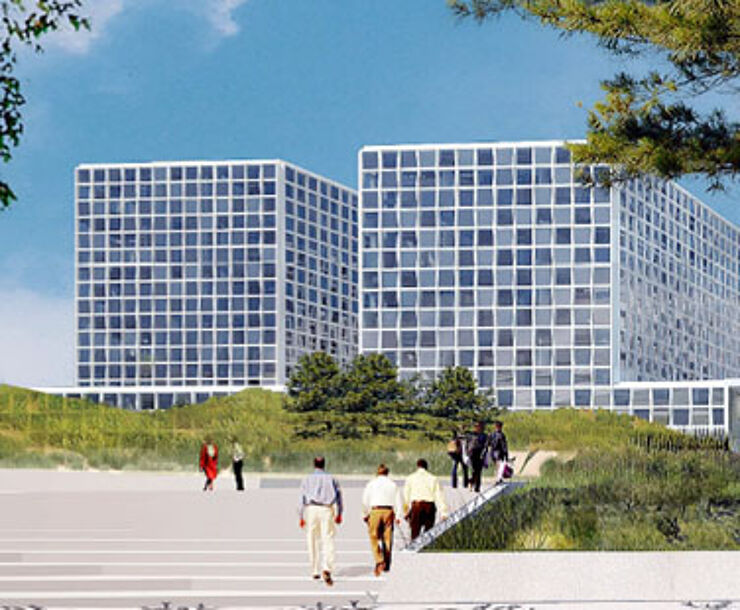 The International Criminal Court (ICC) in The Hague, Netherlands was established by the Rome Statute in 2002. It is the world's first permanent, treaty based, international criminal court and has so far been joined by 121 countries. ICC has been operating from interim premises in the Binckhorst area of The Hague for the past 10 years but in December 2015 it will finally move into its own, purpose-built permanent premises on a semi-rural site in the city's international zone. In October 2012 an NEC3 Engineering and Construction Contract (ECC) option C (target contract with activity schedule) was let to a combination of Dutch contractors Visser & Smit Bouw and Boele & van Eesteren (Courtys) both part of the VolkerWessels group. Handover is scheduled for September 2015. It is believed to be the first time that an NEC3 contract has been used in the Netherlands.
Balancing quality and cost
According to the International Criminal Court's Project Director Neil Bradley, "The objective of this project is to create the optimum balance between quality, functionality and cost, providing the states parties who established and continue to support the ICC with the best possible long-term value for money."
Designed by Danish architectural firm Schmidt Hammer Lassen Architects, the new 52,000m2 premises consists of six interlinked buildings housing three court rooms, technical facilities and offices plus associated car parking and landscaping. The main architectural feature is a stunning glass-walled court tower filled with plants.
NEC3 chosen over other forms
ICC was looking for a construction contract that promoted a collaborative, open-book approach and had a consistent record of delivering projects on time and on budget at its core. After comparing the Dutch UAV-GC and international FIDIC and NEC3 forms, it was decided that NEC3 ECC was the most suitable. "The choice of NEC3 was based on the view that transparency, mutual trust and collaboration will lead to a better result and better value for money," said Neil Bradley. "In particular we want to have the highest quality building delivered on time and within our budget. NEC3 is enabling us to have open and honest discussions with our contractor about some of the key elements of the project, as well as providing an incentive to the contractor to find better ways of achieving the same end result", he said.
Benefits of using NEC
Neil Bradley summarised the benefits of using ECC on the ICC new permanent premises project as follows.
Promotes proactive collaboration between the client and the contractor, engendering a transparent way of working.
Encourages early identification and discussion of risks and other issues, and ensures that risks are managed by the party who is best suited to do so.
Offers a unique pricing mechanism based on incentives and profit sharing.
Is written in easy-to-understand English, with no legal language.