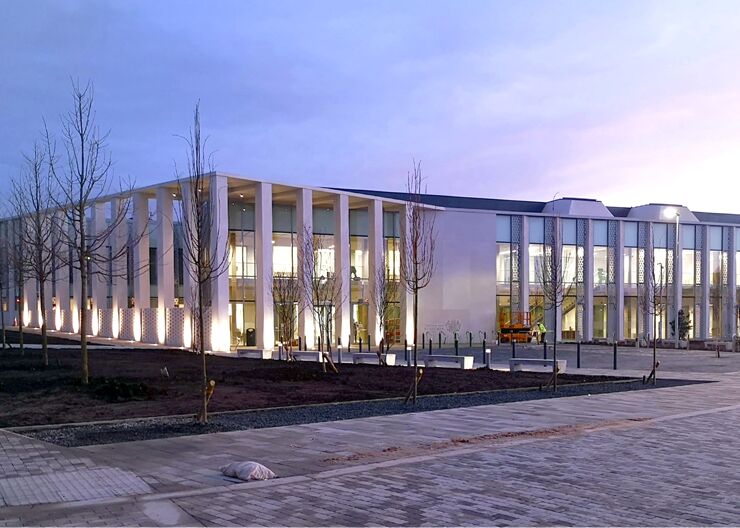 NEC has been used to procure the first purpose-built justice centre in Scotland. Client Scottish Courts and Tribunals Service let construction of the Inverness Justice Centre to contractor Robertson Group under an NEC3 Engineering and Construction Contract (ECC) Option A (priced contract with activity schedule) in September 2017. The work was completed on time and budget in March 2020.

Principal designer and NEC project manager Currie and Brown was engaged under an NEC3 Professional Services Contract (PSC), as were architect Reiach and Hall, consulting engineer Arup, landscape architect Horner and MacLennan, and cost consultant Thomson Gray. The project was procured through the NEC-based Scape Scotland Construction framework.

Situated on the site of former bus depot, the 6,500 m² state-of-the-art building includes six timber-lined courtrooms as well as offices, reception areas, catering, waiting areas and meeting rooms over two floors. It has been designed to bring together all local justice services under one roof to support victims, witnesses, litigants and other users, with special facilities for children and vulnerable witnesses.

The building's post-tensioned flat-slab concrete frame incorporates 75% ground granulated blast furnace slag to reduce embodied carbon dioxide while providing substantial thermal mass. Other sustainability features include natural ventilation, ability to control glare and solar gain, and significant use of recycled and natural materials with low embodied energy. The project won the Architectural Excellence Award (Public) in the 2021 Scottish Property Awards and an Architecture: Public Building Award in the 2021 Scottish Design Awards.
Collaborative approach
Scottish Courts and Tribunals Service director of property and services David Currie says, 'We are delighted to have successfully delivered our first justice centre in Scotland, on time and to budget. This is testimony to the professional advice and guidance we received from Currie and Brown in their role as NEC3 project manager and principal designer on the project, and the collaborative approach with our local management teams and external stakeholder groups.'

Currie and Brown associate director Craig McConnell says the NEC requirement for the parties to act in a, 'spirit of mutual trust and co-operation,' was embraced by the whole project team. 'The key to the successful delivery of this landmark development has been the NEC-inspired collaboration between all parties and a real focus on delivery.'

He says examples of collaboration included being able save £1 million through value engineering and the decision to manufacture the facade columns offsite to save time. 'In addition, 99.94% of construction waste was diverted from landfill and £9 million of community benefits were achieved through community development work.'

McConnell say the use of ECC Option A allowed the client to obtain cost certainty at an early stage and before starting work on site. 'This approach allowed the client to carefully budget for the project as well as providing the flexibility to consider implementing further changes to the works information during the construction period.'
Benefits of using NEC
NEC contract suite provided a range of flexible, collaborative contracts to engage the full project team.
ECC Option A allowed the client to obtain cost certainty at an early stage as well as flexibility to consider changes to the scope during construction.
NEC requirement to act in a, 'sprit of mutual trust and co-operation,' ensured full collaboration within the project team.
Collaborative working led to £1 million of savings through value engineering and time saving by manufacturing façade columns offsite.