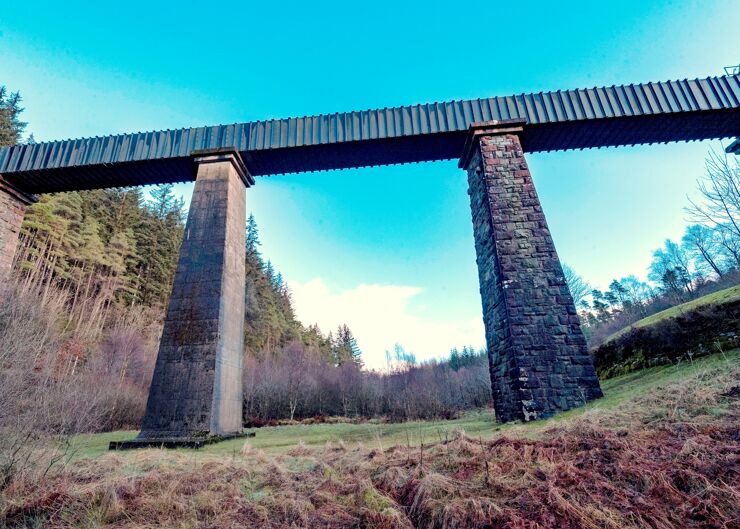 Scotland's two 42 km long Katrine Aqueducts enable up to 550 Ml of raw water to flow by gravity each day from Loch Katrine to the Milngavie and Balmore water treatment works just north of Glasgow. Completed in 1859 and 1901 respectively, the 'old' and 'new' aqueducts now supply around 1.3 million people across Greater Glasgow and west central Scotland via multiple bridges, tunnels and siphons – many of which are listed heritage structures.
Owner Scottish Water chose NEC to procure a complex and challenging £20 million refurbishment of these strategically and historically important aqueducts following detailed internal and external inspections. The work was let in November 2018 to contractor George Leslie under an NEC3 Engineering and Construction Contract (ECC) Option C (target contract with activity schedule), primarily for defect repairs on bridges and tunnel sections. The scope was increased as the contract progressed from one bridge and three tunnel sections totalling 16 km to 20 bridges and five tunnel sections totalling 27 km.
Bridge repairs typically included vegetation removal, masonry and mortar repairs, scour protection to piers and abutments, concrete deck replacements, embankment repairs and repainting, while tunnel repairs dealt with water ingress, spalling, invert scouring, rockfalls and unstable linings. The contract also included an internal condition survey of the new aqueduct to inform a 25-year inspection and maintenance plan.
As well as the additional bridges and tunnel sections, many other elements were added to the contract as work progressed including new stop logs, bridge surveys, vegetation clearance, road repairs, internal bridge repairs, valve maintenance, pipe refurbishment, and investigation and outline design of repairs to a high-risk tunnel section. Despite these numerous changes and the onset of the Covid-19 pandemic in March 2020, the work was successfully completed within the agreed revised programme and budget in April 2021.
Managing change
Senior project manager Dave Wilkinson of Scottish Water's in-house delivery team Managed Delivery says ECC Option C is the company's standard construction procurement contract. 'This is due to our expectation that there will usually be some change to the scope and that risks will be collaboratively shared between the contractor and client. The potential for gainshare also provides an incentive to both parties for innovation and efficiency.'
As expected, there were numerous changes on the project. 'Close inspection with full lighting and more time revealed significantly more and worse defects than had been previously identified,' says Wilkinson. 'For example, the extent of repointing in the tunnels increased by around 40%'.
He says it was vital to deal with changes to the NEC works information quickly. 'With one aqueduct out of service at any one time, and high daily costs for site establishment, temporary water supplies and supplementary pumping, decisions had to be taken rapidly. In line with NEC early warning and compensation event processes and timescales, revised programmes were continually submitted to reflect accepted compensation events, and additional budgets were requested via Scottish Water's governance process.'
To help keep the contract moving as fast as possible, Wilkinson says Scottish Water adopted Oracle's Pimavera Unifier project control system. 'This helped NEC early warnings and compensation events to be rapidly and effectively managed within a shared system. Contractor justification and project manager responses were visible to the full project team, and change-control timescales were clear to all.'
He says most compensation events were dealt with quickly and with the minimum of fuss. 'Inevitably there were also some compensation events that took longer and were more difficult to agree, such as the impact of the Covid-19 pandemic on productivity in a confined-space environment. Nevertheless the final account was agreed within six months of completion.'
The contract was successfully completed in April 2021 with no reportable injuries and with a reasonable gainshare. 'The success of this complex and challenging project was due to a high degree of collaboration within the project team combined with effective planning, very good site management and efficient working practices. Overall it was a great example of a client and contractor acting in NEC's required, "spirit of mutual trust and co-operation".'
Benefits of using NEC
NEC ECC Option C enabled the risks of working on this vast and historic infrastructure system to be collaboratively shared.
NEC early warning and compensation event processes enabled a significant number of changes to be quickly and fairly managed, including working under Covid-19 restrictions in confined spaces.
The NEC gainshare mechanism provided an incentive to both parties for innovation and efficiency, ensuring the project was successfully delivered within its revised programme and budget.