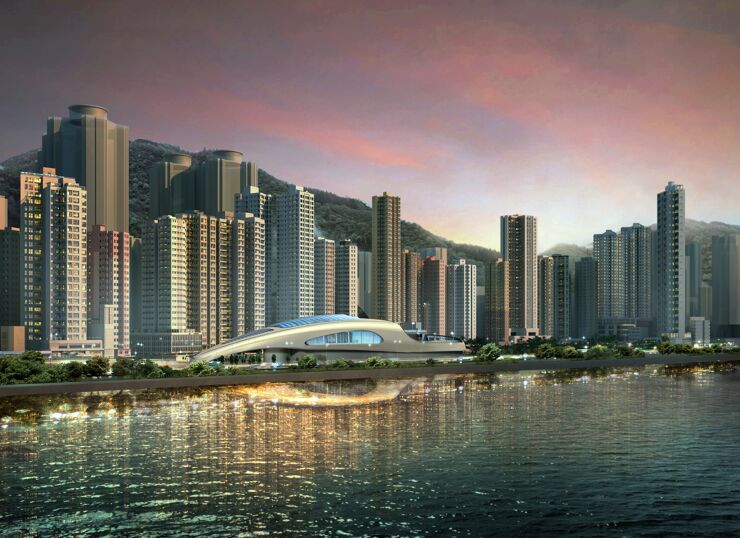 This multi-million project is for the covered section of the curvaceous part-indoor, part-outdoor complex. It replaces an original community swimming pool that was demolished to make way for the new Kennedy Town station on MTR's HK$15.4 billion (£1.3 billion) West Island line railway, which opened in 2014.
MTR engaged architect Terry Farrell and consulting engineer WSP-Parsons Brinckerhoff to design the building, which has two outdoor pools, an indoor multi-purpose pool, jacuzzis and a filtration plant. The reinforced concrete structure features an elegant curved steel roof clad with pre-weathered zinc and PTFE roof.
Contractor Paul Y delivered phase 1 on time and within budget between 2009 and 2011 under MTR's own form of contract, which is a conventional lump-sum type with non-contractually binding clauses to promote partnering.
For phase 2, MTR sought to build on the success of phase 1 by adopting a more contractually binding form partnering – as offered by NEC. Being MTR's first project to use NEC, it would also enable the corporation to evaluate how NEC compared with phase 1 – with a view to promoting further use of NEC in Hong Kong if it proved effective at delivery for all parties.
According to MTR project manager Stephen Hamill, 'NEC has now been adopted as the contract of choice by government works departments, so it made sense for us to try it too. We are always looking to improve on our project performance, so trialling NEC back-to-back with the successful first phase is a true test of its potential benefits.'
Integrated team
From the outset of phase 2, an 'integrated team' approach was adopted by the employer, project manager, contractor, architect, consultant and government. 'This was to ensure a thorough understanding of the common objectives for time, cost, quality, safety, environment and community expectations for project delivery,' says Hamill. 'MTR and Paul Y are fully committed to the NEC and to make it a success.'
Joint NEC workshops were attended by all parties both during tender and after contract award. A joint office, regular team training sessions, lesson-learnt workshops as well as partnering activities promoted close working relationship and effective communication, which in turn led to successful trust building. A 'no blame' culture was also fostered to encourage team members to express their views unreservedly to enable early identification and resolution of potential issues.
In addition, the site has received zero complaints from the public on construction activities to date. The project team regularly visits elderly homes in the vicinity and listens to the public's views, which in turn help improve construction works performance and reduce public nuisance. The government's Leisure and Cultural Services Department has been very supportive and complimentary on how the project has been advanced to date compared with similar projects.
Successful outcome
Certainly the phase 2 contract is progressing well. Drainage diversions and reinforced concrete works were each completed four weeks early and the steelwork was two weeks early. In accordance with NEC requirements, both cost and programme status have been constantly updated throughout the contract. This has given the contractor the confidence to bring forward its projected completion date by four weeks and allowed MTR to activate bonus clause X6 for early completion.
'In view of the fact that projected contract completion has been advanced by 4 weeks and compensation events have been kept within 1% of the contract sum, we have agreed in principle to give an early completion bonus to the contractor as an incentive to ensure early completion of the project,' says Hamill.
Early settlement of compensation events has also enabled adequate cash flow for the contractor to honour its sub-contractors' payments in a timely manner. 'Our sub-contractors are all contented to be a part of the team,' says Paul Y director and general manager Stanley Lo.
The project team is continuing its efforts to complete phase 2 successfully, thereby setting a firm precedent for MTR to consider adopting NEC for future railway development projects.
Benefits of NEC
Communication is enhanced among project team members through frequent discussions on potential time and cost implications required under NEC.
Potential project risks are identified through the NEC early warning system and effectively mitigated through the NEC risk reduction system, significantly improving productivity.
Details of risk-reduction measures are captured contemporaneously through the NEC compensation event system, helping expedite agreement on time and cost effects in a timely manner.
Project cash flow and cost control are improved through early agreement and payment on compensation events. Early agreement on compensation events also enables early conclusion of final account.