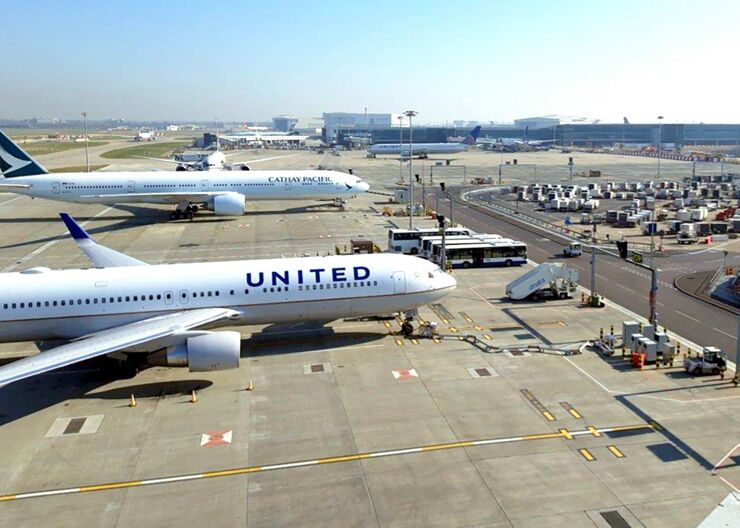 By Simon Fullalove

Five new state-of-the-art aircraft stands have been delivered on budget and ahead of schedule in the middle of London's busy Heathrow airport using NEC contracts. Currently used as remote parking stands on the Kilo taxiway, they will eventually become pier-served stands for the future extension of Terminal 2.

Client Heathrow Airports Limited let the £34 million design and construction project to Ferrovial Construction under an NEC3 Engineering and Construction Contract (ECC) Option C (target contract with activity schedule) in August 2016. Lead designer Jacobs was engaged by Ferrovial under an NEC3 Professional Services Contract (PSC), and the client acted as both NEC project manager and supervisor.

The initial work involved demolition of pier 4 of the now disused Terminal 1, breaking out 23,000 m3 of existing concrete aprons, excavating 20,000 m3 of subgrade and removal of redundant services. A total of 15,000 m3 of the apron concrete was processed and reused on site along with 87% of excavated material. Most of the remaining materials were processed offsite and returned to the airport for re-use.

The five new stands were constructed in a L shape with 11,000 m3 of type 1 sub-base, 6,344 m3 of lean concrete and 20,277 m 3 of pavement quality concrete. Four of the stands are multiple-aircraft ramp system (Mars) stands that can accommodate either one Airbus A380 or two smaller jets such as Boeing 737s, while the corner stand is for code E planes such as a Boeing 787. All stands are fully serviced including pre-conditioned air, electrical tug charging and parking, pedestrian walkways and access roads.

The project was successfully completed and commissioned 3 months ahead of schedule in March 2019. Heathrow Airports presented the project team with its Doing-The-Right-Thing award for exemplary collaboration and the scheme was shortlisted for Transport Project of the Year in the 2020 British Construction Industry Awards.
Promoting collaboration
The Kilo apron development was let as part of Heathrow's £1.5 billion NEC-based construction delivery integrator framework for the Q6 2015−2019 regulatory period. The framework was awarded to Balfour Beatty, Mace, Morgan Sindall and Ferrovial, and has since been extended to 2021.

Project manager Craig Williamson says, 'We adopted the NEC family of contracts as our preferred contracting mechanism for the Q6 framework. The contracts are written in simple English, which means all parties fully understand their obligations and responsibility, and the obligation to act in a "spirit of mutual trust and co-operation" helps to promote a collaborative relationship, which is key to our project delivery. They also promote a proactive approach to managing change.'

He says the framework enabled full collaboration between all delivery integrator contractors from the earliest stages of the Kilo apron development. 'I believe this was key to the project's success. The relationships forged with Ferrovial and the other contractors and suppliers since 2015 is something we have obtained numerous benefits from during the years, both on the Kilo apron development as well as in later projects and interfaces across Heathrow.'

Williamson says NEC contracts helped to achieve collaboration from the outset thorough risk identification and management exercises in the design development stage. 'Since then we held weekly early warning meetings to identify and mitigate risk. The ECC Option C target cost contract with its pain-gain share arrangement ensured we all pushed in the right direction and mutually benefitted from the project's success.'

He says the contractor's flexibility to accommodate changes to the scope and programme was outstanding. 'For example, Ferrovial readily accepted the need to transfer some tunnel infill works from its scope to that of an adjacent framework contractor to gain project efficiencies, despite reducing the value of its own work.'

Williamson adds that monthly project review sessions held at project level ensured proper control of budgetary and programme impacts. 'This helped us to achieve the opening of the stands three months ahead of schedule despite a multitude of challenges during the project's lifetime.'
Benefits of using NEC
NEC contracts' simple English meant all parties were fully aware of their contractual obligations and responsibilities.
NEC requirement to act in a 'spirit of mutual trust and co-operation' helped to promote collaborative relationships across all projects.
NEC early warning and risk mitigation procedures promoted a proactive approach to managing change.
ECC Option C target cost contract and pain-gain share arrangement ensured both parties mutually benefitted from completing the project on budget and three months early.