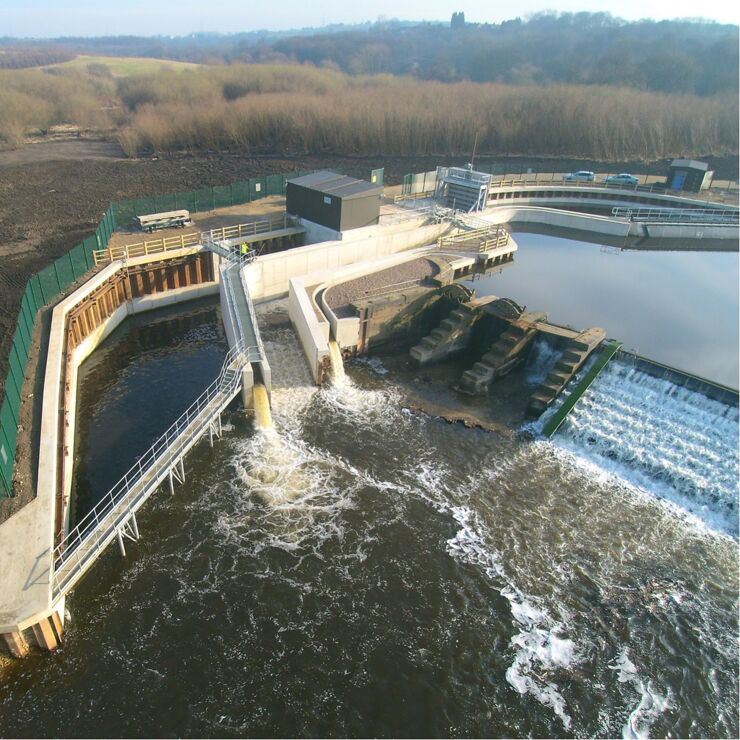 The NEC-procured Kirkthorpe Hydropower Station at Kirkthorpe Weir on the River Calder in Wakefield, West Yorkshire produces around 2.3 GWh of carbon-dioxide-free electricity a year, equivalent to the consumption of 800 households. Its single 500 kW axial turbine runs continuously for 10-11 months and is expected to do so for the next 100 years.
Client Barn Energy / Yorskhire Hydropower let the £5.3 million project to contractor Eric Wright Civil Engineering under an NEC3 Engineering and Construction Contract (ECC) Option A (priced contract with activity schedule) in October 2015. Other members of the project team included lead designer ANF Consulting, structural engineer JNP Group and project manager Cobalt Project Management.
The work involved installing a sheet-piled cofferdam to create a dry working environment alongside the existing weir. Extensive temporary works propping was then introduced to allow construction of reinforced concrete slabs, channel and housing for the Kaplan turbine. New fish and eel passes were built to allow passage of migrating fish, and screens were installed at both upstream and downstream ends of the new channel to protect fish while the turbine is in operation.
The works were completed in November 2016 on time and within budget despite working in a challenging fluvial environment.
Sound management tool
According to NEC project manager Russ Blaber of Cobalt Project Management, 'NEC3 was chosen given its standing and widespread use in the civil engineering industry, plus its ability to provide a sound management tool based on an ethos of trust and cooperation. This is critical for complex civil engineering projects such as this that require careful planning.'
He says NEC works well when it is resourced correctly by both parties. 'The contract has proved beneficial, allowing forecasted cost certainty. In additional, acceleration clauses have assisted the employer in mitigating delays caused by compensation events.
'When the project encountered unforeseen works with an existing adjacent structure, the collaborative aspects of NEC were fully deployed, resulting in an optimal design, cost and programme solution such that the plant was still commissioned on time. The importance of this cannot be underestimated, as these projects face finite end dates which, if missed, render the scheme unviable.
Benefits of using NEC
NEC is the leading suite of contracts in the UK civil engineering sector, ensuring widespread familiarity with the supply chain.
NEC contracts provides a sound management tool based on an ethos of trust and cooperation, making them ideally suited to complex projects that require careful planning.
NEC contracts are clearly worded and offer effective management of risk, with acceleration clauses helping to offset delays resulting from compensation events.
NEC provides early certainty of out-turn cost and minimises residual financial issues.