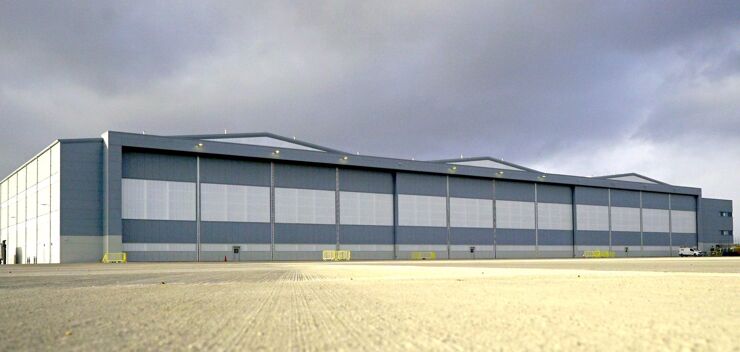 The UK government has used NEC to procure a £100 million state-of-the-art support facility for the Royal Air Force's (RAF) new fleet of nine Boeing Poseidon MRA1 maritime patrol aircraft. These submarine-hunting aircraft are entering service between 2020 and 2021, providing enhanced capability over that previously provided by the Nimrod fleet.
Defence Equipment and Support (DE&S), part of the government's Ministry of Defence, let the design and construction of the 33,000 m2 facility to Boeing Defence UK and its sub-contracted construction partner Robertson Construction in February 2018. The contractors worked under back-to-back NEC3 Engineering and Construction Contracts Option C (target contract with activity schedule). DE&S was project manager, supported by WYG (now part of Tetra Tech), and over 20 local subcontracts were let by Robertson under the NEC Engineering and Construction Subcontract (ECS).
Located at RAF's quick reaction alert station at Lossiemouth in Moray, north east Scotland, the large new three-bay steel-frame building is 165 m long, 100 m wide and 19 m high. It includes maintenance hangars, training and simulation facilities, squadron accommodation, civilian staff facilities, warehousing and an aircraft wash bay. Construction work included site-batching over 100,000 t of concrete for the foundations, floor slab and aprons, and installing 25,000 m2 of wall and roof cladding.
Following a 12-month pre-construction period, work started on site in April 2018 and the completed building was handed over on time and budget for fitting out by DE&S in July 2020. An adjacent ground support equipment hangar is on schedule for handover in September 2020.
Collaborative working
DE&S project manager Michelle Sanders said at the handover, 'This new strategic facility at RAF Lossiemouth is a great example of successful delivery through collaborative working. DE&S, Boeing Defence UK and Robertson have worked closely since the project began in early 2018 and here we are, just over two years later, taking delivery of this splendid new building.'
She says NEC was adopted as it was Ministry of Defence's preferred and well-tested method of contracting for projects of this type. 'It was important for the contracts to provide enough flexibility to deal with changes to the scope and to manage the unexpected. The pricing mechanism of NEC3 ECC Option C was identified as an appropriate mechanism for the type of project as it offered a level of control as well as flexibility.'
Sanders says the NEC contracts provided a high level of transparency and supported a collaborative way of working between the parties. 'The mechanisms within the contracts, such as early warnings and compensation events, allowed the parties to prepare for and deal with the unexpected in an efficient manner. The way the contracts were set up also prioritised progress of the project and avoided delays'.
She says the NEC early warning mechanism was a particular benefit to the project, allowing the parties to share potential issues and work collaboratively to avoid and/or mitigate the risks throughout the works. 'The compensation event mechanism also supported continuous progress of the project. By having a clearly defined scope and criteria for compensation events, all parties were able to understand what works were in or out of the scope or criteria of each compensation event.'
She adds that NEC supported the provision of information required for budgeting, such as forecasts to completion, which in turn gave the client greater control over the project.
Benefits of using NEC
NEC obligation to work in a 'spirit of mutual trust and co-operation' encouraged the parties to work transparently and collaboratively, helping to achieve continuous progress and avoid delays.
NEC mechanisms such as early warnings and project manager instructions enabled parties to raise and manage risks and issues at the earliest opportunity, while the compensation event process offered flexibility in requirements and allowed for the unexpected.
NEC processes and responsibilities were clearly set out in the contract, ensuring good communications between the parties throughout.