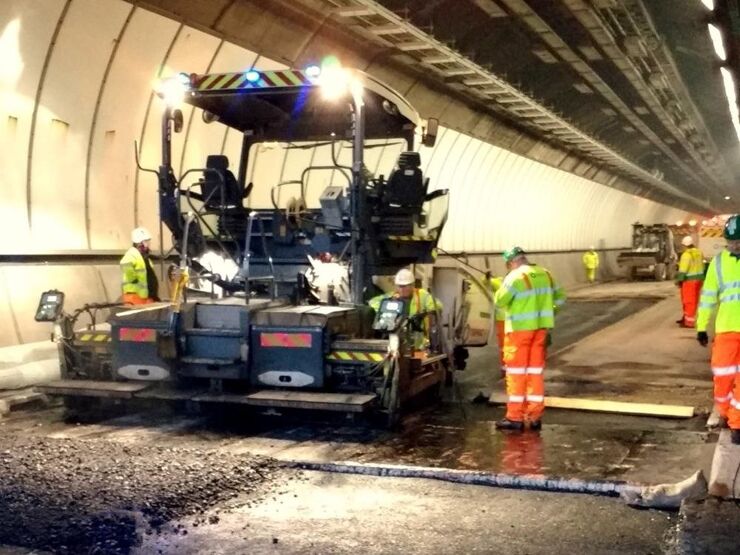 The Brynglas Tunnels carry the M4 motorway under Brynglas Hill in Newport, south Wales. Completed in 1967, the 370 m long, twin two-lane tunnels are the first and only bored tunnels on the British motorway network. A major NEC-procured refurbishment of the tunnels and adjacent bridge structures is currently underway to improve resilience for the foreseeable future.

The refurbishment work within the tunnel bores involves re-constructing the carriageways, replacing dado panels and upgrading drainage, mechanical and electrical systems – including associated life-safety engineering systems. The Usk River Bridge to the east and Malpas Viaduct to the west of the tunnels are also being refurbished and waterproofed.

The Welsh Government awarded a design and construct contract to Costain under a £34 million NEC3 Engineering and Construction Contract Option (ECC) C (target contract with activity schedule) in February 2016, with the Usk River Bridge element being employer-designed. The contractor started physical work on site in June 2016, working mostly during one-directional night-time closures, and is scheduled to complete the project in March 2018.

Subcontracts have been aligned back-to-back where reasonable and in all cases contract conditions are NEC3.
Collaborative approach
Rhys Griffith, Welsh Government project engineer, says, 'The critical focus of this complex refurbishment project is to ensure that traffic can continue to use the tunnels and approach roads during the daytime and with minimal disruption at night. The M4 is a major artery into Wales and vital to the national economy, so any undue restriction to traffic flows would have severe financial consequences.'

He says full collaboration within the project team was considered essential from the outset, with the NEC requirement to work 'in a spirit of mutual trust and co-operation' being continually referenced in relation to all clauses of the contract.

According to NEC project manager Simon Dean of employer's agent and project manager Arcadis, 'Clause 10.1 is not a standalone clause that should be filed in the 'to-do' tray and buried under the issues that inevitably threaten the well-being of some complex and bespoke engineering projects. The Brynglas Tunnels refurbishment project is testament to the benefits of developing a strong collaborative ethos within the project team – and this starts by co-locating the project team, including key subcontractors.'
Making the most of NEC
To ensure maximum benefit from the contract, an NEC risk and partnering workshop was held at the outset. This was attended by the client, its agents, all members of the project team, representatives of the supply chain and external stakeholders.

Costain project manager Phil Davies says, 'The workshop enabled everyone to actively broach the subject of risk and the many inevitable 'what-if' questions associated with a project of this criticality. It was a very worthwhile exercise, encouraging the project team to ensure all NEC contract mechanisms were abided by to provide clarity and transparency in forward administration of the contract.'

Weekly NEC risk reduction meetings are now held along with separate commercial forums. The NEC risk register is updated daily to include a record of all discussions held in relation to each early warning. 'A 50/50 contractor/employer ratio of early warning notification is maintained as a healthy target to highlight all those involved in the project are being as transparent about issues as possible,' says Simon Dean.

A schedule of NEC compensation events is maintained, with encouragement to highlight the thornier issues of target adjustment that may arise. Value engineering is also encouraged by the presence of lean boards within the site office - a strategy which is also used for the review of challenging method statements.
Continuing challenge
NEC project manager Simon Dean concludes that the project remains a challenge, but he believes the way it is being collaboratively administered in line with NEC principles sets it in excellent stead to become an unparalleled success. 'Rather than risk a hostile relationship between those who have to manage and implement the contract, our strategy has heartened all parties to bond as the project develops.'

'We have encouraged a flexible manner to using NEC clauses to ensure all aspects requiring attention are at the surface and not bubbling beneath. This has ensured a very rigid adherence to record keeping and risk management along with continued flexibility in approach.'
Benefits of Using NEC
The NEC requirement to work in a 'spirit of mutual trust and co-operation' has led to a much-needed collaborative approach on this complex, critically important motorway refurbishment project.
NEC risk management and early warning processes are ensuring that restrictive night-time working stays on schedule and with minimum disruption to traffic.
NEC processes are helping to ensure transparency of all issues, accuracy in record keeping and flexibility of approach.