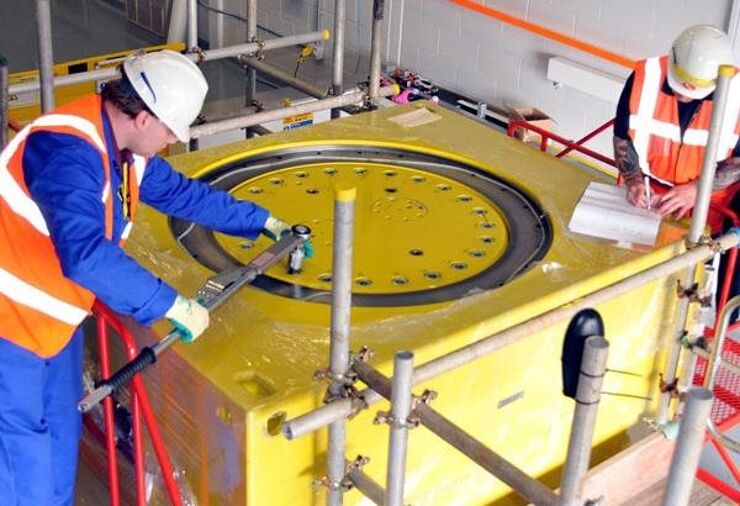 The NEC3 Supply Contract is being used to procure over 2000 cast-iron containers for storing intermediate level nuclear waste generated during the operational and early decommissioning phases of the UK's now-obsolete Magnox power stations.
Once filled, the robust, transportable, self-shielded, ductile cast-iron boxes and drums will store a total of 6,400m3 of solid and wet nuclear waste in purpose-built facilities at the power station sites prior to final disposal underground.
Client Magnox Limited, which operates 10 sites on behalf of the Nuclear Decommissioning Authority, placed an initial five-year NEC3 Framework Contract in 2010 with German nuclear fuel and waste container manufacturer GNS.
Subsequently, three six-year NEC3 Framework Contracts worth £200 million were let with specialist UK manufacturers Croft Associates and Chester Simplex and with Siempelkamp Nukleartechnik of Germany. By March 2014, around 300 containers had been manufactured and orders placed for over 450 more, all under the NEC Supply Contract.
Collaborative approach
"The use of the NEC3 Supply Contract and Framework Contract for procuring the intermediate level waste containers aligns with our decision in 2010 to work with our supply chain using common NEC3 terms of engagement," says Magnox Commercial Director Dr. Peter Walkden. He added, "The aim was to improve performance by reducing complexity and duplication and by improving clarity of purpose and establishing shared goals; drawing on the collaborative approach of NEC3 contracts rather than operating 'turnkey' projects that tend to be remote and cut off from organisational learning."
The four container suppliers are engaged under NEC3 Framework Contracts and then contracted under the NEC Supply Contract to deliver the containers as required. The containers are essential to Magnox's strategy for decommissioning eight of the ten nuclear sites under their control and will be used to help deliver the sites into early 'care and maintenance'.
The frameworks are also available to other site licence companies in the NDA's estate. "The 2014 awards are a major step forward for Magnox and the whole of the UK's nuclear decommissioning industry and will free up the overall development of the UK decommissioning market," says Walkden.
Continuous improvement
The NEC3 contract suite has become a cornerstone of Magnox's £4 billion, 100+ year decommissioning programme. "It has been used to great effect; from the adoption of better contract management techniques, to driving a cultural change based around learning and continuous improvement," says Walkden.
"The contract management processes and collaborative approach to working have helped us deliver improved value for money whilst meeting the challenges faced. NEC3 has raised our contract management performance standards and, coupled with the transparency offered through the early warning process, helped our management teams to work with our supply chain partners and manage risk effectively during the complex task of decommissioning sites safely and cost-efficiently."
"The integration of suppliers through common NEC3 terms of engagement delivers value for both the company and the UK taxpayer. Perhaps most significantly, it also promotes a shared culture of continuous improvement, which in turn encourage timely and safe practices – both of which are prerequisites in the nuclear industry."
Further Information
NEC3 Supply Contracts ensure consistency of procurement across Magnox's £4 billion NEC3-procured decommissioning programme, delivering the tax payer with value for money.
Together with NEC3 Framework Contracts, the NEC3 Supply Contracts ensure intermediate level waste containers are delivered to the correct specification both on time and on budget, ensuring delivery of the overall programme.
The collaborative approach of the NEC3 Supply Contracts improves communications, encourages long-term relationships and fosters a culture of continuous improvement, helping to deliver safe, sustainable and publicly acceptable containment solutions.