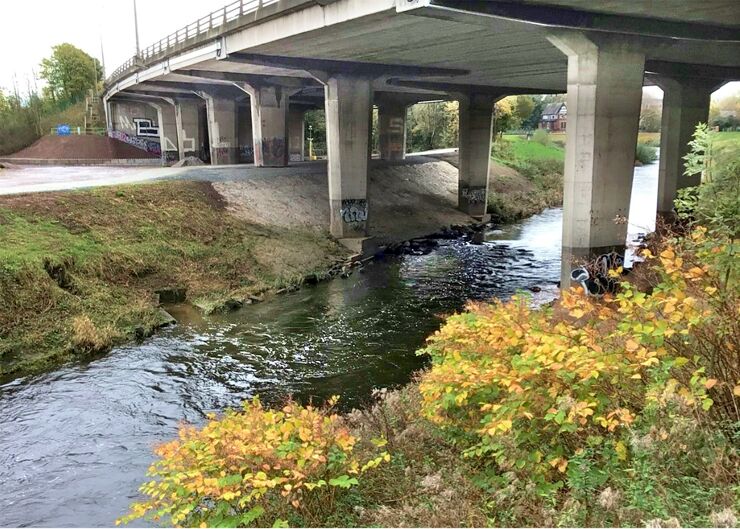 NEC contracts have helped to repair a 50-year-old motorway viaduct in northern England significantly cheaper and quicker than expected. A team of framework contractors and consultants working for NEC Users' Group platinum member National Highways completed concrete repairs on the M60 Palatine Road viaduct 11 months ahead of schedule and £8 million under budget.

The £13 million project was undertaken in three phases between May 2019 and November 2022. Works were procured through National Highways' £270 million Area 10 Construction Works Framework, under which 25 contractors were each engaged under a 4-year NEC4 Term Service Contract (TSC) option C (target contract with price list). For the viaduct repair, each phase was awarded under task orders to Balvac Ltd (concrete repairs and principal contractor), Carnell Ltd (general civils) and Chevron Traffic Management. Design was by Amey Consulting, which was engaged under a 5-year NEC4 Professional Service Contract (PSC) option E (cost reimbursable) as sole supplier on the £50 million Area 10 Design Services Contract.

Constructed in 1974, the 200 m long twin-deck viaduct carries the dual three-lane M60 motorway over the B5167 Palatine Road and River Mersey in the Northenden area of Manchester. The concrete deck beams are supported on concrete pier cross-heads via half-joints. Water leakage through the joints over time had extensively damaged 15 of the cross-heads, reducing the overall load-carrying capacity of the structure.

To avoid closing the 80,000 vehicles a day motorway, National Highways had initially planned to use a bespoke multi-prop and jack system to raise the deck by 5 mm while each pier was repaired. This was successfully carried out on two piers in an earlier trial contract, but required digging down to the pier foundations to support the prop system on a large steel base collar.

Working collaboratively, the framework project team came up with an alternative method. By using precise hydro-demolition techniques, they were able to remove deteriorated concrete in smaller sections with very limited effects on the load-bearing capacity of each pier. In most cases the prop system and associated excavations were not required, leading to substantial time and cost savings.
Strong collaborative ethos
Mangat Bansal, structures programme delivery manager, says the NEC requirement for the contract parties to work in a 'spirit of mutual trust and co-operation' created a strong collaborative ethos between the four suppliers. 'Even though they were only contracted to National Highways, they worked closely together as a single team from the early contractor involvement stage onwards, developing and delivering the revised method of working.'

He says lessons learned on the first phase of the works were carried over into the subsequent two phases. 'After the first three piers were repaired on phase one, the method was progressively refined in phases two and three. The number of NEC early warnings and compensation events decreased in each phase, such that we only needed to have early warning meetings every three months by the end instead of monthly. These processes nevertheless ensured that all possible risks to the works were identified, mitigated and resolved at the earliest opportunity.'

Bansal says the main programme was updated on a monthly basis. 'Working in the confined space underneath the deck gave us very little flexibility, but the project team constantly looked for ways they could accelerate the programme by overlapping work on piers wherever possible.'

He said the net result was that the works were completed 11 months earlier than scheduled and £8 million under the original £21 million budget. 'All three works contractors benefited from the pain/gain share agreement in their respective TSC task orders for each of the three phases'.

According to Bruce Parker, National Highways' head of planning and development, 'Finishing the scheme almost a year early shows our commitment to finding the best approaches to carry out our projects and, in doing so, managing to keep the cost of the repairs down. I would like to thank the local community and our supply chain who we have worked alongside closely throughout the scheme'.
Benefits of using NEC
NEC requirement to work in a 'spirit of mutual trust and co-operation' resulted in a strong collaborative ethos between the four framework suppliers even though they had no direct contractual relationship.
NEC-inspired collaboration led to revised method of working in early contractor involvement phase and continual refinement during works, resulting in an overall time saving of 11 months and cost saving of £8 million.
NEC processes such as early warnings, early warning meetings, compensation events and regularly updated programme meant all possible risks to the project were identified, mitigated and resolved at the earlier opportunity.