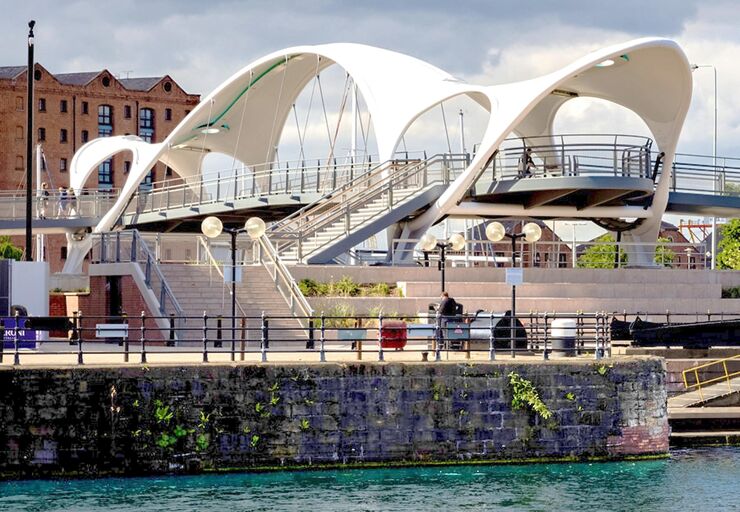 Highways England has used NEC to procure a unique pedestrian and cycle crossing over a busy dual carriageway in the northern city of Hull.

The new £22 million Murdoch's Connection, named after the city's first female doctor, was built by contractor Interserve under an NEC3 Engineering and Construction Contract (ECC) Option C (target contract with activity schedule). Work started on site in October 2018 and, following disruption from the Covid-19 pandemic, was successfully completed to an agreed revised programme and original budget in February 2021.

The 60 m long structure crosses the busy A63 Castle Street and links Princes Quay in the city centre to Hull Marina and a fruit market next to Humber estuary. Featuring a spectacular curved roof canopy, the 150 t steel arch and suspended composite deck bridge was manufactured offsite in 11 sections. It was then assembled a short distance from site and wheeled onto piled concrete piers during a weekend road closure in November 2019. The contract included access ramps, stairs and extensive hard and soft landscaping to the existing waterfronts at each end.

The principal designer and commercial consultant was Faithful+Gould supported by Matter Architecture. Arup was NEC supervisor and the steel subcontractor was SH Structures. The bridge is the first phase of Highways England's £355 million scheme to improve traffic flows, safety and pedestrian and cycle facilities on and around Castle Street.
Sharing risk
Assistant project manager Alfie Shephard-Thompson says, 'ECC Option C was chosen to share risk between the client and contractor, with the aim of getting this challenging project delivered within budget.'

He says working in line with the NEC requirement to act in a, 'spirit of mutual trust and co-operation', the client, contractor, designer and project manager all worked within the same co-located space. 'This really helped the project to move forward when dealing with its complex and difficult site, particularly during the Covid-19 pandemic.'

Shephard-Thompson says the project team had regular meetings throughout the duration of the works to ensure the maximum benefits of collaboration. 'During the Covid-19 lockdowns we continued to hold meetings via Microsoft Teams to ensure we ended up with a successful project.'

He says the NEC process for the project manager's assessments of compensation events was particularly useful during the pandemic. 'It meant we could make a fair assessment of delays and additional implications of living in a Covid world, such as additional cleaning, hand gels and signage. Under ECC clause 64 we could make our decision based on a fair and reasonable length of time and, if proved incorrect, the contract allowed us to review the assessment and amend it if necessary. It was an ideal contract clause.'

Other examples of compensation events were changes to the specification and supply of granite finishes, which led to both the client and contractor sharing the relevant commercial implications. Management of compensation events, assessments and other changes was helped by the use of Cemar contract management software.
Benefits of using NEC
NEC target cost option enabled risk to be shared between the client and contractor, helping to ensure this complex project was successfully delivered in challenging circumstances.
NEC requirement to act in a, 'spirit of mutual trust and co-operation' resulted in a co-located project team, which helped move the project forward – particularly during the Covid pandemic.
NEC compensation event process ensured the contractor was fairly compensated for delays and additional costs caused by specification changes and the Covid-19 pandemic.
By Simon Fullalove