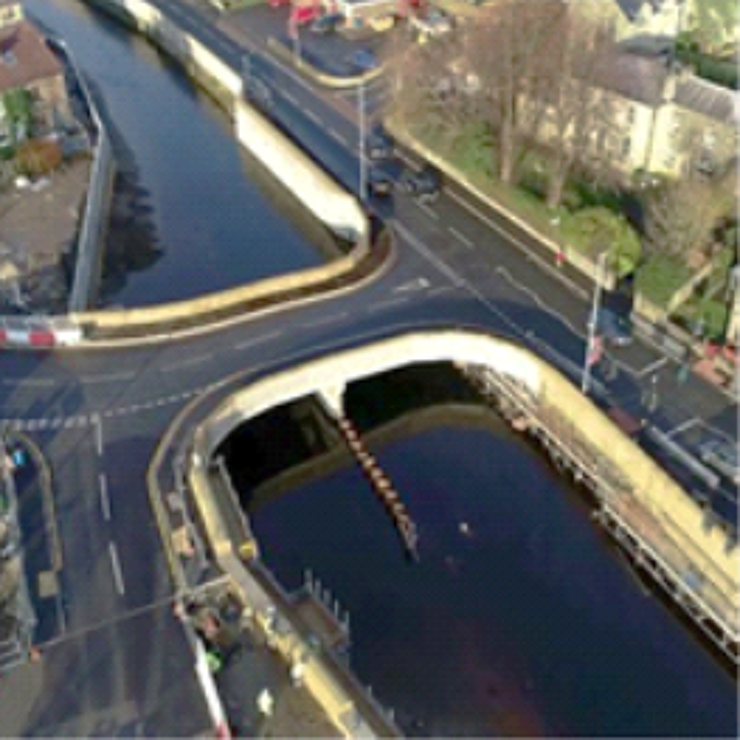 NEC Users' Group member the Environment Agency has used NEC contracts to improve protection to 400 homes and businesses in northern England from flooding. The £41 million Mytholmroyd flood alleviation scheme in Calderdale, West Yorkshire, was safely and successfully delivered by VBA, a joint venture of VolkerStevin Limited, Boskalis Westminster and SNC Lavalin's Atkins business, despite two major storms and the Covid-19 pandemic.

The contractor was initially engaged in March 2016 under an NEC3 Professional Services Contract (PSC) option E (time-based contract) to develop the scheme design to a point where it could be used to price the main works. The main contract was then let in January 2018 through the Environment Agency's NEC-based 2013−2019 water and environment management (WEM) framework using an NEC3 Engineering and Construction Contract (ECC) Option C (target cost with activity schedule). NEC3 PSC was also used to engage principal designer and NEC supervisor Jacobs, NEC project manager Turner and Townsend and cost manager Arcadis.

The scheme involved improving flood protection to 400 properties in Mytholmroyd, Brearley and Luddenden Foot that suffered from severe flooding from the River Calder and Cragg Brook in December 2015. The work included building new and higher flood walls in concrete and stone, widening the River Calder at two locations, replacing the single-span Caldene Avenue road bridge with a 13 m wide twin-span crossing, and floodproofing buildings immediately next to the watercourses.

The contract was severely impacted by the record-breaking storms Ciara and Denis in February 2020 and the onset of the Covid-19 pandemic in March 2020. However, NEC-inspired collaboration within the project team led to a safe and successful completion in May 2021. The scheme was later shortlisted for the Climate Resilience Project of the Year in the 2021 British Construction Industry Awards.
Close collaboration
Environment Agency project executive Oliver Wilson says NEC contracts served the project well. 'The NEC obligation to work in a "spirit of mutual trust and co-operation" and NEC contract management processes fostered close collaboration between the client, project manager and contractor.'

He says NEC's approach to early identification and management of risk was vital to a successful delivery. 'The NEC early warning process and subsequent risk reduction meetings enabled the project team to deliver the works in a way that led to programme and cost efficiencies. This gave rise to compensation events on some occasions but not in other cases where, through collaborative working, different solutions were found to mitigate the initial risk.'

He adds that using ECC Option C provided full transparency of costs. 'This helped us to understand financial forecasts in much greater depth. The NEC pain/gain share mechanism also incentivised both the Environment Agency and VBA to look for further efficiencies throughout the works.'
Planning sessions
According to VBA contracts manger Julian Wilson, 'Following NEC principles, we held regular collaborative planning sessions with key representatives from our supply chain and stakeholders. Initially, these sessions took place monthly and looked three months ahead, allowing us to identify and agree the solution to upcoming challenges.

'We later increased the number of collaborative planning meetings to once a fortnight, looking ahead six months. The sessions were essential, particularly when engaging with multiple stakeholders at the same time. For example, when diverting services from the old Caldene Avenue bridge to the new crossing, we collaborated with Yorkshire Water, Northern Powergrid, Northern Gas Networks and BT Openreach to ensure we met their needs.'

He says effective NEC-style collaboration with the wider community was also vital during the two storms. 'Upon learning storm Dennis was due one week after storm Ciara, we quickly installed temporary barriers with help from the Army. Following the second-highest recorded flood event in Mytholmroyd's history, we helped residents to remove the resulting debris, pump out cellars and move furniture.' VBA received two Considerate Constructor Gold awards in recognition of its outstanding community engagement efforts.
Benefits of using NEC
NEC obliges all involved to act in a, 'spirit of mutual trust and co-operation and foster close collaboration between the client, project manager and contractor.
NEC's flexibility enabled early contractor involvement, with the NEC3 PSC option E used for time-based design development prior to the award of the NEC3 ECC Option C target-cost works contract.
NEC approach to managing risk led to programme and cost efficiencies, with early identification of risks through the early warning process and subsequent risk reduction meetings.
ECC Option C contract provided full transparency of costs and the pain/gain share mechanism incentivised both the client and contractor to look for further efficiencies.